Ansar VDP Job Circular 2022 | আনসার ভিডিপি নিয়োগ বিজ্ঞপ্তি
Ansar VDP Job Circular 2022 published successful for you. The Ansar VDP sector is a huge job field in Bangladesh. There are many job opportunities in that sector in our country. This sector helps our country to earn Boiedesic currency. However, the details of the job have already been given on this website chakrirakob.com. So if you want to see the details of this job, you need to scroll down. We then regularly update various job notifications on this site. see more job here www.chakrirkbr.com. Now you can give all the information related to various work circulars in detail. Now we publish government job posts, not government jobs, bank jobs, NGO jobs ETC. So check out this site regularly in the various sections offered on our site.
আনসার ভিডিপি জব সার্কুলার ২০২২ আপনার জন্য সফল প্রকাশিত। আনসার ভিডিপি খাতটি বাংলাদেশের একটি বিশাল কাজের ক্ষেত্র আমাদের দেশে সেই খাতে চাকরির অনেক সুযোগ রয়েছে। এই খাতটি আমাদের দেশকে বোয়েডেসিক মুদ্রা অর্জনে সহায়তা করে। তবে চাকরির বিশদটি ইতিমধ্যে এই ওয়েবসাইট এ দেওয়া হয়েছে। সুতরাং আপনি যদি এই কাজের বিবরণ দেখতে চান তবে আপনাকে নীচে স্ক্রোল করতে হবে। তারপরে আমরা নিয়মিতভাবে এই সাইটে বিভিন্ন কাজের বিজ্ঞপ্তি আপডেট করি। এখন আপনি বিভিন্ন কাজের সার্কুলার সম্পর্কিত সমস্ত তথ্য বিস্তারিতভাবে দিতে পারেন। এখন আমরা সরকারী চাকরির পোস্ট প্রকাশ করি, সরকারী চাকরী নয়, ব্যাংক চাকরী, এনজিও চাকরি ইটিসি। সুতরাং আমাদের সাইটে দেওয়া বিভিন্ন বিভাগে নিয়মিত এই সাইটটি দেখুন।
Ansar VDP Job Circular 2022
Actually this Ansar side offer job for that man Who is perfect for this post. So if you eligible for this post you can apply in this job circular. Now see the details of this job below.
Educational Qualification: SSC Passed
Job Type: Government jobs
Experience: See the Circular
Age for Jobs: At Most 18 to 30 years
Total Job Vacancies: 400
Salary: negotiable
Application Fee: 200 Taka
Gender: Both (Male & Female)
BD Job Location: Anywhere in Bangladesh
Application start: 19 June 2022
Application will end: 07, July, 2022
Apply online from below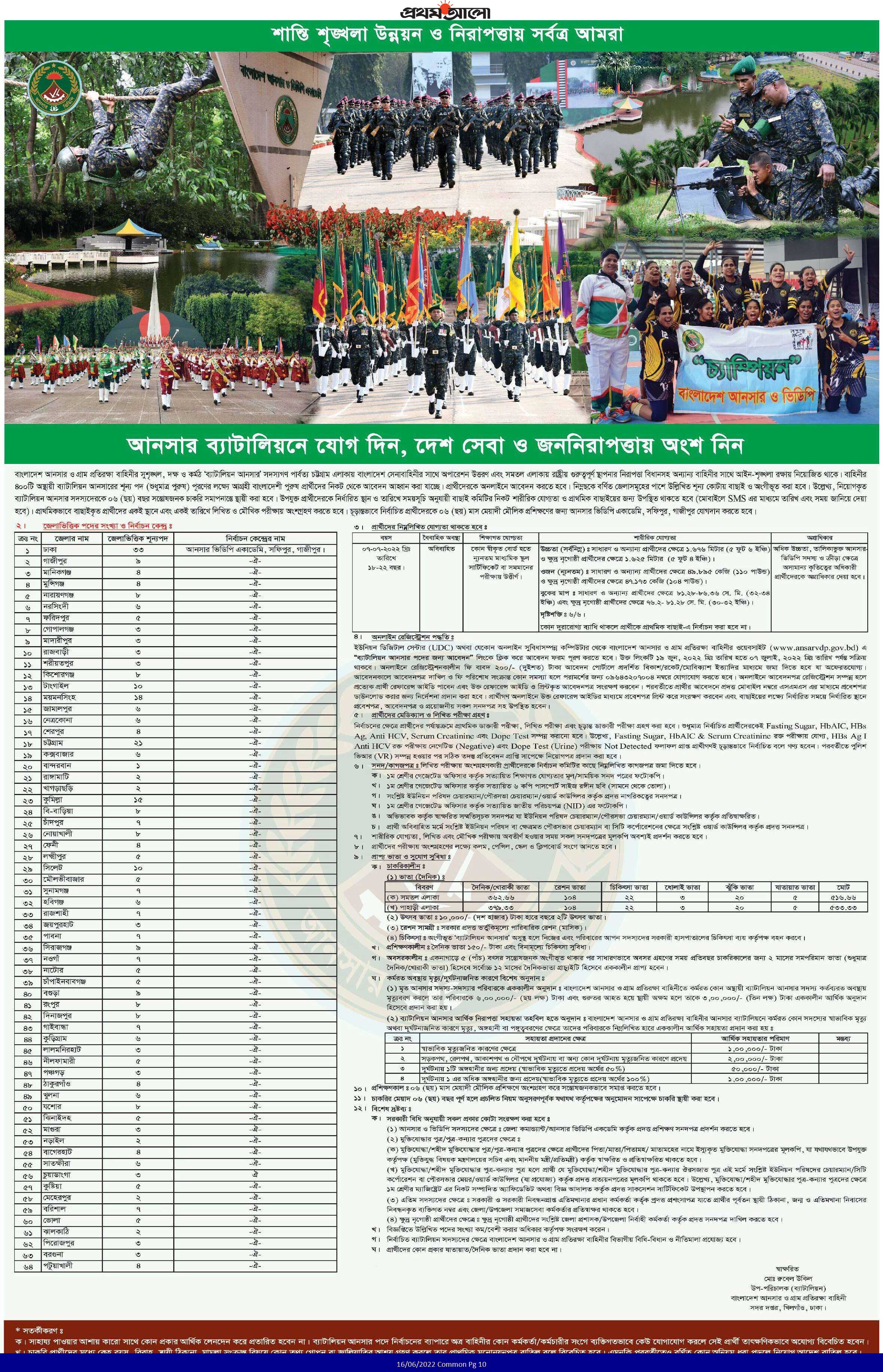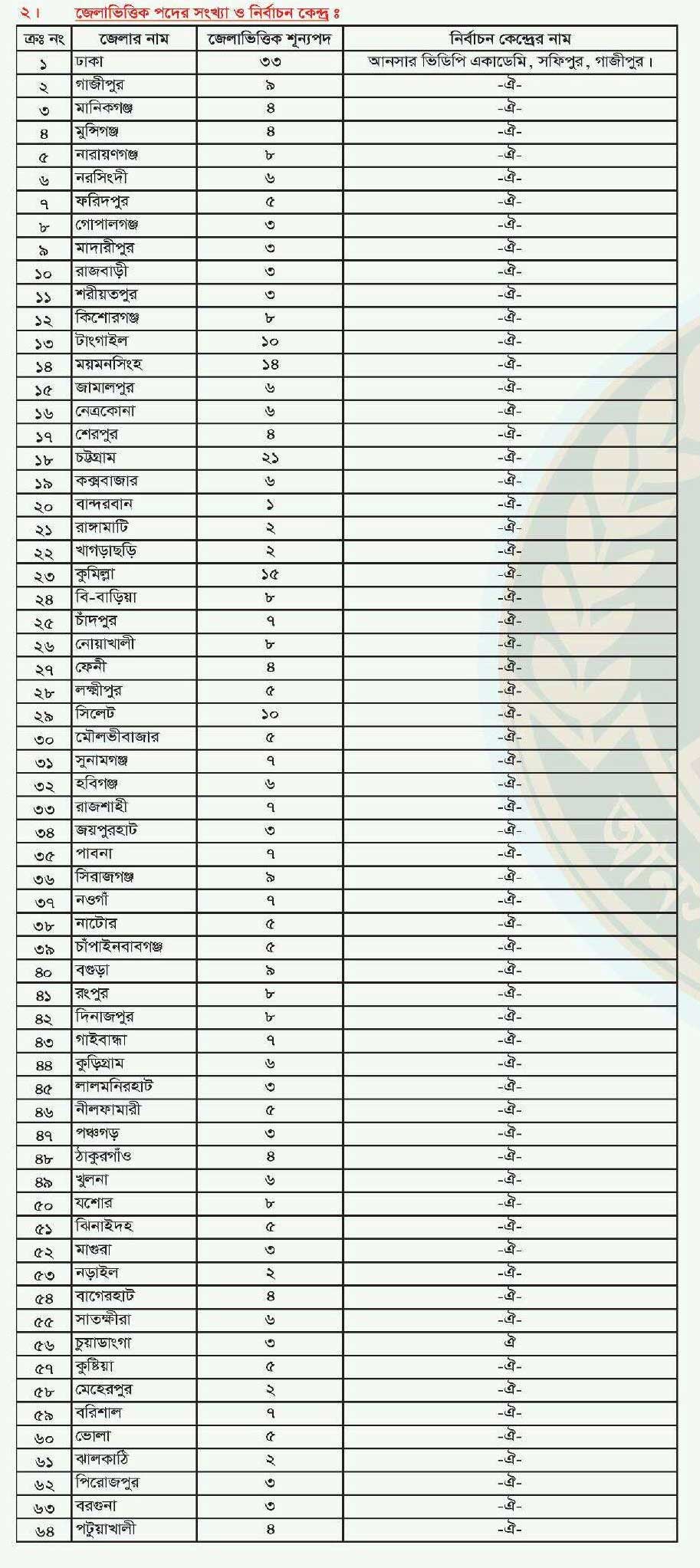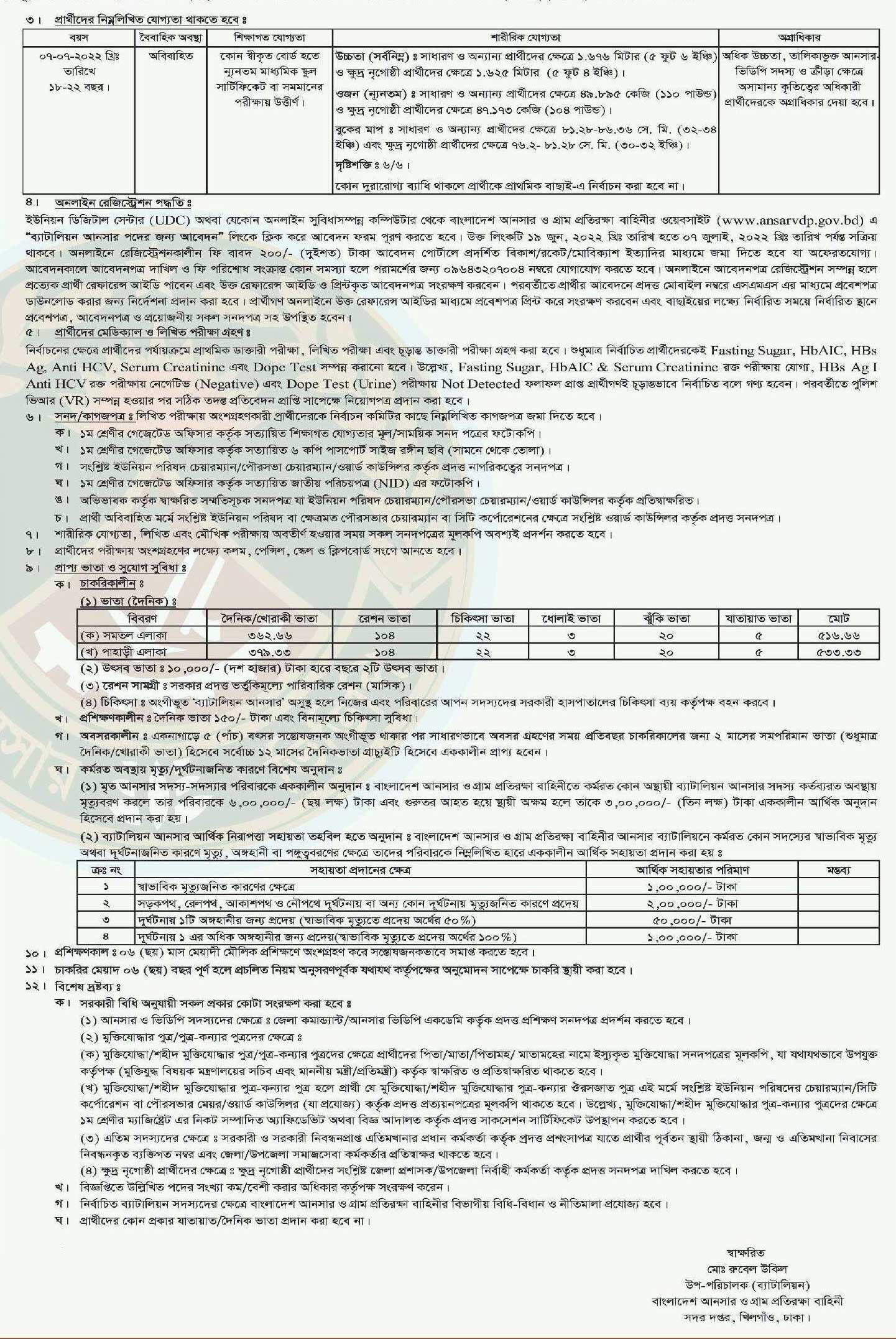 নতুন নিয়োগ বিজ্ঞপ্তি
আনসার ভিডিপি নিয়োগ বিজ্ঞপ্তি ২০২২
Bangladesh Ansar and VDP are a paramilitary force. A force formed for the internal security, law enforcement and protection of Bangladesh. It is managed by the Ministry of Home Affairs of the Government of the People's Republic of Bangladesh. Ansar is basically an Arabic word meaning person who helps and especially those who help the Muhajireen who migrated from Makkah to Madinah with Muhammad (pbuh). At present this force consists of three forces. They are: Battalion Ansar, General Ansar, Village Defense Force (VDP) respectively.
During the partition of India in 1947, some members of the Indian Guard, who later became citizens of Pakistan, withdrew from there and formed the Ansar force. The Ansar Bahini was formed as the East Pakistan Ansar by the East Pakistan Ansar Act in 1947 and officially launched on 12 February 1948. visit jobpaperbd.com for more news.
During Bangladesh's war of independence in 1971, most Ansar members joined the Awami League-led Liberation Army as guerrilla members to fight against the Pakistani army. After the independence of Bangladesh, the Ansar forces were reorganized by Bangladesh law. President Ziaur Rahman's government nominated the Ansar Bahini as the people's defense force, emphasizing the role of the Ansar Bahini.
job related
"আনসার ভিডিপি জব সার্কুলার ২০২২, নতুন আনসার ভিডিপি জব সার্কুলার ২০২২, সর্বশেষ আনসার ভিডিপি জব সার্কুলার ২০২২, আনসার ভিডিপি জব সার্কুলার ২০২২ আপডেট, আজ আনসার ভিডিপি জব সার্কুলার ২০২২, নতুন ডিফেন্স জব সার্কুলার ২০২২, ২০২২ ডিফেন্স জব সার্কুলার, নতুন সরকারী চাকরীর বিজ্ঞপ্তি ২০২২, সর্বশেষ সরকারী চাকরির বিজ্ঞপ্তি ২০২২,"
"Ansar VDP Job Circular 2022, Agricultural Extension Job Circular 2022, new Ansar VDP Job Circular 2022, latest Ansar VDP Job Circular 2022, One Bank Limited Job Circular 2022, Ansar VDP Job Circular 2022 update, today Ansar VDP Job Circular 2022, New defence job circular 2022, Bangladesh Securities and Exchange Commission Job circular, 2022 defence job circular, govt job circular 2022, new govt job circular 2022, latest govt job circular 2022,"