Bangladesh Diabetic Association job Circular 2022
Bangladesh Diabetic Association job Circular 2022 has been publish. Badas was established in East Pakistan in 1956 by the National Professor of Bangladesh, Muhammad Ibrahim. The organization started as an outdoor clinic in Teak Garden. In 1980, it founded Bardem Hospital, a specialist research hospital for diabetics. The agency is a regional affiliate of the World Health Organization. It has the presence of more than 60 local centers. www.chakrirkbr.com. It raises awareness about diabetes patients and provides medical advice and screening. DAB is the World Health Organization's regional partner for diabetes research in Southeast Asia. The hospital treats about 300 outpatients every day. Bangladesh Diabetic Association job Circular 2022 is here.
About 310 doctors, 181 paramedics and 523 nurses are associate with the organization. Bangladesh Research and Rehabilitation Institute has been establish with the aim of creating skilled manpower for the treatment of diabetic patients. Bardem conducts specialized postgraduate courses for obtaining diplomas and degrees like MPhil, MD, PhD and MS in various departments of Medicine and Health Sciences under the Postgraduate Faculty of Dhaka University. Badas-control Baradem has 42 branches at district level in Bangladesh, at the upazila level there is a sub-branch call Badas-approve "Diabetes Association" through which modern treatment and awareness of diabetes is reaching the doorsteps of the people. Apply by looking at Bangladesh Diabetic Association job Circular 2022.
Bangladesh Diabetic Association job Circular 2022
Post Name: Research Assistant
Total number of Post: No specific
Educational Qualification: Graduate or Masters
Age for the job: N/A
Experience: 2 to 3 years
Salary: 35,000 Taka
Job Location: Dhaka and Sylhet
Application Deadline: 23, June 2022
Online apply see the below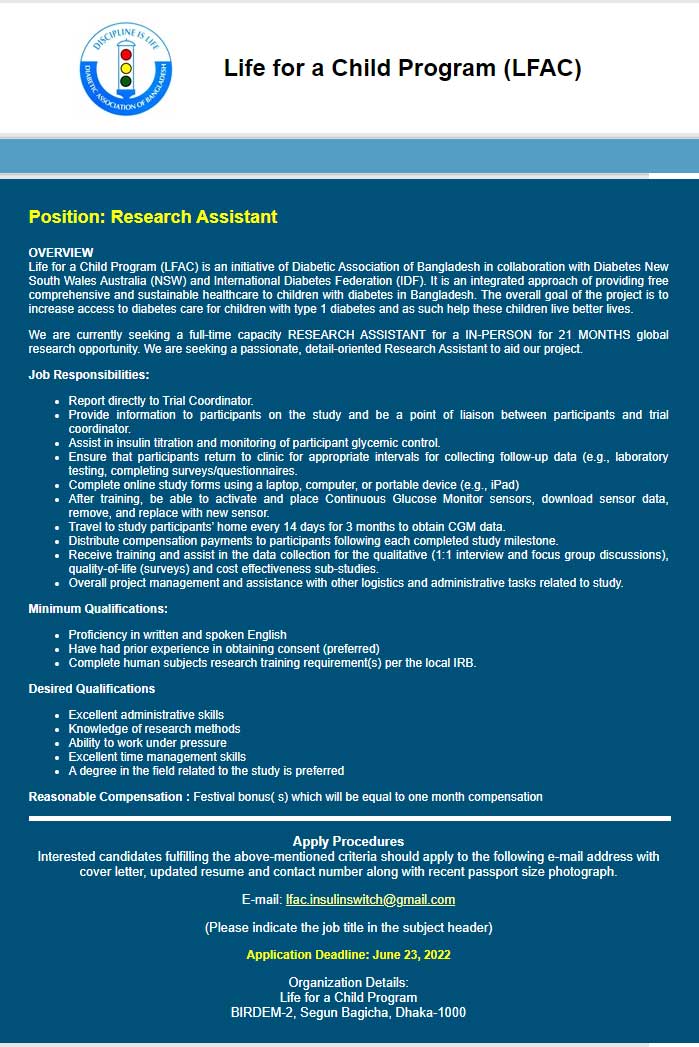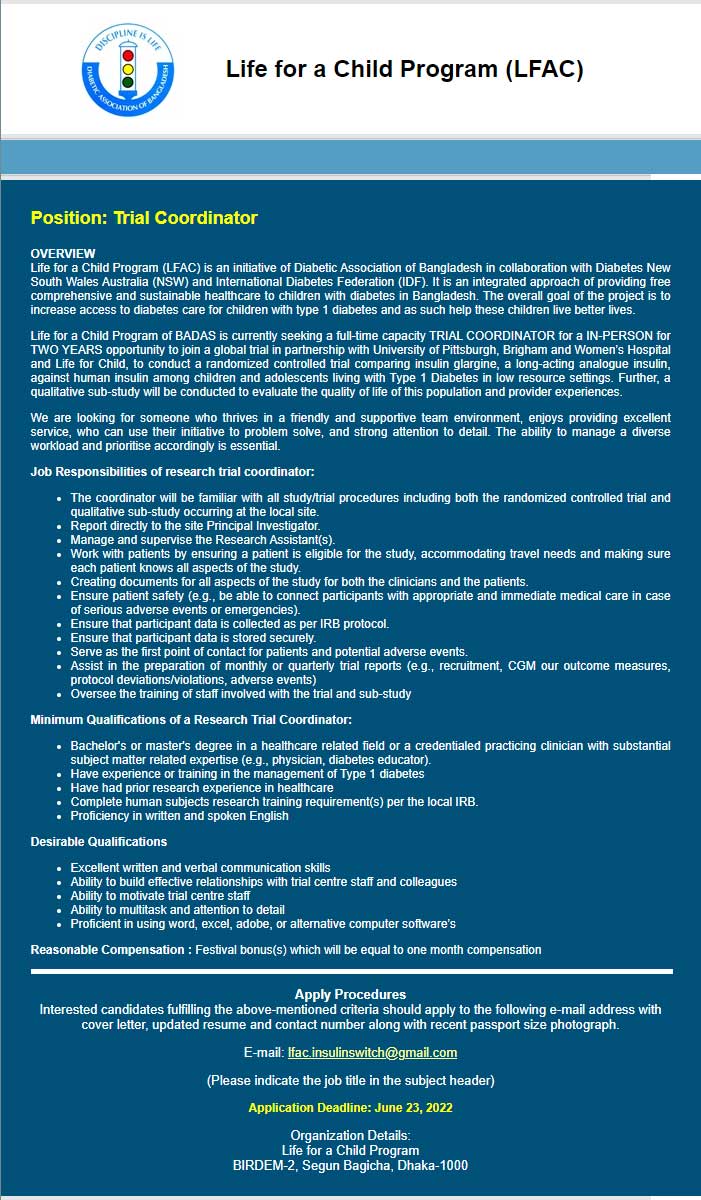 Apply now by E-mail
New job circular
Bangladesh Diabetic Association job Circular 2022
The Diabetic Association Medical College Hospital (DAMCH) has been attached as a teaching hospital which is a third care hospital established in 1985 and provides clinical services in almost all departments of medical science. The Diabetic Association Medical College and Hospital is located in a secluded setting in the heart of Faridpur city, Masjid Bari Sark, on 2.21 acres of land in Jhiltuli and covering a vast area of ​​about two and a half lakh square feet with all modern facilities. Convenience
Since its inception in 2009, the Diabetic Association Medical College, Faridpur has come a long way in recent years and has gained a good reputation among the private medical colleges in the country. We have enough qualified teaching staff and modern teaching materials like computers, multimedia and overhead projectors to make lectures effective. job paper bd. This medical college has a complete library with adequate text and reference books and journals. The library has high speed internet facility with HINARI access. Our vision is to take this institution to a center of excellence for medical education, training and services.
Job related
"Diabetic Association job Circular 2022 has been publish. Diabetic Association job Circular 2022 has been publish.  new job circular. Association job Circular 2022 has been publish. Diabetic Association job Circular 2022 has been publish.  new job circular"