Bangladesh Fisheries Research Institute job Circular 2022
Bangladesh Fisheries Research Institute job Circular 2022 has been publish. See BFRI job news and more government job news. The main objective of the Institute is to conduct basic and applied research on the development and optimal use of the entire aquatic resources; chakrirkbr.com. Innovative, low labor, environmentally friendly technology for improved fish farming and management; Innovation of technology for harvesting and preserving commercially important fish including shrimp; And building skilled manpower through training and exhibitions. Apply by looking at Bangladesh Fisheries Research Institute job Circular 2022.
Establish in 1986 at Paikgachha, Khulna, the premises of the low-salt water station are 30.35 hectares. There are 52 experimental ponds of 0.1-1 hectare area and a hatchery for shrimp and freshwater fish. Established in 1991 in Cox's Bazar, the marine fisheries and technology center covers an area of ​​4 hectares. The headquarters of the Institute is located at Mymensingh, about 120 km north of the capital Dhaka. In addition to its headquarters, the company has four research centers: a freshwater station in Mymensingh for freshwater fish farming research; For river fisheries management and development. Bangladesh Fisheries Research Institute job Circular 2022.
Bangladesh Fisheries Research Institute job Circular 2022
Job Type: Government jobs
Age for Jobs: 18 to 30 years
Total Job Vacancies: 14+21
Salary: Ag pre circular
Application Fee: 50 – 100 Taka
Apply start Date: 07, July, 2022
Last Date: 14, July & 07, August, 2022
Apply from by post office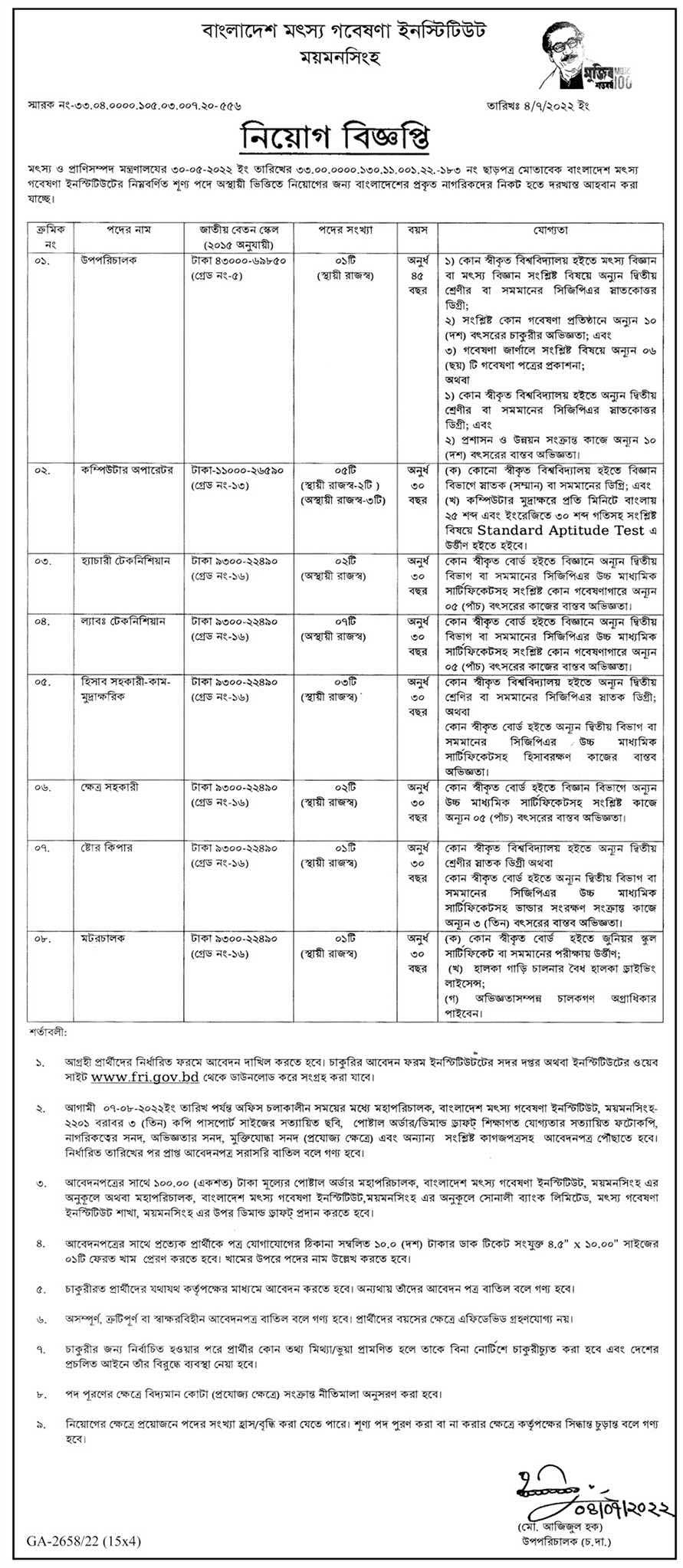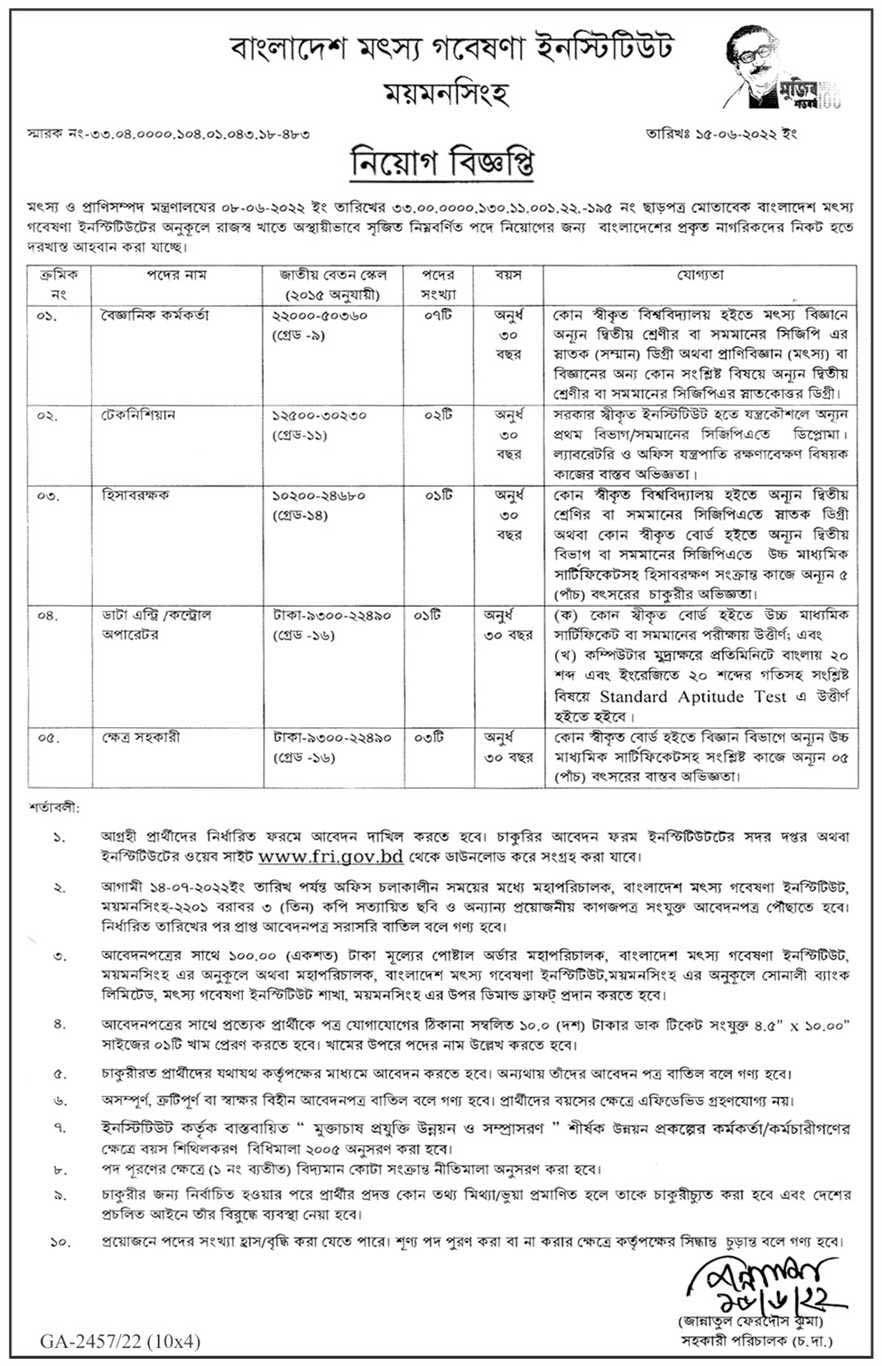 Apply now today 
New job circular
Fisheries Research Institute job Circular 2022
Riverine Station at Chandpur; Brackishwater Station at Paikgachha in Khulna for marine fisheries and shrimp research and Marine Fisheries and Techno Station at Cox's Bazar for research on fish farming and collection, product development and quality control. jobpaperbd.com There are also two substations, one at Rangamati, for lake fisheries management and the other for Santahar floodplain ecosystem studies. Each station has a Chief Scientific Officer, who is in charge of research and administrative management of the station.
The Government of Bangladesh, IDA, USAID, IDRC and other agencies bear the cost of the research activities. The 40 hectare premises of the freshwater station is located near the Bangladesh Agricultural University in Mymensingh.
BFRI job circular 2022
Regular and irregular publications of the Institute include research results, annual reports, newsletters, journals, guidelines, research reports and conferences, minutes of seminars and workshops, training manuals, extension materials, booklets, brochures and posters. The research activities of the Institute are conducted in close collaboration with various universities, research institutes and other local and foreign institutions. The Institute also maintains close contact with various non-governmental organizations working in the country for the expansion of fisheries development technology.
Job related 
"Today's Government Job Grave 2022, New job 2022, Government Job News 2022, Today's Job News Magazine 2022. Government Job News 2022, fish Research Institute job Circular 2022, Government Job News 2022, Today's Job News Magazine 2022. Government Job News 2022, Research Institute job Circular 2022 "