Bangladesh National Museum job Circular 2022 | জাতীয় জাদুঘর
Bangladesh National Museum job Circular 2022 has been publish. Bangladesh National Museum is a national museum located in Dhaka, the capital of Bangladesh. It was established on March 20, 1913 and was officially inaugurated on August 8, 1913. It was declared a National Museum on November 16, 1983. The museum is located near the Shahbagh junction, See our more job news from www.chakrirkbr.com. There are 44 separate galleries on anthropology, fine arts, history, nature and modern and ancient world-civilization, liberation war of Bangladesh etc. There is also an archive, library, auditorium, signscape and film exhibition. Apply by looking at Bangladesh National Museum job Circular 2022.
বাংলাদেশ জাতীয় জাদুঘর একটি স্বায়ত্তশাসিত প্রতিষ্ঠান যা আইন দ্বারা প্রতিষ্ঠিত এবং একটি ট্রাস্টি বোর্ড দ্বারা পরিচালিত হয়। তবে সরকার কর্তৃক নিযুক্ত একজন মহাপরিচালক জাদুঘরের প্রধান নির্বাহী। বাংলাদেশ জাতীয় জাদুঘরে বর্তমানে ৩৩০ জন কর্মী রয়েছে। বার্ষিক ব্যয় প্রায় ২৯ কোটি টাকা। বাংলাদেশ জাতীয় জাদুঘর নিয়োগ বিজ্ঞপ্তি ২০২২ এখনই আবেদন করুন। ১৯৮৩ সালের ১৬ নভেম্বর এটিকে জাতীয় জাদুঘর হিসেবে ঘোষণা করা হয়। জাদুঘরটি শাহবাগ জংশনের কাছে, বঙ্গবন্ধু শেখ মুজিব মেডিকেল বিশ্ববিদ্যালয়, রমনা পার্ক এবং চারুকলা ইনস্টিটিউটের পাশে অবস্থিত।
Bangladesh National Museum job Circular 2022
Qualification: See the circular
Salary: See the circular
Number of posts: 105
Application start: 14 June 2022
Deadline: 13 July 2022

Apply from see the below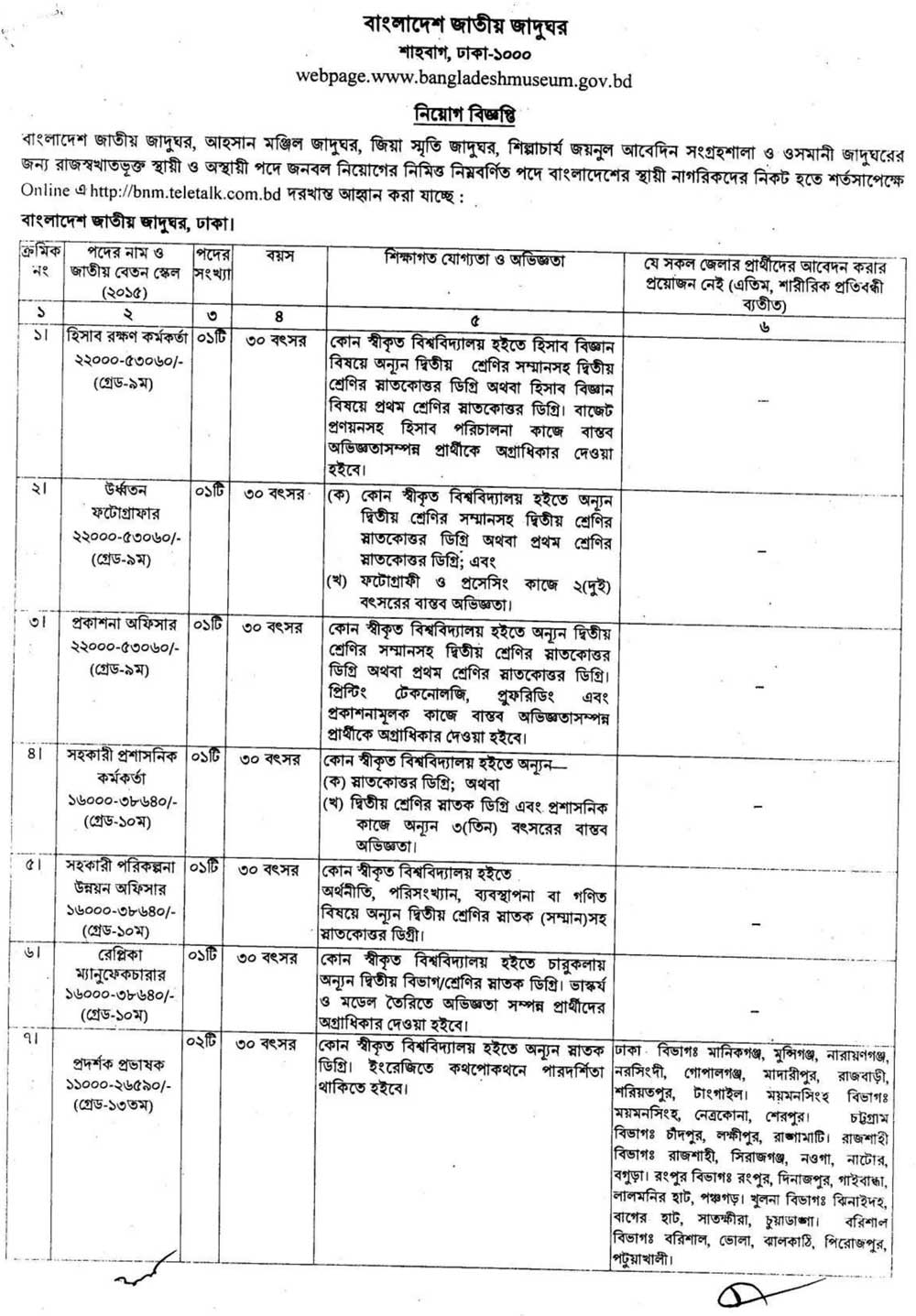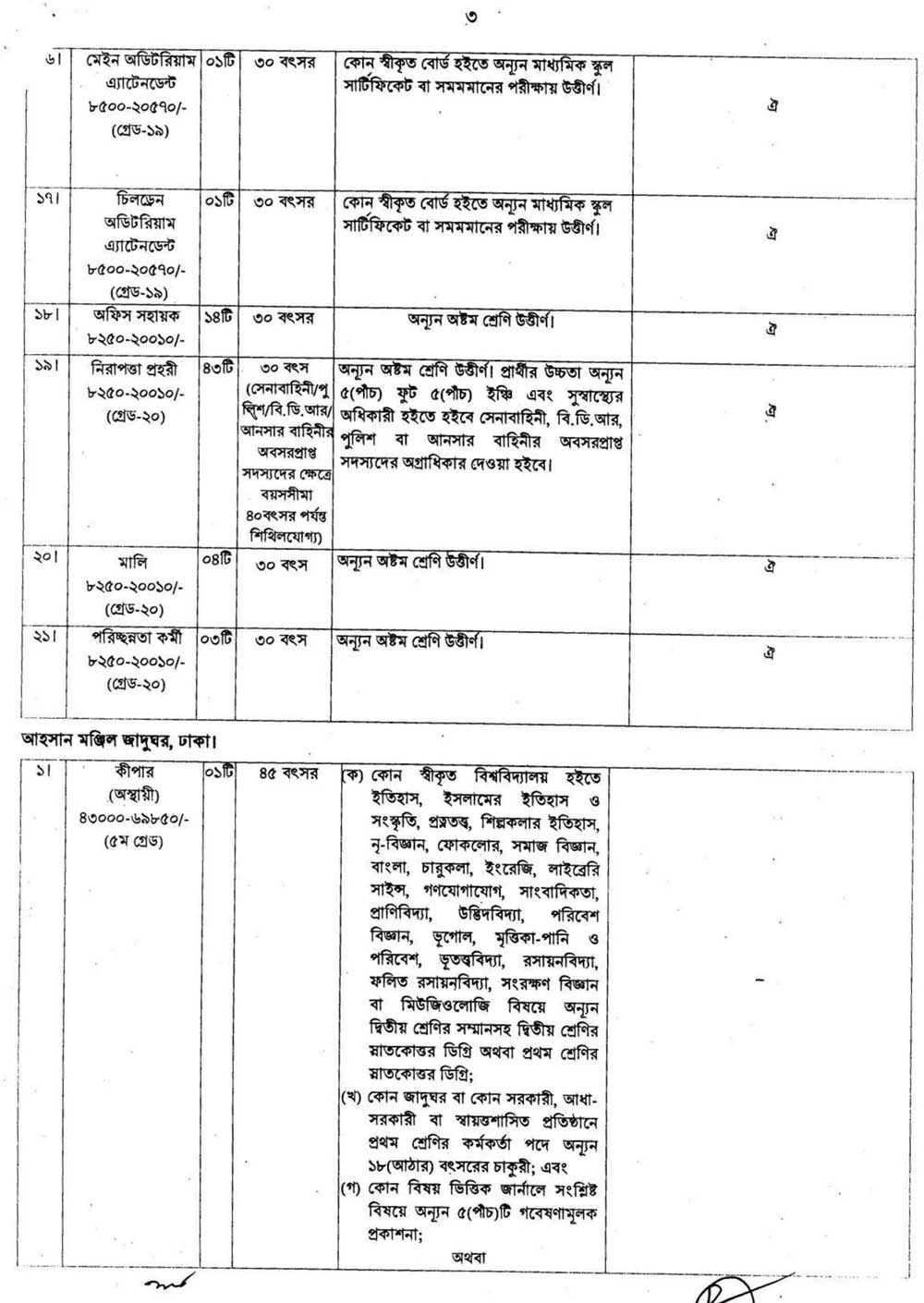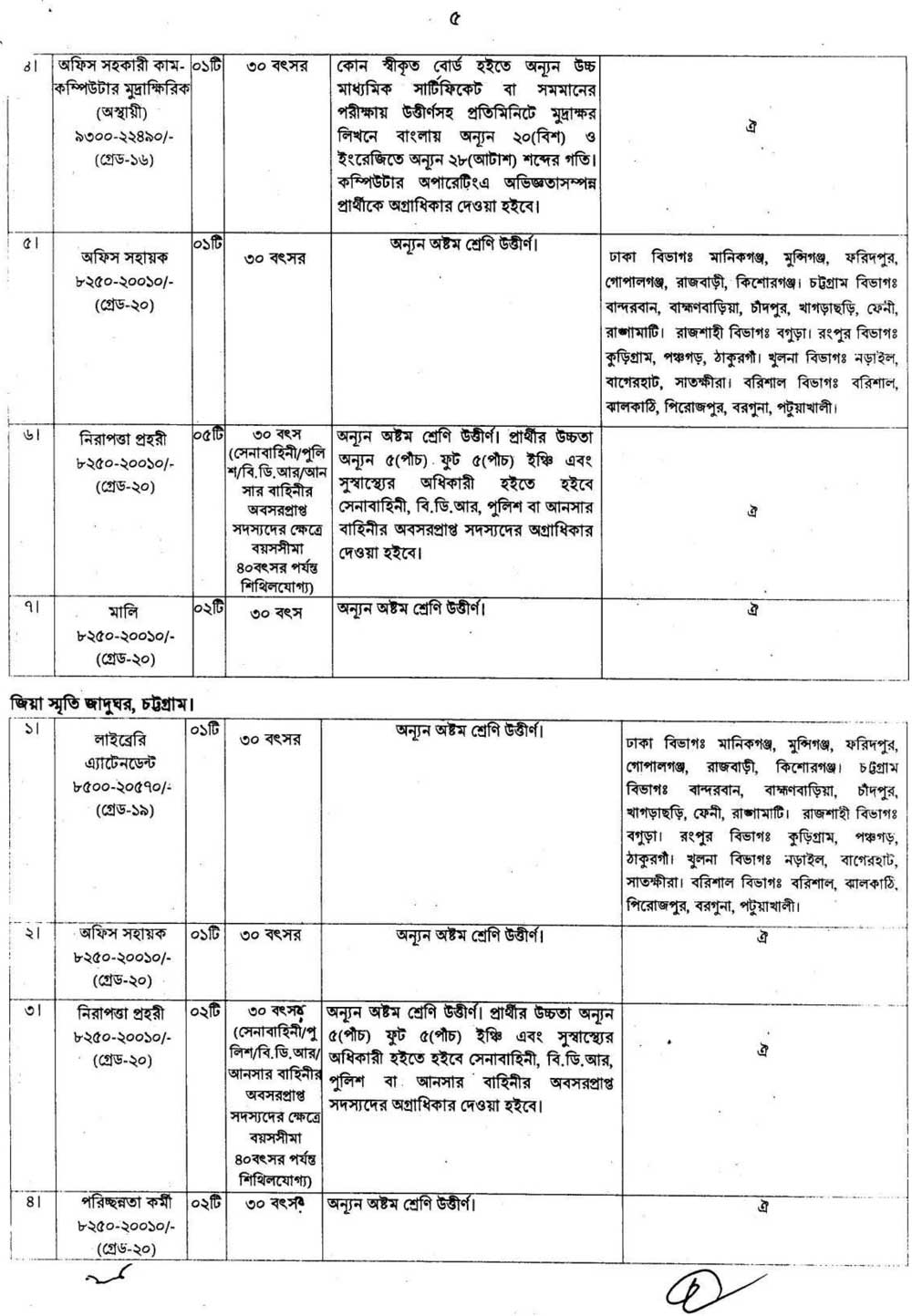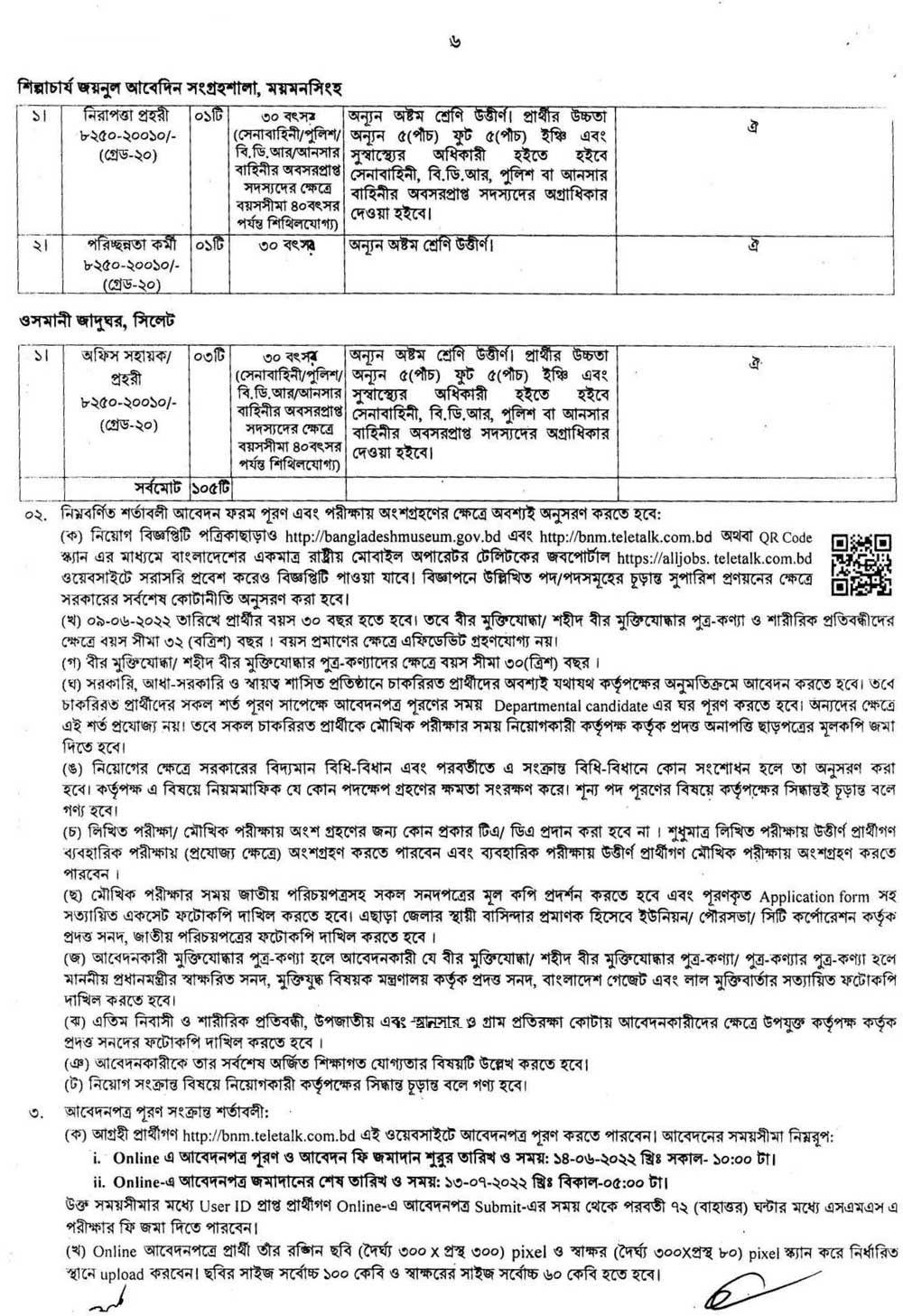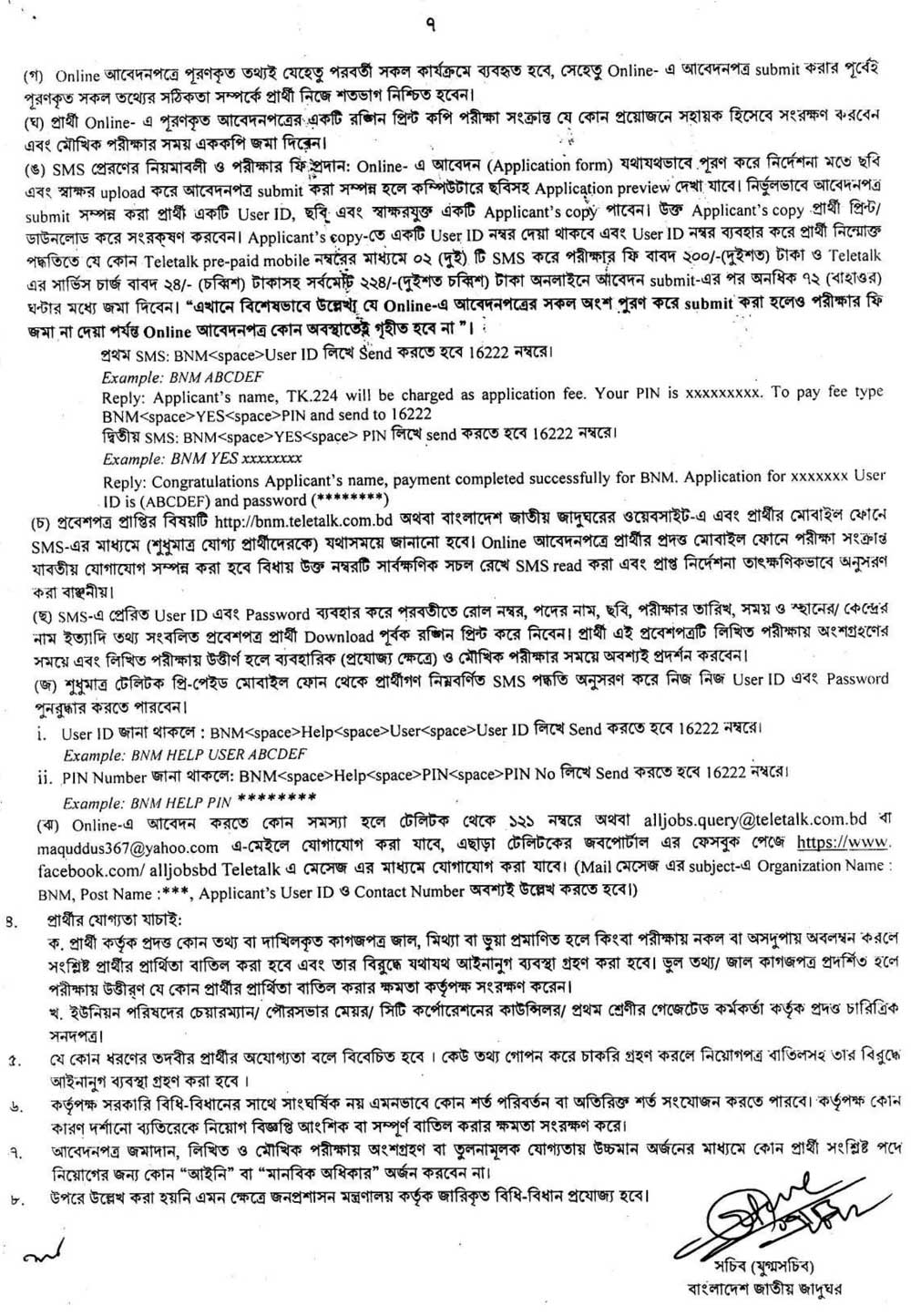 New job circular
বাংলাদেশ জাতীয় জাদুঘর নিয়োগ বিজ্ঞপ্তি ২০২২
The need to establish a museum in this country was first highlighted in The Dhaka News on November 1, 1857. On 20 March 1913, the museum started functioning in the then Secretariat (now Dhaka Medical) with a fund of two thousand rupees. আমাদের আরো চাকরির খবর দেখুন www.jobpaperbd.com থেকে। The first curator was Nalinikanta Bhattasali from 1914 to 1948. The British government established a museum in the country as compensation for the abrogation of the partition of Bengal.
A state-of-the-art building for the Bangladesh National Museum was inaugurat on 16 November 1983 in Shahbag area. The Dhaka Museum was inaugurate in a room of the then Secretariat by the then Governor of Bengal, Lord Carmichael. The journey of Dhaka Museum started on 7th August 1913. The museum was open to the public on August 25, 1914. N Gupta was the first temporary curator of the Dhaka Museum.
Museum under control
Father of the Nation Bangabandhu Sheikh Mujibur Rahman Memorial Museum
Four National Leaders Memorial Museum, Central Jail, Dhaka.
Independence Museum, Suhrawardy Udyan, Dhaka.
Rural Poet Jasim Uddin Collection Faridpur, Faridpur.
Ahsan Manzil Museum, Dhaka.
Shilpacharya Zainul Abedin Museum, Mymensingh.
Osmani Museum, Sylhet.
Zia Memorial Museum, Chittagong.
Journalist Kangal Harinath Memorial Museum, Kushtia.
Job related
" সড়ক পরিবহন ও মহাসড়ক বিভাগ নিয়োগ বিজ্ঞপ্তি ২০২২, নতুন বাংলাদেশ মহাকাশ গবেষণা ও দূর অনুধাবন প্রতিষ্ঠান নিয়োগ বিজ্ঞপ্তি ২০২২, সড়ক পরিবহন ও মহাসড়ক বিভাগ নিয়োগ বিজ্ঞপ্তি ২০২২, স্পারসো নিয়োগ বিজ্ঞপ্তি ২০২২, সরকারি নিয়োগ বিজ্ঞপ্তি ২০২২, নতুন নিয়োগ বিজ্ঞপ্তি দেখুন ২০২২, সকল জব সার্কুলার ২০২২, আজকের নতুন চাকরি বিজ্ঞপ্তি ২০২২, সড়ক পরিবহন ও মহাসড়ক বিভাগ নিয়োগ বিজ্ঞপ্তি ২০২২, নতুন স্পারসো নিয়োগ বিজ্ঞপ্তি ২০২২"
"Bangladesh National Museum job Circular 2022, Police Hospital Job Circular 2022, new Space research and remote sensing organization job circular 2022, Bashundhara Group Job Circular 2022, Bangladesh National Museum job Circular 2022, BSMR Science & Technology University Job Circular 2022, bangladesh space research and remote sensing organization job circular 2022,  job Circular 2022, Bangladesh National Museum job Circular 2022, govt job circular 2022″