Bangladesh Rubber Board job Circular 2022
Bangladesh Rubber Board job Circular 2022 has been publish. In order to revive the almost lost rubber cultivation, the government established the Bangladesh Rubber Board on 5 May 2013 through the Bangladesh Rubber Board Act 2013 (Act No. 19 of 2013). Bangladesh Rubber Board is a statutory body. chakrirkbr.com. From the very beginning, the activities of the Rubber Board were conducted with the Bangladesh Forest Industry Development Corporation. From 30 April 2019, Bangladesh Rubber Board started its activities separately. Mr. Alamgir Muhammad Mansurul Alam, Additional Secretary, Ministry of Environment, Forests and Climate Change, was the first Chairman (Acting) of the Rubber Board. Then on 9th January, 2020, the regular Chairman Mr. Mohammad Nurul Alam Chowdhury joined and served till 31st October, 2020. Apply by looking at Bangladesh Rubber Board job Circular 2022.
Mr. Syeda Sarwar Jahan (Additional Secretary) has been serving as the Chairman since November 1, 2020. In addition, the Joint Secretary of the Government of Bangladesh. Nazneen Kauser Chowdhury served as the Secretary of the Board from 6 March 2019 to 18 August 2020. 70 posts of Bangladesh Rubber Board have been approved in Organogram. At present, six officers of the BCS (Administration) cadre are serving as Chairman, two Deputy Directors and three Assistant Directors. Recruitment of remaining officers and employees is in progress. The official activities of Bangladesh Rubber Board are being conducted in a rented house of Bangladesh Forest Research Institute, Sholashahar, Chittagong Campus. Bangladesh Rubber Board job Circular 2022 is here.
Bangladesh Rubber Board job Circular 2022
Qualification: See the circular
Salary: See the circular
Age limit: in the image
Number of posts: 15
Application deadline: 10 May 2022
Apply from see the below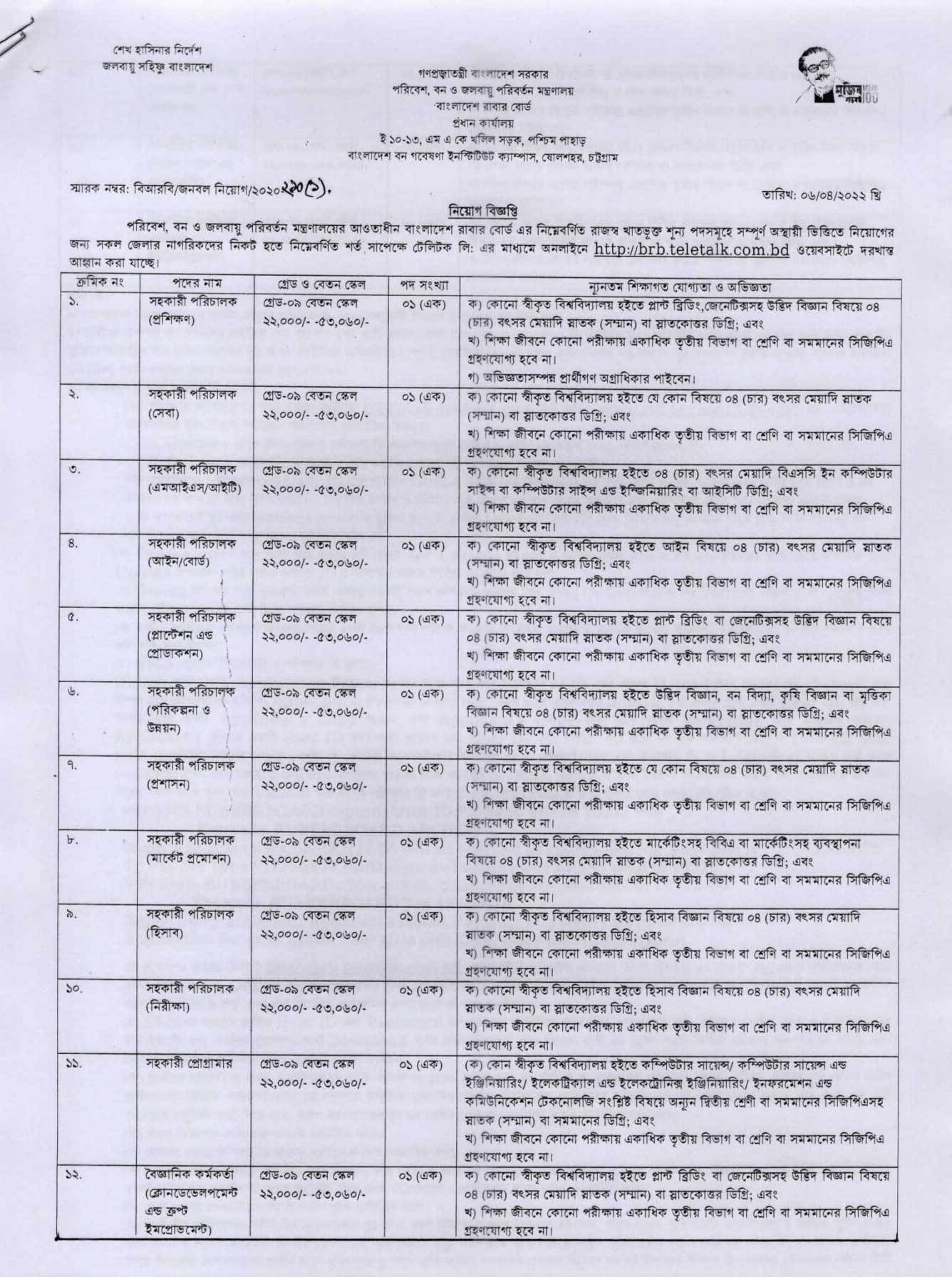 New job circular
Bangladesh Rubber Board job Circular 2022
One of the functions of Bangladesh Rubber Board is to monitor and monitor the overall progress of rubber cultivation and rubber industry, to provide necessary assistance for marketing and export of produced rubber, to select suitable persons or institutions interested in rubber cultivation and to submit recommendations to government for leasing land in their favor. Advise the government to take necessary legal action against violators, provide training to rubber plantation owners, workers and employees, assist in extracting, processing and marketing of rubber wood that has lost its life cycle, discourage production, import, marketing and use of harmful synthetic rubber materials. Payment etc.
Bangladesh joined the Association of Natural Rubber Producing Countries (ANRPC) as a member in October 2016 with the aim of strengthening cooperation with other rubber producing countries and contributing to the sustainable natural rubber industry in the country. Bangladesh also became a member of the International Rubber Research and Development Board (IRRDB) for the development and research of rubber. jobpaperbd.com
Job related 
"Rubber Board job Circular 2022, Marketing and Sales Job Circular 2022 Vacancy 1450. Today's Job News, New job Circular 2022, Rubber Board job Circular 2022, Aristopharma Limited Job Circular. Government Job job 2022, Rubber Board job Circular 2022″