Chittagong Dry Dock Limited Job Circular 2022 Online Apply
Chittagong Dry Dock Limited Job Circular 2022. Chittagong Dry Dock Limited (formerly an enterprise of Bangladesh Steel and Engineering Corporation, now operating under the Bangladesh Navy) created as a complementary facility to the Chittagong Port Authority to meet the needs of regular and urgent repairs of national flag carriers. Touch ship. Chittagong port. The project was designed and built with Yugoslav technical assistance, and commercial operations began in July 1985. CDDL is the only dry dock in Bangladesh, located on 48 acres of land in Chittagong port area on the banks of Karnafuli river. Its 183-meter grave dock can dock ships up to 16,500 DWT. In addition, CDDL can perform a wide range of medium to heavy engineering tasks to support local industries, including complete ship repair and conversion.
This versatile dockyard has over 40 years of business experience. On 23rd December 2015, CDDL handed over to Bangladesh Navy (BN) and is now managed by BN as a State-Owned Limited Company. CDDL is now launching the 2nd Dry Dock and expanding its facilities by developing infrastructure to build naval and merchant ships for both domestic and international markets. Conduct ship repair and new construction activities in full compliance with national and international rules, regulations and standards; Incorporate a technical team of diverse expertise under a high level of professionalism, including quality, customer satisfaction, employee safety, fair and reliable management while maintaining environmental excellence; Without any exemption from professional policy and policy. You can see more update in chakrirkbr.com.
Chittagong Dry Dock Limited Job Circular 2022
Qualification: See circular
Salary: 9th grade
Vacancy: 20
Deadline: 15 jun 2022
Online apply see below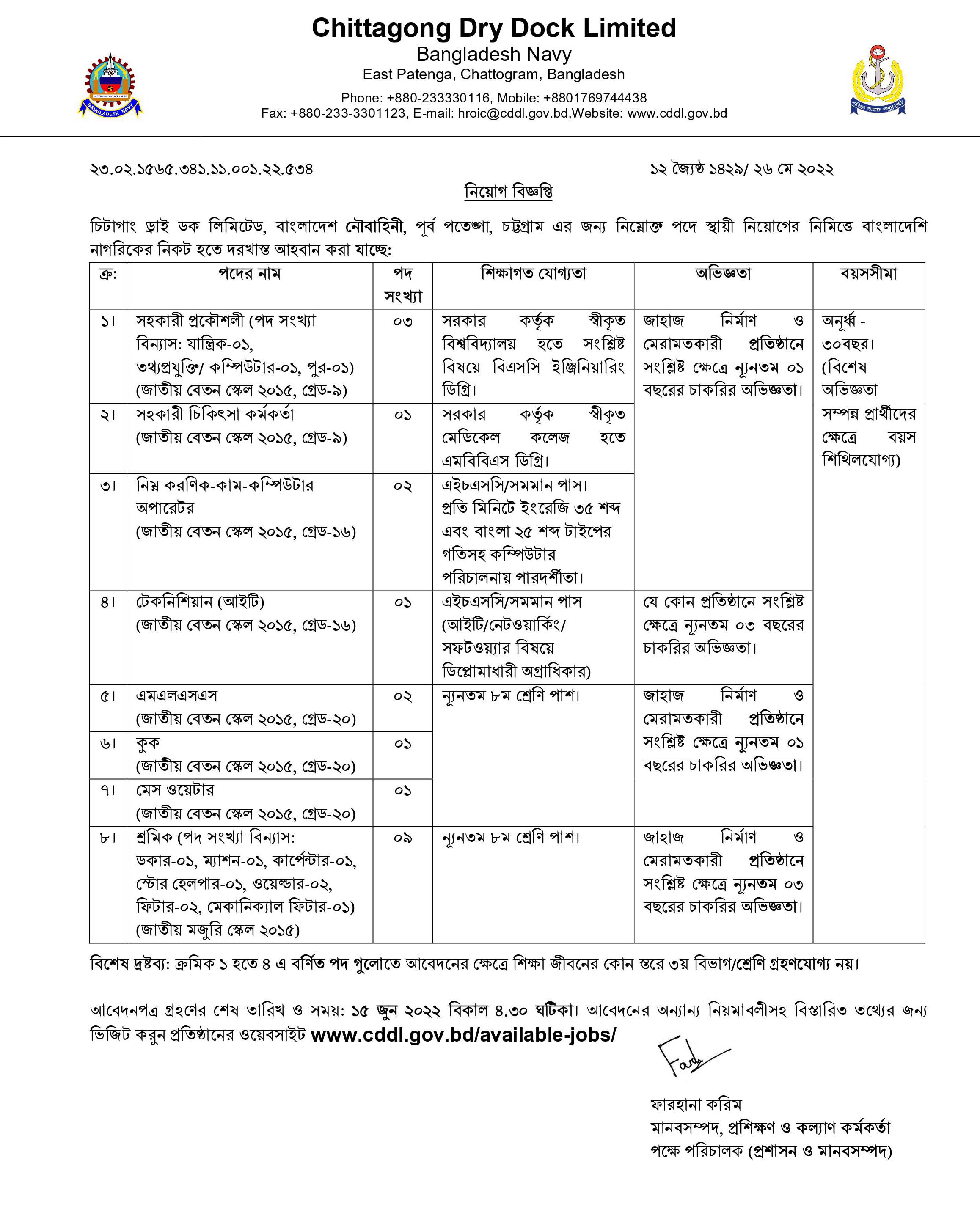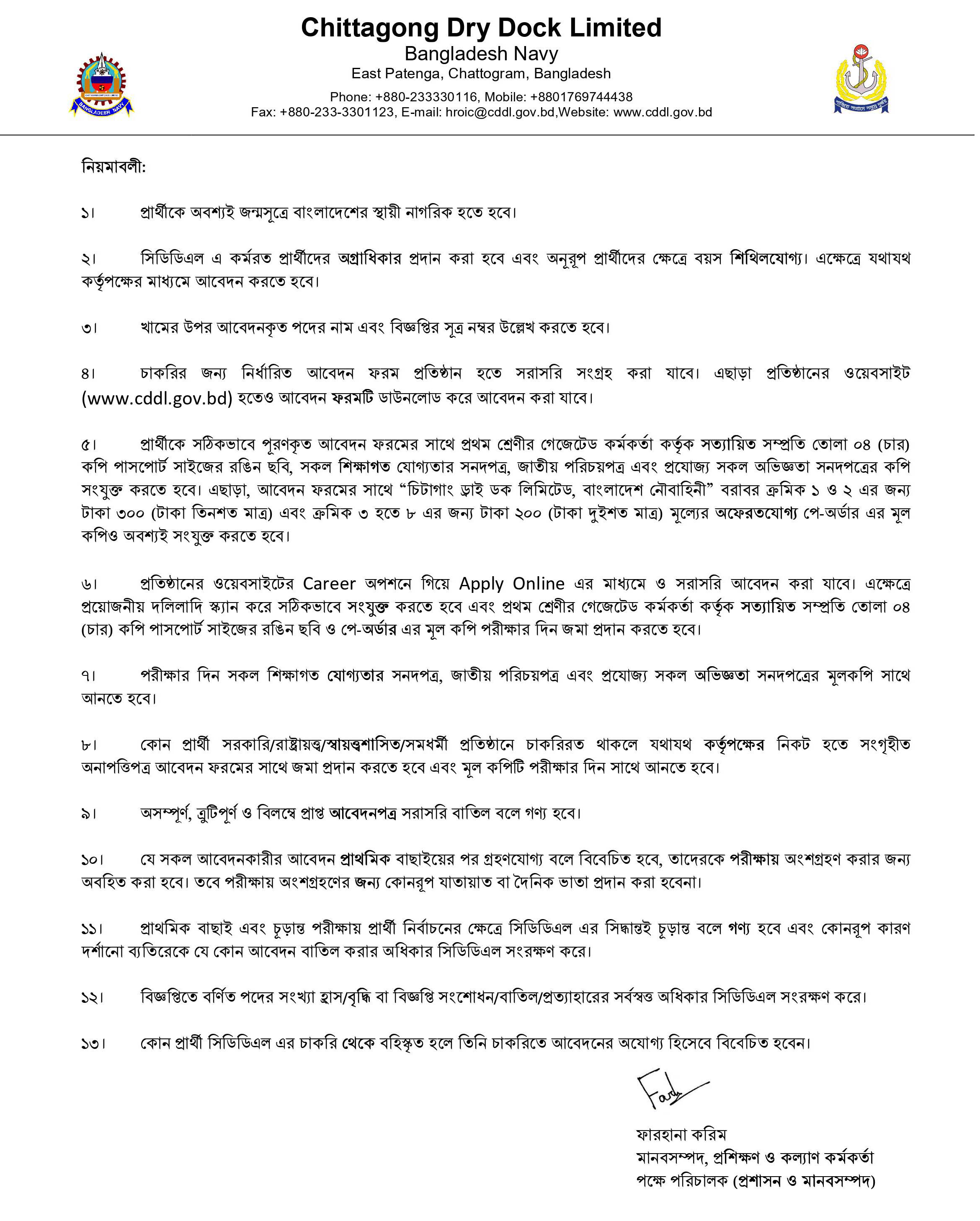 Latest jobs circular
CDDL New Recruitment 2022
Combining our philosophy of 'believe in quality, time and customer satisfaction' with professionalism, to become one of the leading shipbuilding companies in Bangladesh. The dockyard is a place for shipbuilding and docking with a variety of mechanical factories. There is a lot of evidence of ship building in ancient Bengal. At present there are more than 100 dockyards in Dhaka, Narayanganj, Chittagong, Khulna, Mongla and Barisal. Most privately owned dockyards use old (commercial ship) plates and other spare parts. These old plates and used equipment are procured from the Bhatiari ship breaking industry.
Dockyard and Drydock, under the supervision of Bangladesh Inland Water Transport Corporation (BIWTC), provide essential services to the country's inland shipping sector.Dockyard and Engineering Work Ltd. Narayanganj, the oldest dockyard in the region. It has been engaged in shipbuilding and repair work since 1926. The dockyard is currently building a variety of ships with a capacity of 5,000 tons. The dockyard was modernized in 1989, and several rowing ferries were built for BIWTC with Danish funding. Although then the dockyard slowly fell behind economically. As a result, the dockyard was declared a weak industrial plant in 2002 and production ceased.
In 1998, BIWTC had 24 passenger steamers, 33 tankers and 228 other ships. At that time Bangladesh Shipping Corporation owned 16 ships, 1,605 private cargo ships, 1,659 private passenger ships and 9,07,000 inland vessels. Whenever ordered, dockyards provide maintenance services to keep all types of ships moving. A number of shipbuilding factories such as Ananda Shipyard and Slipway Limited Dhaka and Western Marine Shipyard Chittagong have already qualified for export shipbuilding. Highspeed Shipyard built five deep-sea fishing trawlers in the 1980's. Stay tune with us here job paper bd.
Chittagong shipyard Job 2022
It has also built six cargo ships for the International Food and Agriculture Organization. The dockyard the first barge mounted power plant of Bangladesh Rural Power Development Company Limited. A significant number of oil tankers, petrol boats for the Bangladesh Navy and landing craft for the Army also constructed. Local dockyards involved in building exportable ships since 2000. In 2006, Ananda Shipyard sold a small cargo ship with a capacity of 2,650 metric tons worth 6 6 million to a Danish company built in their dockyard.
Only Chittagong Drydock has made significant progress since independence and still has some state-of-the-art equipment capable of repairing ships with a capacity of 20,000 tons. This dry dock is earning millions of dollars by repairing domestic and foreign ships. But the other two Government Dockyard Dockyard and Engineering Workshop Limited and Khulna Shipyard Limited started losses for various reasons.
Job related
"Chittagong Dry Dock Limited Job Circular 2022. Gas Transmission Company Limited Job Circular. New Chittagong Dry Dock Limited Job Circular 2022. Petrobangla Job Circular. Latest Chittagong Dry Dock Limited Job Circular 2022. New govt job circular 2022. Meghna Group of Industries Job Circular. All company job circular 2022. Today Chittagong Dry Dock Limited Job Circular 2022. Chittagong Dry Dock Limited Job Circular 2022 update. Job career 2022."