Dan Foods Limited Job Circular 2022
Dan Foods Limited Job Circular 2022 has been publish. Dan Foods Limited launch in Bangladesh in 2015 through a joint venture between Dan Cake A / S, Denmark and Pandughar Limited. found by the company Dictum in 1931, is the leader in the Scandinavian market making ready-to-eat cakes and Swiss rolls. Our goal is to treat customers to the magical taste of our secret recipe Dan Cake. Dan Cake from Denmark We make magical Dan Cake with handpicked ingredients and raw materials from A / S and according to the recipe of Dan Cake A / S in Denmark under the supervision of Danish bakers. Apply by viewing Dan Foods Limited Job Circular 2022.
Our factory is equipped with state-of-the-art technology of Birulia, Savar, Dhaka, Bangladesh which is recommended by Dan Cake A / S. In addition to the Scandinavian market and Denmark, Dan Cake operates its operations in Poland, Germany, Portugal, the Czech Republic, the United Arab Emirates (as Euro Cake) and now in Bangladesh. www.chakrirkbr.com If you want to know all the information about the job, you must see the image of Dan Foods Job Circular. With that in mind, the Dan Foods job vacancy 2022 image is attache below. You download the image and know all the details to apply, after knowing the application information well, as per the rules, send your application form before expiration. See more job news including Dan Foods Limited Job Circular 2022.
DanFood Ltd Job Circular 2022
Vacancy: See the circular
Working hours: Full time
Salary: see the circular
Deadline: 12 April 2022

Apply from below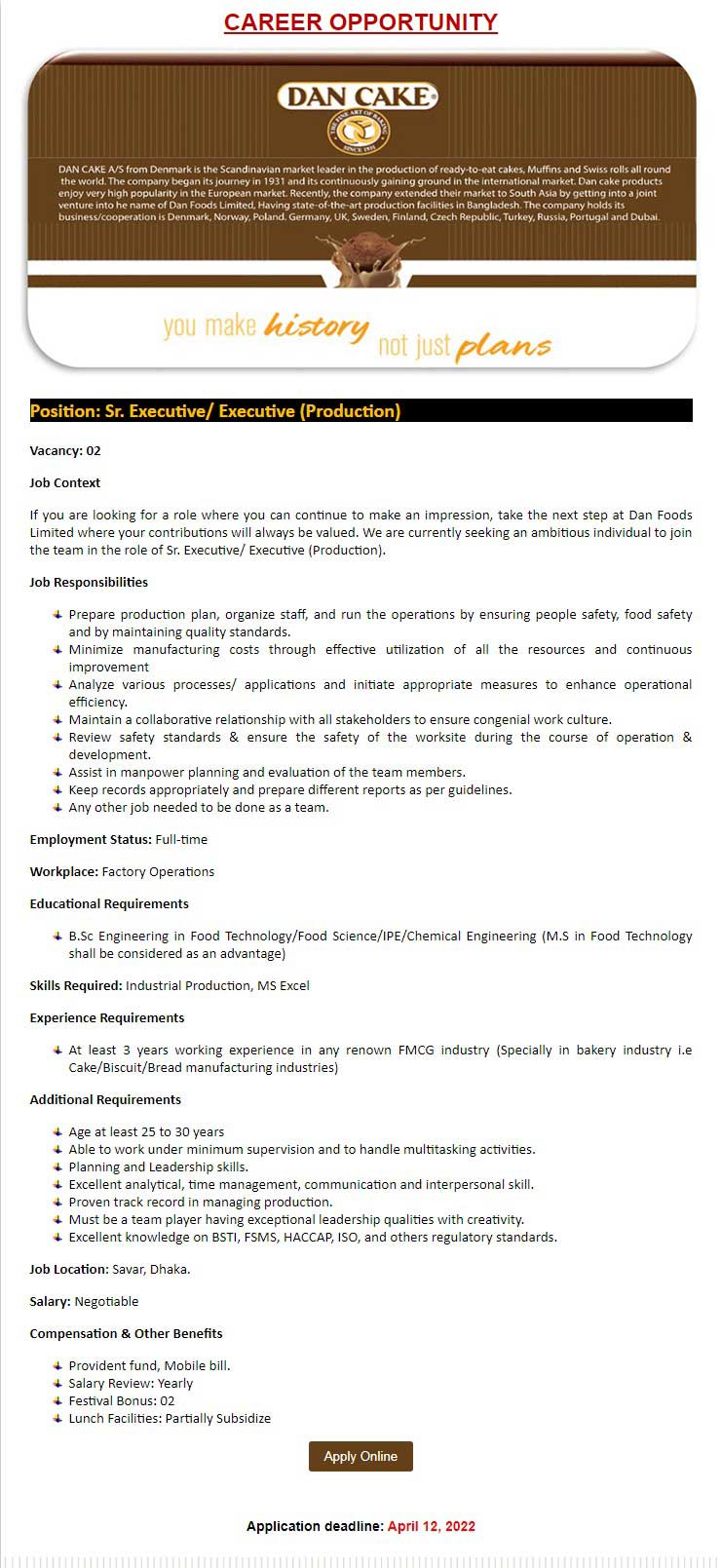 New job circular
Dan Food Limited Job Circular 2022
In the following years, Dan Cake became widespread in Sweden, Finland, Poland, the Czech Republic, Turkey, and Russia. A few years later, they discovered a company from Chrzanow, Dahlia Kuchen Polonia, founded in 1992, which also led the Polish baking industry. Both organizations decided in 2004 to join the force under a new entity – Dan Cake Polonia. Since then, it has continued to bake delicious sponge cakes, maintaining Eskildsen's proven traditional family recipe. Dan Cake's success is based on continuous development, and the company continues to expand its range of new products. Currently, the range of products offered by Dan Cake, especially in the Polish market, includes: baked goods, delicious toasted bread, rolls and cakes, muffins, croissants, sponge cakes, waffles and much more.
Job Responsibilities
Prepare production plan, organize staff, and run the operations by ensuring people safety, food safety and by maintaining quality standards.
Review safety standards & ensure the safety of the worksite during the course of operation & development.
Minimize manufacturing costs through effective utilization of all the resources and continuous improvement
Keep records appropriately and prepare different reports as per guidelines.
Any other job needed to be done as a team.
Analyze various processes/ applications and initiate appropriate measures to enhance operational efficiency.
Assist in manpower planning and evaluation of the team members.
Maintain a collaborative relationship with all stakeholders to ensure congenial work culture.
Job related
"DanFoods Limited Job Circular 2022, Today's Job News 2022, Dan Foods Limited Job Circular 2022, New Job News 2021, Dan Foods Limited Job Circular 2022, All Companies Job News, Dan Foods Limited job Circular 2022"