Daraz Bangladesh Limited Job Circular 2022
Daraz bangladesh limited job circular 2022, Check out more job. Daraj Group is a multinational technology company that focuses on e-commerce, logistics, payment infrastructure and financial services. Founded in 2012 with the help of Rocket Internet, it was first launched as an online fashion retailer in Pakistan and later expanded to Daraj Group in Bangladesh, Sri Lanka, Nepal and Myanmar after changing its business model. In May 2018, Daraj Group acquired Chinese e-commerce company Alibaba Group. Bjarke Mikkelsen is the founder and current CEO of Daraz Group. Daraj was originally established in 2012 as an online fashion retailer in Pakistan by Munib Mair and Faris Shah. Daraj's initial funding came from the Rocket Internet and focused on the fashion sector, but in 2015 it was transformed into a typical e-commerce marketplace.
দারাজ কোম্পানি নিয়োগ বিজ্ঞপ্তি ২০২২, www.chakrirkbr.com দারাজ গ্রুপ একটি বহুজাতিক প্রযুক্তি কোম্পানি যা ই-কমার্স, লজিস্টিকস, পেমেন্ট ইনফ্রাস্ট্রাকচার এবং আর্থিক সেবার উপর দৃষ্টি নিবদ্ধ করে। রকেট ইন্টারনেটের সাহায্যে ২০২১ সালে প্রতিষ্ঠিত, এটি প্রথমে পাকিস্তানে একটি অনলাইন ফ্যাশন খুচরা বিক্রেতা হিসাবে চালু হয়েছিল এবং পরে তার ব্যবসার মডেল পরিবর্তন করার পর বাংলাদেশ, শ্রীলঙ্কা, নেপাল এবং মিয়ানমারে দারাজ গ্রুপে সম্প্রসারিত হয়েছিল। ২০১৮ সালের মে মাসে দারাজ গ্রুপ চীনা ই-কমার্স কোম্পানি আলিবাবা গ্রুপ অধিগ্রহণ করে। বিজারক বাইসন হলেন দারাজ এর প্রতিষ্ঠাতা এবং বর্তমান সিও। দারাজ মূলত ২০১২ সালে মুনিব মাইর এবং ফারিস শাহ দ্বারা পাকিস্তানে একটি অনলাইন ফ্যাশন খুচরা বিক্রেতা হিসাবে প্রতিষ্ঠিত হয়েছিল। দারাজের প্রাথমিক তহবিল রকেট ইন্টারনেট থেকে এসেছিল এবং ফ্যাশন সেক্টরে মনোনিবেশ করেছিল, কিন্তু ২০১৫ সালে এটি একটি সাধারণ ই-কমার্স মার্কেটপ্লেসে রূপান্তরিত হয়েছিল।
Daraz Bangladesh Limited Job Circular 2022
Qualification: See the circular
Experience: See the circular
Salary: See the circular
Vacancy: 600
Deadline: 24 November 2022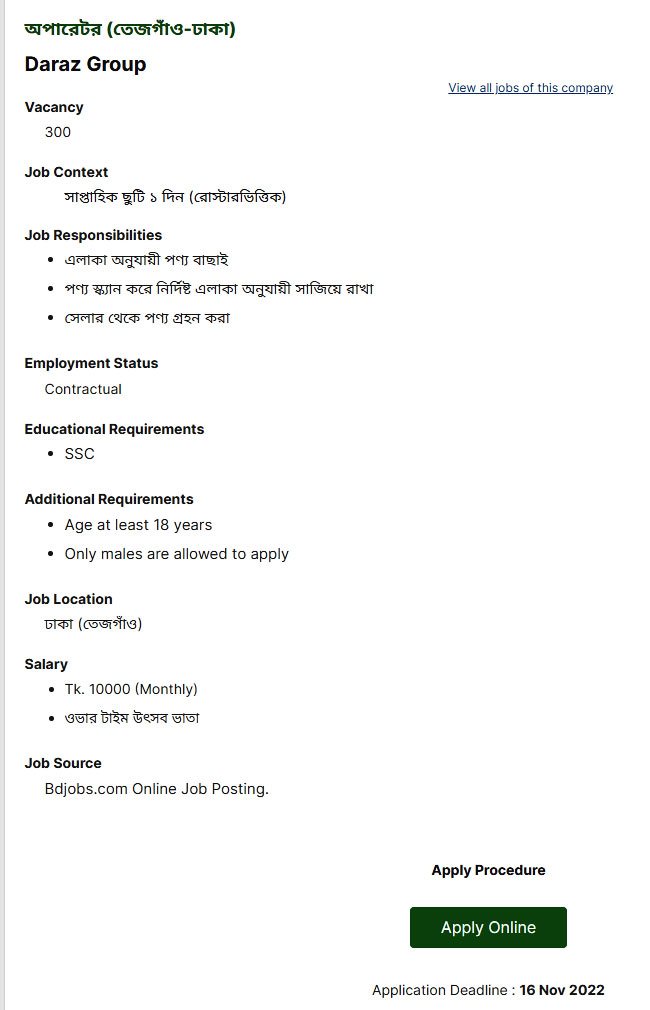 Latest jobs circular
দারাজ কোম্পানি নিয়োগ বিজ্ঞপ্তি ২০২২
Daraj Group formed in 2015 as the parent company operating Daraj in Pakistan, Bangladesh and Myanmar. In July 2016, Daraj acquired the Consumer Online Marketplace Kaimu from South Asian Consumer. Through this acquisition it started operations in Nepal and Sri Lanka. In September 2015, Daraj secured €50 million from its Series B funds to expand its operations across the market. The UK state-owned Development Finance Institution (DFI) has invested 30 million in addition to 30 million from CDC Group, Daraj's existing majority shareholder Asia Internet Holdings.
In May 2018, Daraj announced that it had acquired an undisclosed amount as a wholly owned subsidiary of Alibaba Group, as part of Alibaba's expansion into South Asia. Following the acquisition, Daraj Express (DEX), Daraj's internal digitized logistics branch, launched in September 2018 to expand into major markets. Today, DEX delivers more than 50 percent of all drawer orders. In 2021, Daraj expanded into the food supply and hyper-local grocery sector through the acquisition of Bangladeshi startup Hungrinaki. Visit job paper bd.
Job related
"দারাজ বাংলাদেশ লিমিটেড নিয়োগ বিজ্ঞপ্তি ২০২২, নতুন দারাজ কোম্পানি নিয়োগ বিজ্ঞপ্তি ২০২২, সর্বশেষ দারাজ বাংলাদেশ সীমিত চাকরির বিজ্ঞপ্তি ২০২২, দারাজ কোম্পানি সীমিত চাকরির বিজ্ঞপ্তি ২০২২ আপডেট, সমস্ত নতুন চাকরির বিজ্ঞপ্তি ২০২২, নতুন চাকরির বিজ্ঞপ্তি ২০২২, বেসরকারি চাকরির বিজ্ঞপ্তি ২০২২, চাকরির সংবাদপত্র ২০২২, চকির খবর ২০২২"
"Daraz bangladesh limited job circular 2022, SQ Group Job Circular 2022, new Daraz bangladesh limited job circular 2022, Rupayan Group Job Circular 2022, latest Daraz bangladesh limited job circular 2022, Daraz company limited job circular 2022 update, Directorate General of Family Planning Job Circular 2022, all new job circular 2022, new job circular 2022, private job circular 2022, job newspaper 2022, chakrir khobor 2022″