Defence Service Command and Staff College Job Circular 2022
Defence Service Command and Staff College Job Circular 2022 published by the institution. The Defense Services Command and Staff College is a premier military institution of the Bangladesh Armed Forces. Established on December 30, 1977, the DSCSC provides professional military education to selected mid-career officers of the three services and prepares them to assume increasing responsibilities in both command and staff assignments. Here Army, Navy and Air Force officers from home and abroad learn about combat operations in a joint environment involving land, air and sea forces. The college is internationally acclaimed as a center of excellence for studies on topics of contemporary military interest and has so far graduated more than 4200 officers including 860+ officers from 40 different countries. Therefore Check today's latest job news from www.chakrirkbr.com
The college is affiliated to Bangladesh University of Professional which offers 'MSc in Military Studies' degree on successful completion of the course. Located in Mirpur, a suburb of Dhaka city, 16 km from the city center, the college provides an excellent campus with adequate infrastructure for education, training, research, accommodation, sports and recreation for student officers.
DSCSC confers the title of 'psc' (Passed Staff College) on officers who successfully complete the course. In addition, those who qualify in the Master's program receive an MSc in Military Studies under the auspices of the Bangladesh University of Professionals (BUP). The graduation ceremony takes place at the end of the course, usually in February and is preceded by a graduation dinner. So Defence Service Command and Staff College Job Circular 2022 Details are given below.
Defence Service Command and Staff College Job Circular 2022
Salary: 8,250-20,010/-
Age: 18-30 Years
Vacancy: 09
Deadline: 19 October 2022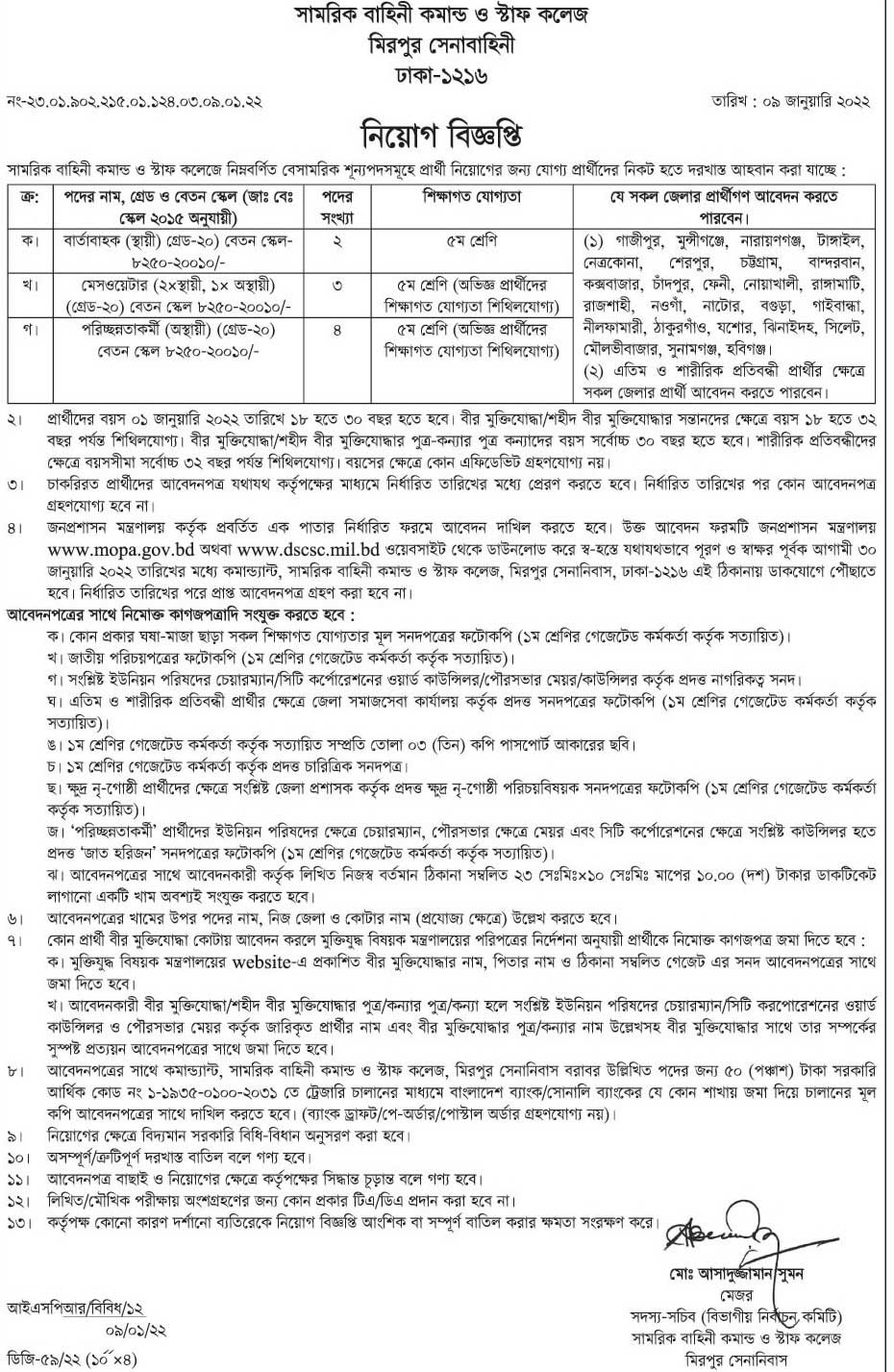 New job circular
Defence_Service Command and Staff College Career 2022
Then His Excellency the President or the Prime Minister will attend the ceremony as the Chief Guest and hand over the graduation certificates to the graduating officers. So other guests at the graduation dinner and ceremony include, Cabinet Ministers, Members of Parliament, Service Chiefs, Senior Armed Forces Officers, Ex-Army Chiefs, Ex-Commandants of Colleges, Ambassadors/High Commissioners and Defense Attachés, Guest Speakers, Civilian Patrons and other eminent members of the country.
The Defense Services Command and Staff College is a tri-service organization and simultaneously conducts staff courses for the Army, Navy and Air Force every year. The duration of the course is 45 weeks, which usually starts in April and ends in February of the following year. All training subjects of the college are coordinated and approved by the Department of Armed Forces under the Prime Minister's Office. However, major decisions are usually taken at Governing Body (GB) meetings held annually. The Chairperson of GB is the Prime Minister and Defense Minister of the Government of Bangladesh.
The three vice-chairpersons are the chiefs of the army, navy and air force. Member of Principal Staff Officer (PSO), Commandant National Defense College, Commandant Defense Services Command and Staff College, Finance Secretary, Defense Secretary, Establishment Secretary, Education Secretary, Vice Chancellor Dhaka University, Vice Chancellor Jahangirnagar University and Vice Chancellor National University; Senior Directing Staff National Defense College, Colonel General Staff of Defense Services Command and Staff College Member Secretary. Check Defence Service Command and Staff College Job Circular 2022 from above.