Forest Department job Circular 2022 | বন অধিদপ্তর নিয়োগ বিজ্ঞপ্তি
Forest Department job Circular 2022 has been publish. Assist in the implementation of conventions, treaties and protocols signed by the government for international efforts to control global warming, prevent desertification, forests, wildlife, biodiversity and the environment. Restoring degraded forests and abandoned lands with the participation of the people. Ensuring partnership-based forest management for the conservation of remaining natural habitats and restoration of degraded forests for the purpose of conserving biodiversity. Expansion of horizontal tree cover through rapid growth and mass oriented afforestation of high yielding species in government marginal, newly awakened lands, khas lands and unclassified forests. Apply by looking at the Forest Department job Circular 2022.
বন অধিদপ্তর নিয়োগ বিজ্ঞপ্তি ২০২২ প্রকাশ করা হয়েছে। chakrirkbr.com বিশ্ব উষ্ণায়ন নিয়ন্ত্রণ, মরুকরণ রোধ, বন, বন্যপ্রাণী, জীববৈচিত্র্য এবং পরিবেশ সংক্রান্ত আন্তর্জাতিক প্রচেষ্টার জন্য সরকার কর্তৃক অনুস্বাক্ষরিত কনভেনশন, চুক্তি এবং প্রটোকল সমূহের প্রতিশ্রুতি পালনে সহায়তা প্রদান। অবক্ষয়িত বন ও পরিত্যাক্ত ভূমি জনগণের অংশগ্রহণে পুনরুদ্ধার করা। জীববৈচিত্র্য সংরক্ষণের লক্ষ্যে অবশিষ্ট প্রাকৃতিক আবাসস্থল রক্ষণাবেক্ষণ এবং অবক্ষয়িত বনাঞ্চলের পুণরুদ্ধার (Restoration) অংশীদারিত্ব ভিত্তিক বন ব্যবস্থাপনা নিশ্চিত করণ। সরকারি প্রান্তিক, নতুন জেগে উঠা ভূমি, খাস ভূমি এবং অশ্রেণীভূক্ত বনে দ্রুত বর্ধন ও উচ্চ ফলনশীল প্রজাতির গণমূখী বনায়ন কার্যক্রমের মাধ্যমে আনুভূমিক বৃক্ষাচ্ছাদন সম্প্রসারণ। বন অধিদপ্তর নিয়োগ বিজ্ঞপ্তি ২০২২ দেখে আবেদন করুন।
Forest Department job Circular 2022
Qualification: See the circular
Experience: See the circular
Vacancy: 12
Application deadline: April 28, 2022

Apply from below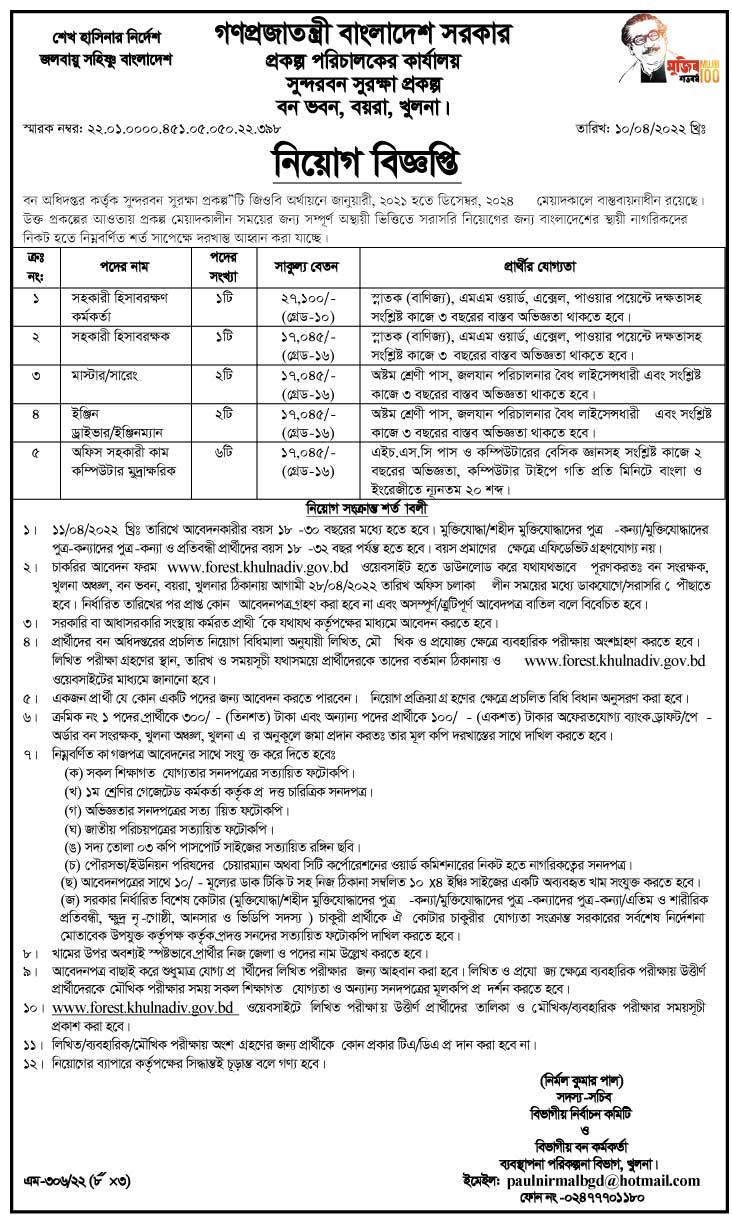 New job circular
বন অধিদপ্তর নিয়োগ বিজ্ঞপ্তি ২০২২
The present area of ​​the country is 6,15,606.42 hectares. Of this, 4,6,506.42 hectares are under protection, which is 3.17 percent of the total area of ​​the country. This has created opportunities for information exchange between the two countries for biodiversity and wildlife conservation, training of Bangladeshi wildlife experts at the Wildlife Institute of India for human resource development. The Forest Department has taken steps to monitor the effectiveness of regular activities. Meeting with local people and people's representatives at the field level. The forest workers are being instructed to take necessary steps after exchanging views with people of all walks of life. The definition of protected area and various protected areas is given below.
Khulna Forest Department job Circular 2022
Wildlife conservation and management.
Biodiversity conservation.
Expansion of eco-tourism.
Maintaining the balance of environment and surroundings.
Expansion of forest and social forestry activities.
gardens, eco-parks, safari parks etc.
Maintain the stability of land based production system.
Development of natural and socio-economic conditions.
Job related
"বন অধিদপ্তর নিয়োগ বিজ্ঞপ্তি ২০২২, বন অধিদপ্তর নিয়োগ বিজ্ঞপ্তি ২০২২, jobpaperbd.com.সর্বশেষ শিপিং মন্ত্রণালয়ের চাকরির সার্কুলার ২০২২, বন অধিদপ্তর নিয়োগ বিজ্ঞপ্তি ২০২২, আপডেট, চাকরির খবর ২০২২, চাকরির সংবাদপত্র ২০২২, সকল সরকারি চাকরির সার্কুলার ২০২২, সরকারি চাকরির সার্কুলার ২০২২, চাকরির ক্যারিয়ার ২০২২, বন অধিদপ্তর নিয়োগ বিজ্ঞপ্তি ২০২২ "
" Forest Department job Circular 2022 , Bangladesh Public Service Commission Job Circular 2022, Forest Department job Circular 2022, Social Marketing Company Job 2022, latest Ministry of Shipping Job Circular 2022, Forest Department job Circular 2022 , Ad-din Foundation Job Circular 2022, chakrir khobor 2022, job newspaper 2022, all govt job circular 2022, new govt job circular 2022, job career 2022, recent job circular 2022 , Forest Department job Circular 2022 "