Hasan Book Depot Job Circular 2022
Hasan Book Depot Job Circular 2022 has been publish. Hasan Book Depot started its journey in 1953 on 'Garib Shah Road' in Jessore with the help of late Abdul Gafur Sarkar (1930-1982). He was born in 1930 in Comilla district. Initially, Hassan Book Depot's activities were limit to retail book purchases and sales. He tries to expand the business by managing the organization with utmost honesty and dedication. chakrirkbr.com He dreamed that one day Hasan Book Depot would become the top book business in the country. With this dream in mind, he gradually overcame all adversities by capitalizing on boundless zeal and courage. His sons are establish in their respective fields as businessmen and are constantly contributing to the economic progress of the country. Apply by viewing Hasan Book Depot Job Circular 2022.
An unforgettable name in the history of book business in Bangladesh is the late Abul Kashem Sarkar, chairman of Hasan Book Depot, a social worker. He was born in 1960 in Jessore district. In addition to his undergraduate studies, he began his career at Hassan Book Depot, a business founded by his father, the late Abdul Gafoor Sarkar. Finishing his honors, he took the helm of the family and expenses as a result of his father's death.  He later founded Balaka Press, Top Pen and Stationery Industries.  Under his dynamic leadership, Balaka Press became one of the leading printing presses in the country. A large portion of textbook printing is being done every year for students all over Bangladesh through Balaka Press. Apply for Hasan Book Depot Job Circular 2022.
Hasan Book Depot Job Circular 2022
Job Nature: Full Time
Age: 25-40 Years
Education: Masters
Experience: 3 Years
Application Deadline: 31 July 2022
Application Process: Email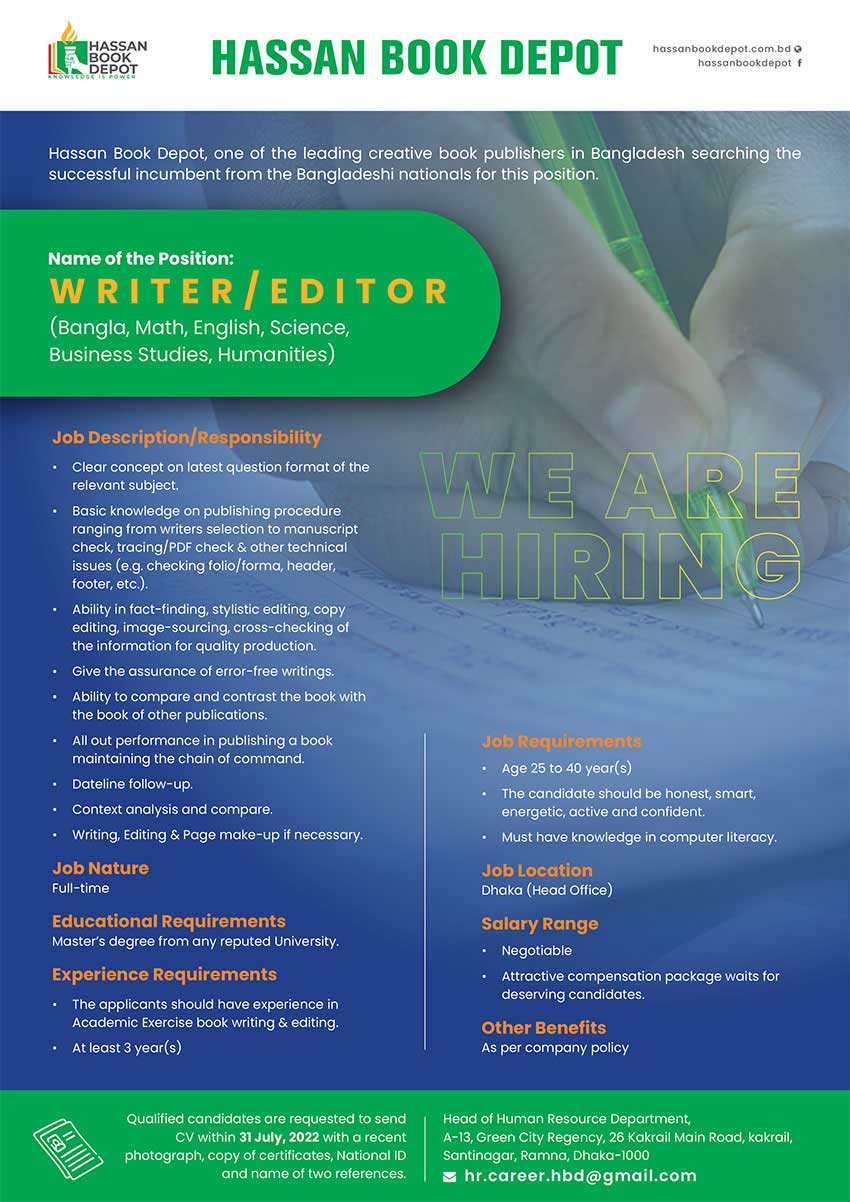 New job circular
Hasan Book Depot Job Circular 2022
Mr. Arafat Faisal Sarkar is the Managing Director of Ignite Consortium Limited. He was born on October 2, 1989 in Jessore, a prosperous city in southwestern Bangladesh. As a student he was extremely talented and received higher education in Australia. After completing his studies in Australia, he returned to Bangladesh in 2016. Upon his arrival, he started his business life under the direction of his father, the late Abul Kashem Sarkar. This business was established by his grandfather late Abdul Gafur Sarkar. As the business was in his blood, he became indomitable in the expansion of the family business. So he set up IGNITE CONSORTium LTD to fulfill his father's dream.
At the same time, under his charismatic leadership, Hasan Business Depot, Ignite Publications, Janani Publications, Top Pain and Stationery, Balaka Press and Publications, New Blue Bird International and some other business organizations are developing rapidly. jobpaperbd.com His great leadership qualities and use of modern technology have added a new dimension to this business. Apart from doing business, this institution is playing an important role in spreading education in Bangladesh. Janani Publications and Ignite Publications are publishing supplementary books of the textbooks published by NCTB. Top pens and industries' pens and other stationery items have now reached far and wide in Bangladesh. At the same time these institutions have created a huge number of employment opportunities.
Job related
"Today's Job Thabar 2022, New Job News 2022, All Job News 2022, Job News 2022, Company job Notification 2022, Today's Job News 2022, All Posts Recruitment Notification 2022, New Job News 2022, All Job News 2022, Job News 2022, Company job Circular 2022, Today's Job News 2022, job Circular 2022 for All Posts "