Help Foundation NGO job Circular 2022
Help Foundation NGO job Circular 2022 Publish. Help Foundation (HF), a registered non-governmental organization has been working for the welfare of the poor sections of the society for more than a decade. It aims to provide basic needs to the underprivileged people of the country and provide education to children in slums, outskirts of cities or remote rural areas where access to education is not easy. Over the years HF has been providing them with free care, counselling, tutoring, mentoring etc. The HELP Foundation focuses on creating a just world regardless of background by empowering the most marginalized. This foundation aims to benefit them through various welfare projects like education, child care, healthcare, employment, women empowerment etc. To improve the socio-economic status of needy HFs by equipping them with skills required for earning. Check Help Foundation NGO job Circular 2022 .
Also, this foundation is working to change the future of girls so that they are able to fulfill their potential. It advises parents, guardians and teenagers to stop child marriage and dowry practices. In fact, HF aims to help the poor break the cycle of poverty by integrating education. chakrirkbr.com We support and fight for all justice. Honesty and Integrity: We hold ourselves true to all the principles of the organization and provide integrity in the interest of Help Foundation (HF). We try to respect each other and believe that women are people too. They have equal rights as human beings. We have no qualms about transparency and accountability to those we work for and with. We are responsive to people's needs and local community aspirations. Help Foundation NGO job Circular 2022.
Help Foundation NGO job Circular 2022
Number of posts: 400
Eligibility: See below
Deadline: 28 July 2022
Apply from below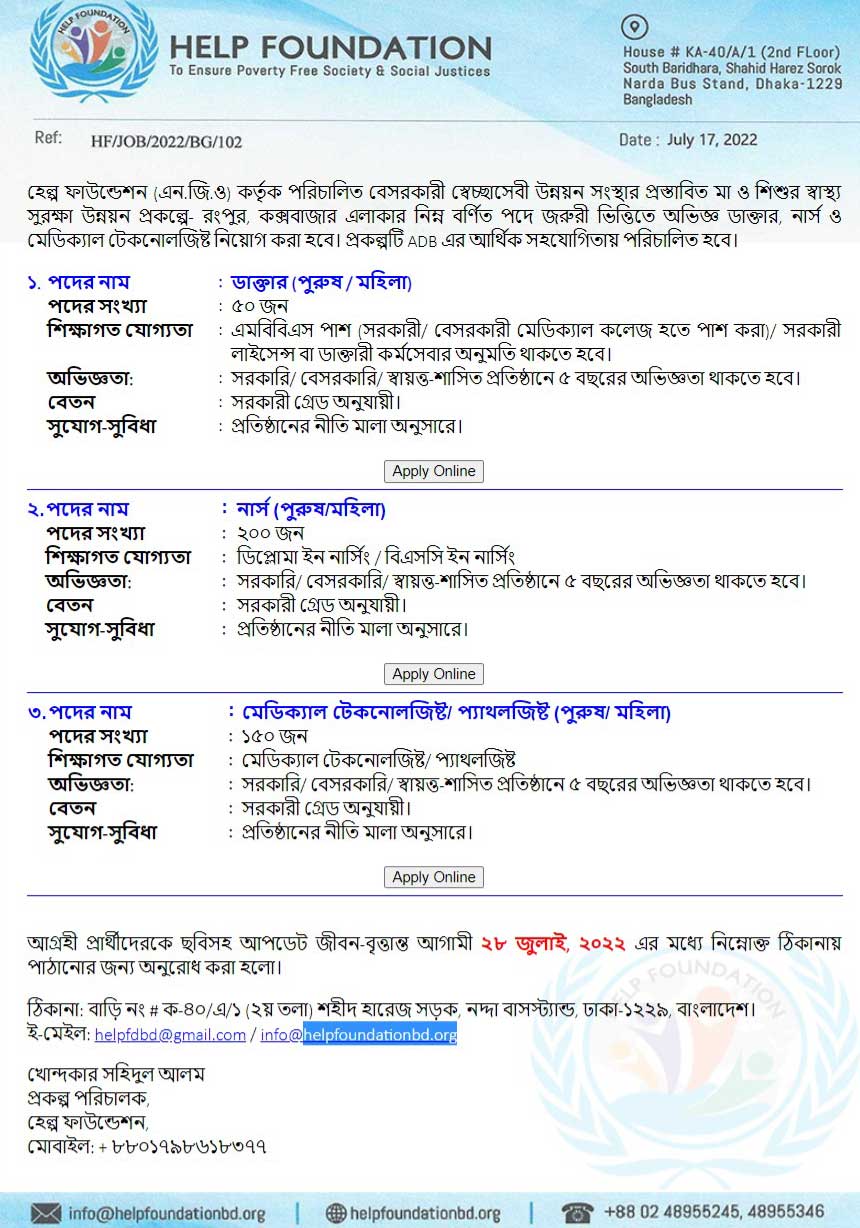 New job circular
Help Foundation NGO job Circular 2022
Raising awareness of moral and legal rights and taking adequate measures to protect these rights within the community.
Providing financial and technical assistance for capacity building and creation of employment opportunities among the poor and landless.
Ensuring basic rights of poor and vulnerable children, persons with disabilities and backward sections of society.
To take primary care of rural people's health and help them build happy families.
To increase the education rate of people in the community.
Ensuring employment generation through Need Base IGA Programme.
Development of water and sanitation facilities in the project area.
Ensuring human rights among the people of the community.
Enhancing social forestry. jobpaperbd.com.
To develop good environmental conditions in the project area.
Establishing social justice at the community level.
Poverty alleviation of disadvantaged rural and urban people.
To change the socio-economic status of disadvantaged rural and urban people.
Awareness should be raised to reduce social ills like divorce, acid throwing, early marriage, torture.
Establishing the rights of indigenous peoples.
To control and detect deadly diseases.
Job related
" Today's Jobs News 2022, New Recruitment Circular 2022, Today's NGO Jobs News 2022, Various NGO Jobs News 2022, Bangladesh NGO Jobs News 2022, New Recruitment Circular 2022, Today's NGO Jobs News 2022, Various NGO Jobs News 2022, Bangladesh NGO Jobs News 2022"