Janata Jute Mills Ltd. job Circular 2022
Janata Jute Mills Ltd. job Circular 2022 has been publish. Bangladesh is the habitat of jute and it is our good fortune that we are trying to establish the name of jute in its rightful place among the natural fibers of the world. Jute is environmentally friendly, biodegradable and not a threat to human health. I thank those who use jute and jute products because you are not just protecting nature; You are also helping millions of people. I appreciate the continued support from our valued customers and my dedicated colleagues who have inspired me to build a better tomorrow. If you decide to use jute yarn then Janata Jute Mills Limited is the name you can rely on as this is the name that stands for quality. Apply by looking at Janata Jute Mills Ltd. job Circular 2022.
First of all, let us inform you about our 2 mills – Janata Jute Mills Limited and Sadat Jute Industries Limited – which together are the largest manufacturers and exporters of jute products in the private sector in Bangladesh. chakrirkbr.com Our yarn exports are about. Currently 32,000 metric tons / year. In addition, we produce around. 17,000 metric tons / year woven and other products. In the last 23 years, our mills have received national export awards at 20 events in addition to various other national and international awards. See Janata Jute Mills Ltd. job Circular 2022 and more job news.
Janata Jute Mills Ltd. job Circular 2022
Vacancy: Not specific
Employment Status: Full-time
Age: Age at most 32 years
Job Location: Cumilla, Faridpur, Narsingdi
Salary: Negotiable
Application Deadline: 9 Jul 2022
Apply from below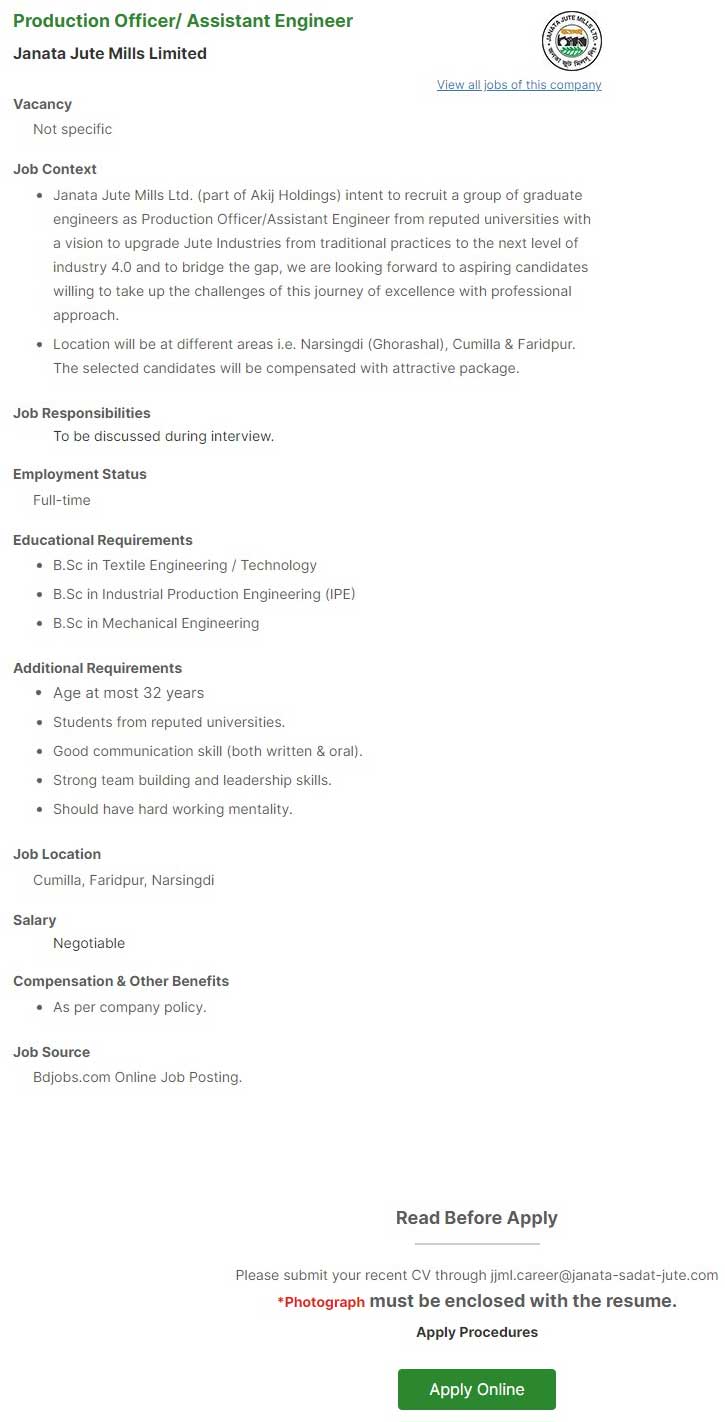 New job circular
Janata Jute Mills Ltd. job Circular 2022
In addition, we have been working closely with Van de Will since the 1980s, which led to our close partnership with them in the development of their weaving. We were their research partner during the development of CRM, CRT, CRX, CRP, RCI and the latest RCE loom, which was launched in November 2015 at ITMA Milan. In addition, we have partnered with Schonherr. jobpaperbd.com Now in our operation mode. Our philosophy, from the beginning, has always been that once we confirm a sale,.
Our esteemed buyers may fall asleep because we are awake to fulfill the contract. To keep our valued customers satisfied – for both products and services – ensuring the best quality is our highest priority. Being able to deliver on what we promise is a reputation we've worked so hard to earn! We would like to take this opportunity to thank all the stakeholders involved in our activities for contributing to our success. We acknowledge that without the support of all – buyers, employees, banks and insurers – among others – this success would not have been possible.
Job related
"Jute Mills Ltd. job Circular 2022, New job Circular 2022, Today's Company Recruitment Circular 2022, Jute Mills Ltd. Recruitment Circular 2022, New job Circular 2022, Today's Company job Circular 2022, Jute Mills Ltd. job Circular 2022"