Khulna University job Circular 2022
Khulna University job Circular 2022 has been publish. The Agricultural Technology Discipline at Khulna University was establish in March 1996 with the aim of strengthening human resources and driving the development of agriculture in Bangladesh. Bangladesh is an agricultural country and about 42% of the population of Bangladesh are farmers. www.chakrirkbr.com. But due to several socio-economic constraints and lack of knowledge about modern agriculture, farmers often fail to optimize their crops from the farm. Agricultural technology discipline is mandatory to create skilled manpower with advanced knowledge in agriculture. Course curriculum for this discipline has been upgrade.
The curriculum covers all the courses offered by the relevant institutes of the country as well as they include Geographic Information System (GlS), Spreadsheet Analysis and Computer Studies. Apply by looking at Khulna University job Circular 2022 to get the job. Discipline continues to strive to ensure quality education for students. It is successfully producing at least 40 skilled agriculturists every year. The discipline has begun to produce specialists in agriculture, horticulture, plant pathology, agricultural extension and rural development, and postgraduate education in genetics and plant breeding (MS).
Higher education will be provided in other branches of agriculture in the near future. Some students have already been admit to the discipline to study for a PhD. Sessions from 2009-2010. In addition, discipline teachers and students are involved in conducting research on various current local and national issues, and research papers and articles are being published in national and international journals, newspapers and books. For farmers, researchers and local entrepreneurs to improve the conditions of the beneficiaries. See below for more information on Khulna University job Circular 2022.
Khulna University job Circular 2022
Employer: Khulna University
Eligibility: See notification
Number of terms: 16
Official website: https://ku.ac.bd
Deadline: 24 November 2022
Apply Online See The below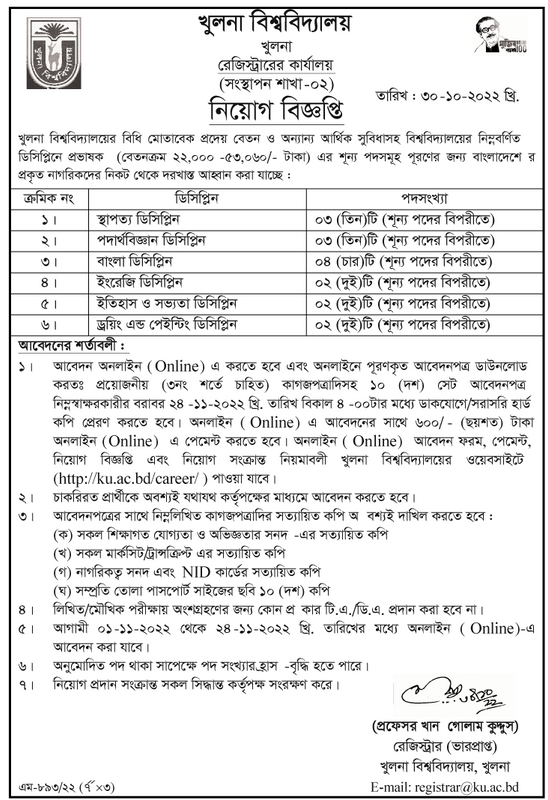 New job circular
Khulna University job Circular 2022
The agrotechnology discipline of Khulna University has energetic and skilled manpower. All teachers are highly qualified. Most of them have the highest degree i.e. PhD. They have obtained their higher degrees from various universities and institutes in the country and abroad and are therefore utilizing their knowledge and skills in the development of the agricultural sector (research and education) in Bangladesh. The discipline is pursuing various projects with funding from reputed funding agencies like USDA, ACIAR, KGF, BARC, KU Research Cell, Ministry of Education,
Ministry of Science and Technology and UGC. Agrotechnology disciplines work with some modern technologies such as biotechnology, tissue culture, genetic engineering, protected agriculture, thermal stress mitigation, irrigation management, IPM (Integrated Pest Management), Pest Biological Control (BC) etc. Discipline is also collecting and evaluating through Germplasm's 'Germplasm Center'. There are some new and ongoing technologies and varieties in agrotechnology disciplines that are about to be released.
School of Science, Engineering and Technology (SET)
Architecture (ARCH) discipline
Chemistry (CHEM) discipline
Computer Science and Engineering (CSE) discipline
Electronics and Communication Engineering (ECE) discipline
Mathematics (MATH) discipline
Physics (PHY) discipline
Statistics (STAT) discipline
Urban and Rural Planning (URP) discipline
Job related
"Khulna University job Circular 2022 has been publish, www.jobpaperbd.com, University job Circular 2022, Khulna University job Circular 2022 has been publish, University job Circular 2022, University job Circular 2022, new job circular"