Nutrition International job Circular 2022
Nutrition International job Circular 2022 has been publish. At Nutrition International, we make a difference, because nutrition is the difference. At the heart of our approach is the passion and drive of our team of more than 400 people, working in 13 offices in 11 countries with a common goal: to change the lives of those most in need through improved nutrition. If you are an inspired and passionate person who shares our conviction that a better world is possible through improved nutrition, they want to leave the world a little better than they have found and be part of a global team with a clear vision, we I want to hear from you. Consider applying for the following positions. Apply by looking at Nutrition International job Circular 2022.
Nutrition International's Operations Unit is a dedicated team of program implementation experts responsible for contributing to the overall management of NI's field operations in Asia and Africa. chakrirkbr.com It is a national position that will provide operational and technical support for Nutrition International's adolescent and women's health and nutrition program in Bangladesh. This position will work under the direct supervision of the National Program Officer (NPO – AWHN) to plan, manage, monitor and report all aspects of health and nutrition programs for school-based and community-based adolescents and women. See below for more information on Nutrition International job Circular 2022.
Nutrition International job Circular 2022
Eligibility: See notification
Age limit: See picture
Type of work: Company
The number of posts: See picture
Deadline: 13 may 2022
Apply from below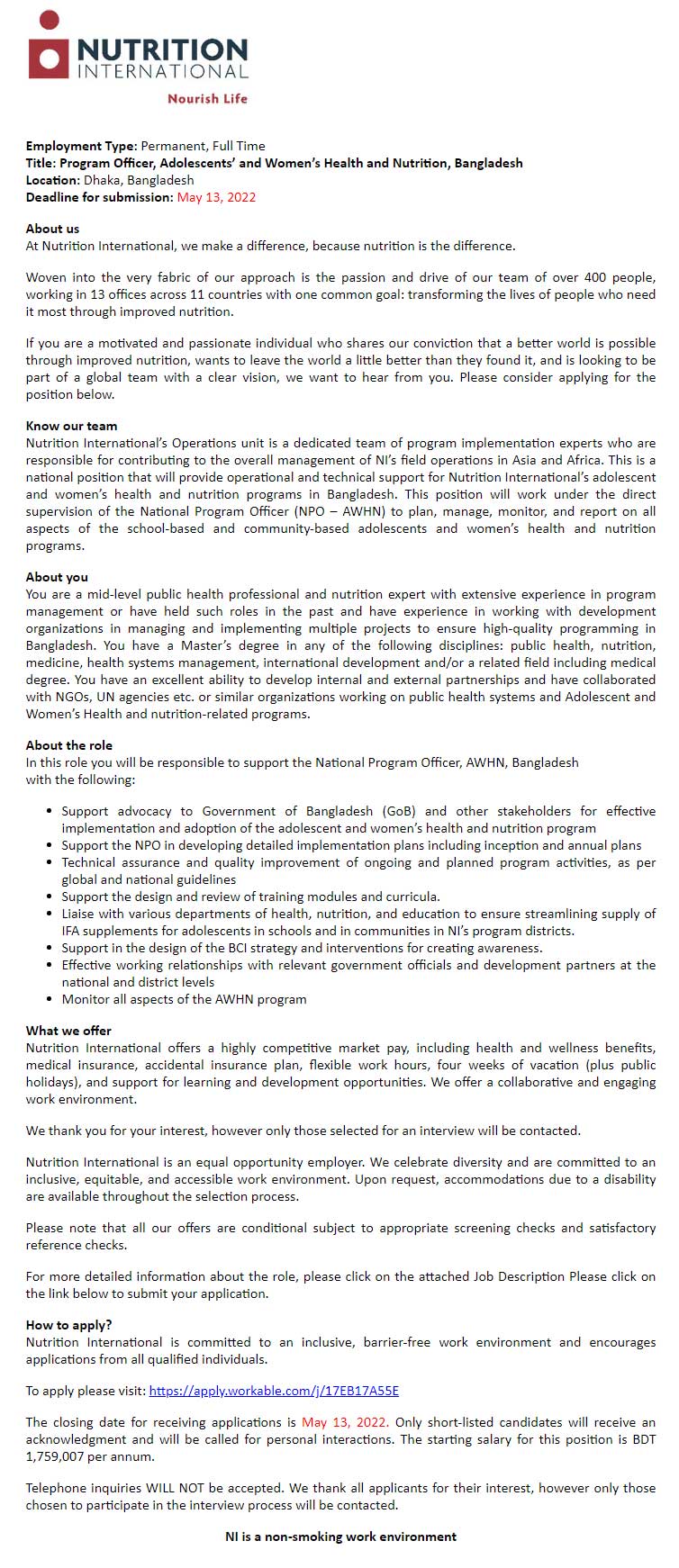 New job circular
Nutrition International job Circular 2022
You are a mid-level public health professional and nutritionist who has extensive experience in program management or has played such roles in the past and has experience working with development agencies to manage and implement multiple projects to ensure high-quality programming in Bangladesh. You have a postgraduate degree in any of the following areas: a related field including public health, nutrition, medicine, healthcare management, international development and or medical degree. have great potential to develop internal and external partnerships and have collaborated with NGOs, UN agencies, etc. or similar organizations working on public health systems and adolescent and women's health and nutrition programs. jobpaperbd.com
About the role
Support the design and review of training modules and curricula.
Liaise with various departments of health, nutrition, and education to ensure streamlining supply of IFA
supplements for adolescents in schools and in communities in NI's program districts.
Support in the design of the BCI strategy and interventions for creating awareness.
Effective working relationships with relevant government officials and development partners at the national and district levels
Monitor all aspects of the AWHN program
Support advocacy to Government of Bangladesh (GoB) and other stakeholders for effective
implementation and adoption of the adolescent and women's health and nutrition program
Support the NPO in developing detailed implementation plans including inception and annual plans
Technical assurance and quality improvement of ongoing and planned program activities, as per global and national guidelines
Job related
"Nutrition International job Circular 2022 has been publish. job Circular 2022, new job circular , today  job news here 2022, Circular 2022 has been publish. job Circular 2022, new job circular , today  job news here 2022"