Program for Community job Circular 2022 Vacancy 226
Program for Community job Circular 2022 has been publish. The Program for Community Development (PCD) is a non-governmental organization establish in 1986 and start its development journey with great enthusiasm and enthusiasm by the people of the community to improve the socio-economic status of the rural grassroots people. This is the first beginning of development activities in Chatmohar upazila of Pabna district. This organization is register with the Bureau of NGO Affairs, Prime Minister's Office, Government. Registered in the Department of Social Services under the Ministry of Social Welfare, Bangladesh. Bangladesh is registered with the Micro Credit Regulatory Authority under Bangladesh Bank (Central Bank) of the Government of Bangladesh. Apply by viewing the Program for Community job Circular 2022.
PCD is register with all the appropriate agencies of the Government of Bangladesh. The following table contains the details of registration: Registration Agency Registration Number Date Social Welfare Pabna-131 (254) / 86 23/07/1986 NGO Affairs Bureau 872 04/12/1994 Micro Credit Regulatory Authority 01503-01503-01503-01503 PCD has a tax identification number (TIN- 873538355688) and from 2012 PCD has been submitting financial statements to the National Board of Revenue. It serves as a driving force for the transformation of society towards sustainable development through the promotion, support and implementation of programs that address the root causes of the problems.
In order to implement all the programs, the PCD always considers the issue of poverty alleviation and takes necessary steps for its successful implementation. chakrirkbr.com. PCD has 25 branches in Pabna, Natore and Sirajgang districts and is implementing its development activities through 12 project / program unit offices in Natore, Sirajgang, Kushtia, Maherpur, Rajbari, Faridpur, Magura, Tangail, Sherpur, Jamalpur, Mymensingh and Netrokona districts. Stay tuned to see more job news in the Program for Community job Circular 2022.
Program for Community job Circular 2022
Qualification: follow circular
Total posts: 226
Age limit: 30 to 45 years
Salary: 20,400-60,000/- TK
Deadline: 30 October 2022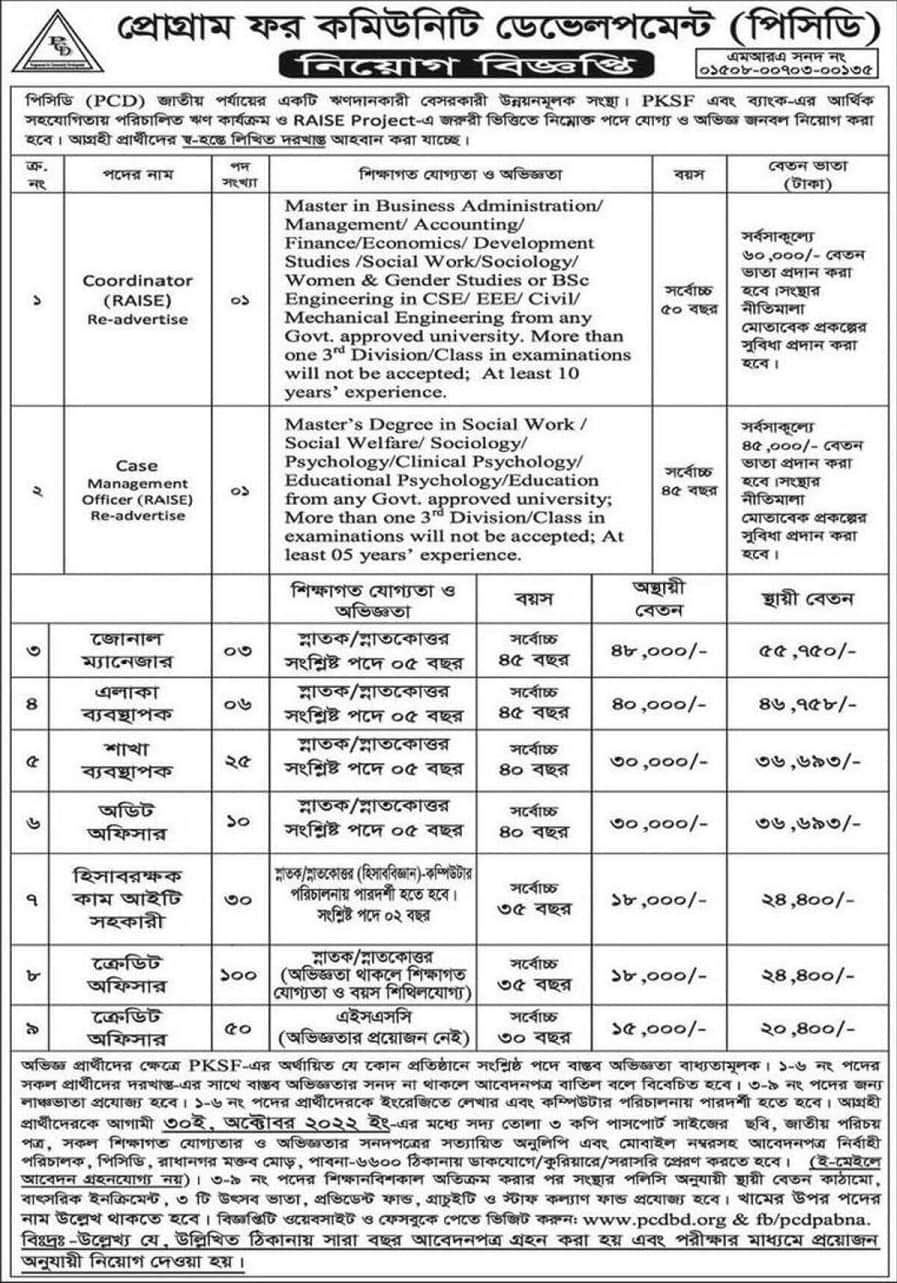 New job circular
Program for Community job Circular 2022
Microfinance has been very successful in lending to the rural poor. It has had a significant impact on job creation, poverty alleviation and women's empowerment. A number of past and present IFAD funded projects have sought to provide loans to small and marginal farmers. jobpaperbd.com.  Recognizing the need for innovation in this area, over the past few years IFAD has sought to initiate a partnership with PKSF to introduce a new institutional approach to providing financial services to the farming community. Under this project with 04 upazilas of Pabna district (Chatmohar, Bhangura, Faridpur and Ishwardi).
The objective of the micro-enterprise program is to provide loan for the medium and macro business in the rural area.
Entrepreneur ship development in the working area.
Employment and proper utilize the local resources.
Motivate and Create own fund.
Socio-economic development of mid level people.
Impact of micro-credit program:
This program has created rural employment, saved the poor from clutches of Mohajans.
job related
"Today's Job News 2022, New Job News Today's Job Notification 2022, NGO Job News 2022, Today's Job News 2022, New Job News Today's Job Notice 2022, NGO Job News 2022, Jobs in Various Companies 2022, Today's Recruitment Notification 2022"