Tea Resort and Museum job Circular 2022
Tea Resort and Museum job Circular 2022 has been publish. chakrirkbr.com Cha Resort, one of the most attractive modern leisure resorts built by British consultants for their peaceful abode in the middle of a tea kingdom with a wonderful landscape consisting of over 25 acres of green hills and hilltops. The tea resort is conventionally located near the town of Srimangal, Dhaka has road rail and air connectivity with Chittagong and Sylhet. It provides a luxurious amenity with excellent service and warm hospitality to make every moment memorable, comfortable and enjoyable. See Tea Resort and Museum job Circular 2022 and apply.
Cha Resort, one of the most attractive and modern vacation spots spread over 25 acres of lush green hills in an area of ​​outstanding natural beauty originally built by a British consultant for their peaceful location. The resort campus is well equipped with modern interior design and architecture, outdoor park, modern swimming pool, lawn tennis, table tennis and badminton etc. The restaurants serve local Asian and international cuisines with an emphasis on fresh, healthy and creative flavors. Among the impressive places are Manipuri Village, Khasia Punji, Madhavpur Lake, Tea Gardens and Leuachhara. Tea Resort and Museum job Circular 2022.
Tea Resort and Museum job Circular 2022
Deadline: 5 September 2022
Post Number: 17
Apply from below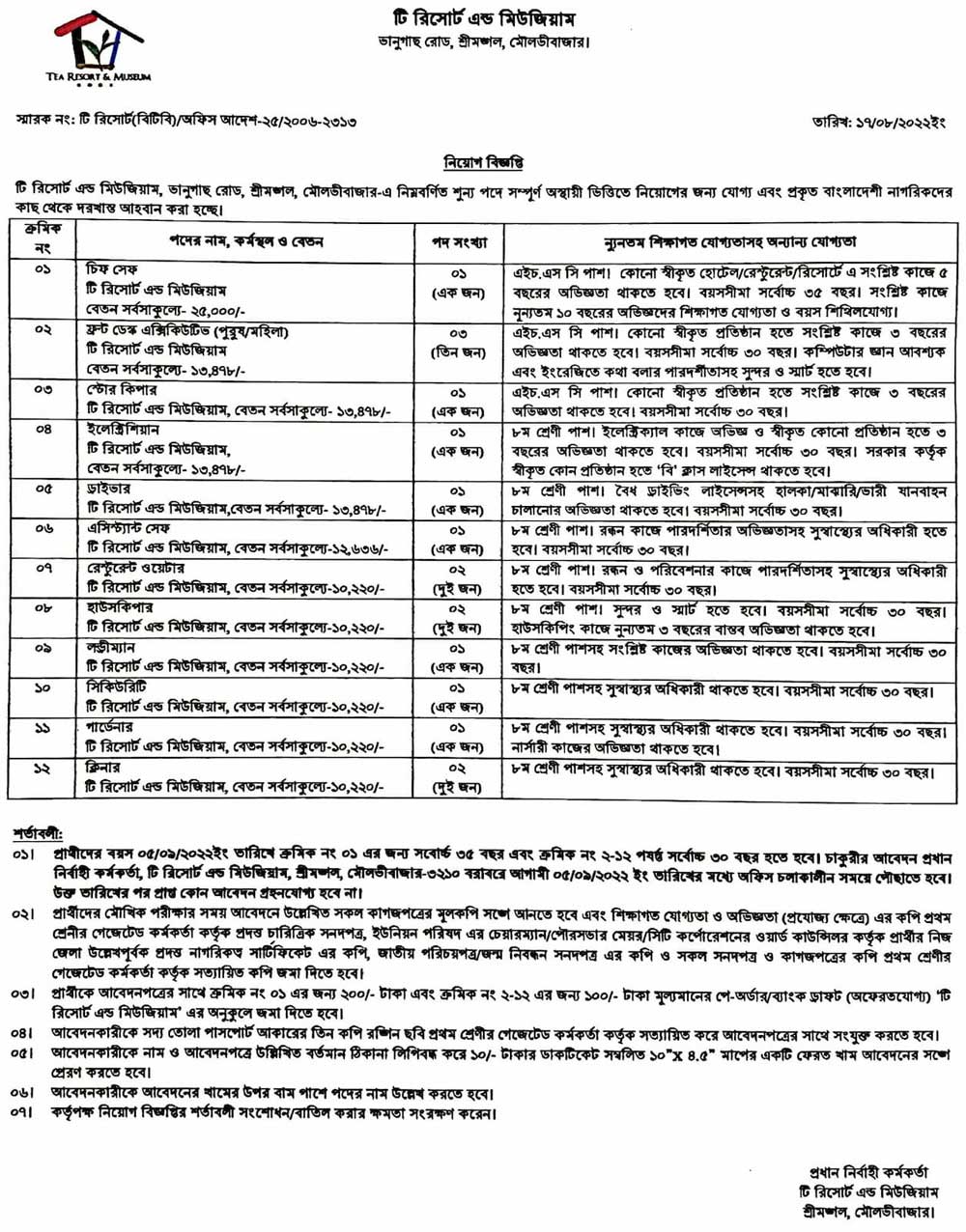 Apply today
  New job circular
Tea Resort and Museum Career 2022
During the War of Independence in 1971 AD, the tea gardens were almost destroyed. Father of the Nation Bangabandhu Sheikh Mujibur Rahman took various steps to establish this industry on a sustainable basis. He took steps to rehabilitate the post-war derelict/abandoned tea plantations by forming the "Bangladesh Tea Industries Management Committee (BTIMC)" after independence. He took loans from "Industrial Development Bank of India" to rehabilitate the destroyed tea factories during the War of Independence: arranged to import machinery for the tea industry.
To protect the existence of the tea industry, Bangabandhu's government provided cash subsidies to the tea growers as well as providing fertilizers at subsidized prices. jobpaperbd.com The said fertilizer supply operation is still continuing. He ensured the labor welfare of the tea workers; For example, they ensure access to free housing, clean water, baby care centers, primary education and rations. He upgraded the Bangladesh Tea Research Station to a full-fledged Tea Research Institute in 1973.