Bangladesh Rural Electrification Board Job Circular 2022 (BREB)
Bangladesh rural electrification board job circular 2022 published successful for you. So here BREB is the most popular job side in our country. Now BREB has some opportunity for you that we published in this site. Besides this organization has much popularity around the world. But there is not only BREB job But also many categories job given in our site with details. there are some categories job such as govt job, none govt job, bank job, NGO job. We try to give all information of these job full details in our site chakrirkbr.com is popular site. Now see the details of this job clearly in the below.
বাংলাদেশ গ্রামীণ বিদ্যুতায়ন বোর্ডের চাকরির বিজ্ঞপ্তি ২০২২ আপনার জন্য সফল প্রকাশিত। সুতরাং এখানে বিআরইবি হ'ল আমাদের দেশের সবচেয়ে জনপ্রিয় কাজের দিক। এখন বিআরইবি আপনার জন্য কিছু সুযোগ রয়েছে যা আমরা এই সাইটে প্রকাশ করেছি। এই সংস্থা ছাড়াও বিশ্বজুড়ে অনেক জনপ্রিয়তা রয়েছে। তবে কেবল বিআরইবি চাকরিই নয়, বিশদ সহ আমাদের সাইটে দেওয়া হয়েছে অনেক বিভাগের কাজ। কিছু বিভাগের কাজ যেমন সরকারী চাকরী, সরকারী চাকরী নয়, ব্যাংক চাকরী, এনজিওর চাকরি। আমরা এই সাইটটির সমস্ত তথ্য আমাদের সাইটে পুরো বিশদ দেওয়ার চেষ্টা করি জনপ্রিয় সাইট। এখন এই কাজের বিবরণ নীচে পরিষ্কারভাবে দেখুন।
Bangladesh Rural Electrification Board Job Circular 2022
Eligibility: See notification
salary: See notification
Number of Posts: 94
Deadline: 6 October 2022
Apply from below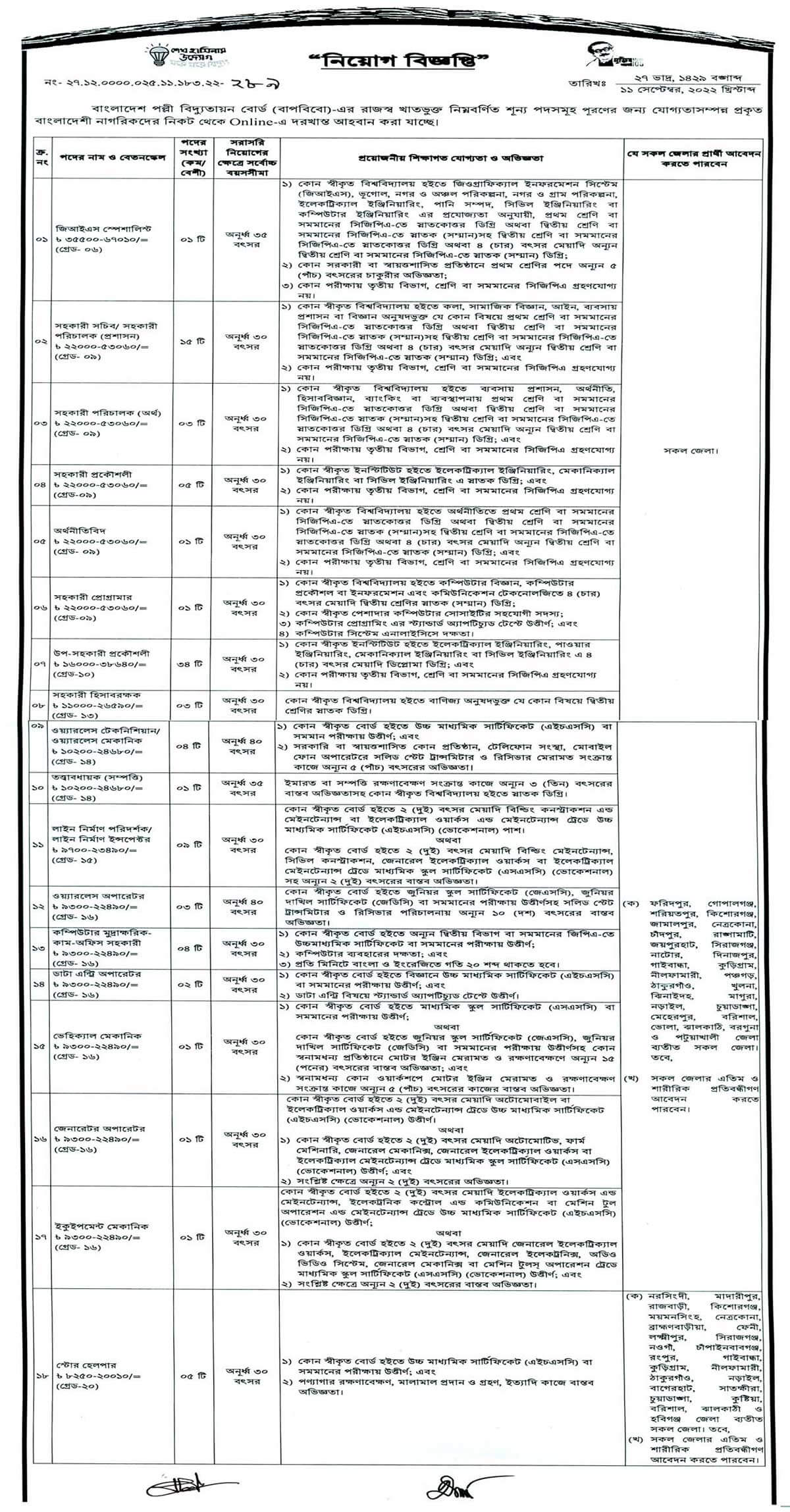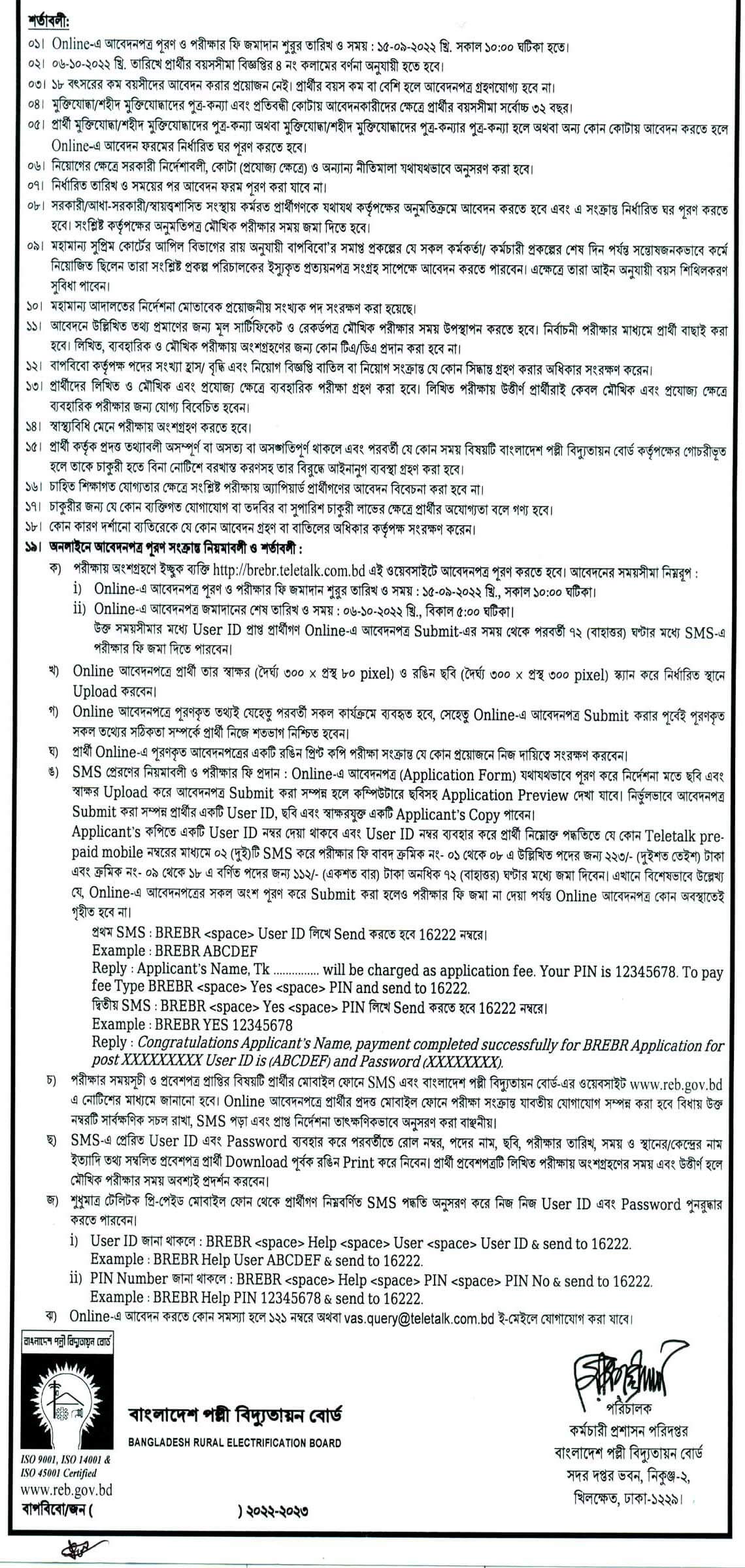 New Jobs Circular
বাংলাদেশ পল্লিবিদ্যুতায়ন বোর্ড নিয়োগ বিজ্ঞপ্তি ২০২২
The Bangladesh Rural Electrification Board (BREB) was established by a presidential order in 1986 and started functioning in 1986. BREB is the largest power supplier in Bangladesh, generating power lines and power substations mainly in rural areas. It is playing a helpful role in the development of rural population and in making rural Bengal similar to the city. So visit job paper bd. for job.
Till 2011, 60 rural electricity associations have been formed under the initiative of BREB. These Palli Bidyut Samitis are carrying out 100% electrification activities all over Bangladesh through house-to-house electricity planned by the government. It supplies electricity directly from the national grid through a 33 kV line to the consumer level through an 11 kV feeder from a 33/11 kV substation in remote areas.
Job Related
"বাংলাদেশ পল্লী বিদ্যুতায়ন বোর্ডের চাকরির বিজ্ঞপ্তি ২০২২, নতুন বাংলাদেশ পল্লী বিদ্যুতায়ন বোর্ডের চাকরির বিজ্ঞপ্তি ২০২২, বিদ্যুতায়ন বোর্ডের চাকরির বিজ্ঞপ্তি ২০২২, নতুন বিদ্যুতায়ন বোর্ডের চাকরির বিজ্ঞপ্তি ২০২২, সরকারী চাকরী বিজ্ঞপ্তি ২০২২, সকল সরকারি চাকরির বিজ্ঞপ্তি ২০২২,"
"Bangladesh rural electrification board job circular 2022, Bangladesh Inland Water Transport Authority job Circular 2022, new Bangladesh rural electrification board job circular 2022, electrification board job circular 2022, Dhaka City Corporation Job Circular 2022, new electrification board job circular 2022, Bangladesh Red Crescent Society Job Circular 2022, govt job circular 2021, All govt job circular 2022,"