Biam Foundation job Circular 2022
Biam Foundation job Circular 2022 has been publish. BIAM Foundation or Bangladesh Institute of Administration and Management is an autonomous state business organization in Bangladesh and is located in Dhaka, Bangladesh. It is an autonomous training and research institute affiliated to the Ministry of Public Administration and conducts training starting from foundation training courses. our site chakrirkbr.com is popular site. FTC) Departmental training for officers from Bangladesh Civil Service (BCS) cadre to other government organizations. It also conducts customized training for private companies. It has modern hostel facilities in Hatirjheel area. There are auditorium facilities for rent. See more job news in Biam Foundation job Circular 2022.
Bangladesh Institute of Administration and Management (BIAM) is one of the leading training institutes in the country established in 1991 to provide professional and career development training in development administration and management. Subsequently, the Institute was transform into a Foundation by an official resolution in November 2002. It is a self-financed affiliate of the Bangladesh Administrative Services Association. Biam Foundation Bangladesh Civil Service (Administration) cadre as well as members of other governmental and non-governmental organizations in the country are required to enhance their professional skills, competencies and performance. You will get news of more government and private jobs including Biam Foundation job Circular 2022.
Biam Foundation job Circular 2022
Qualification: See the circular
Salary: See the circular
Age limit: in the image
Number of posts: 17
Interview Date: 25 may 2022

Apply from below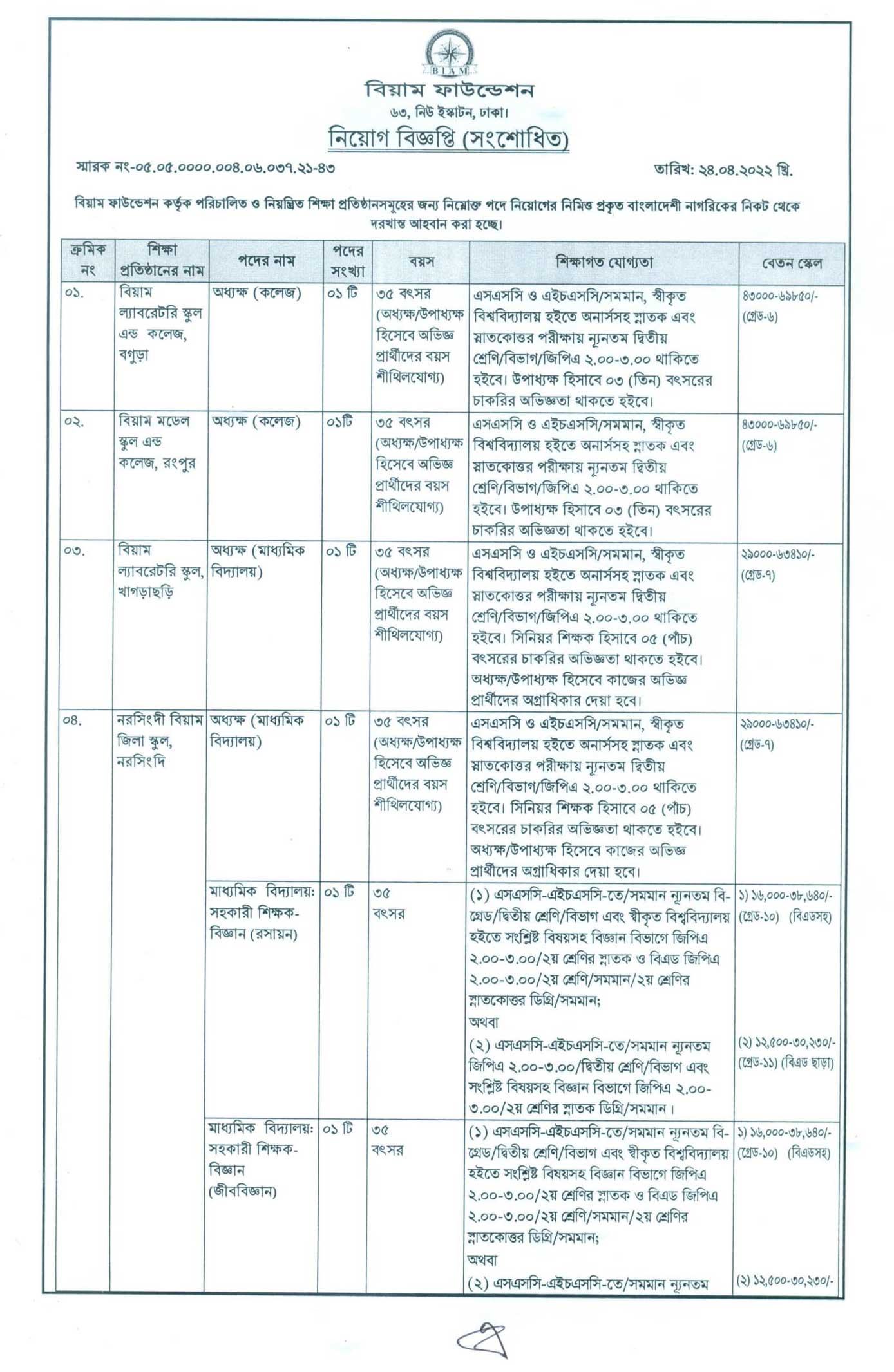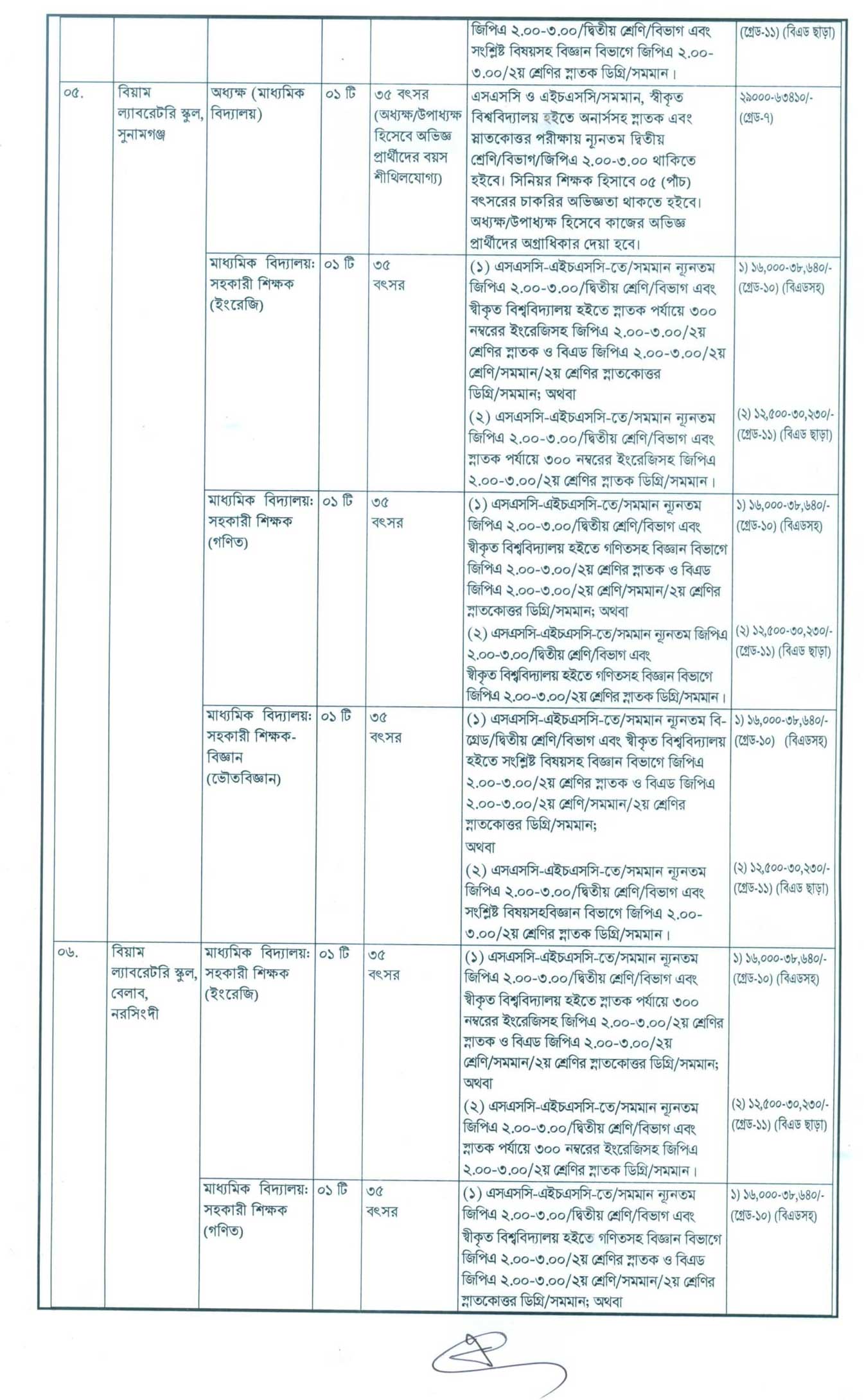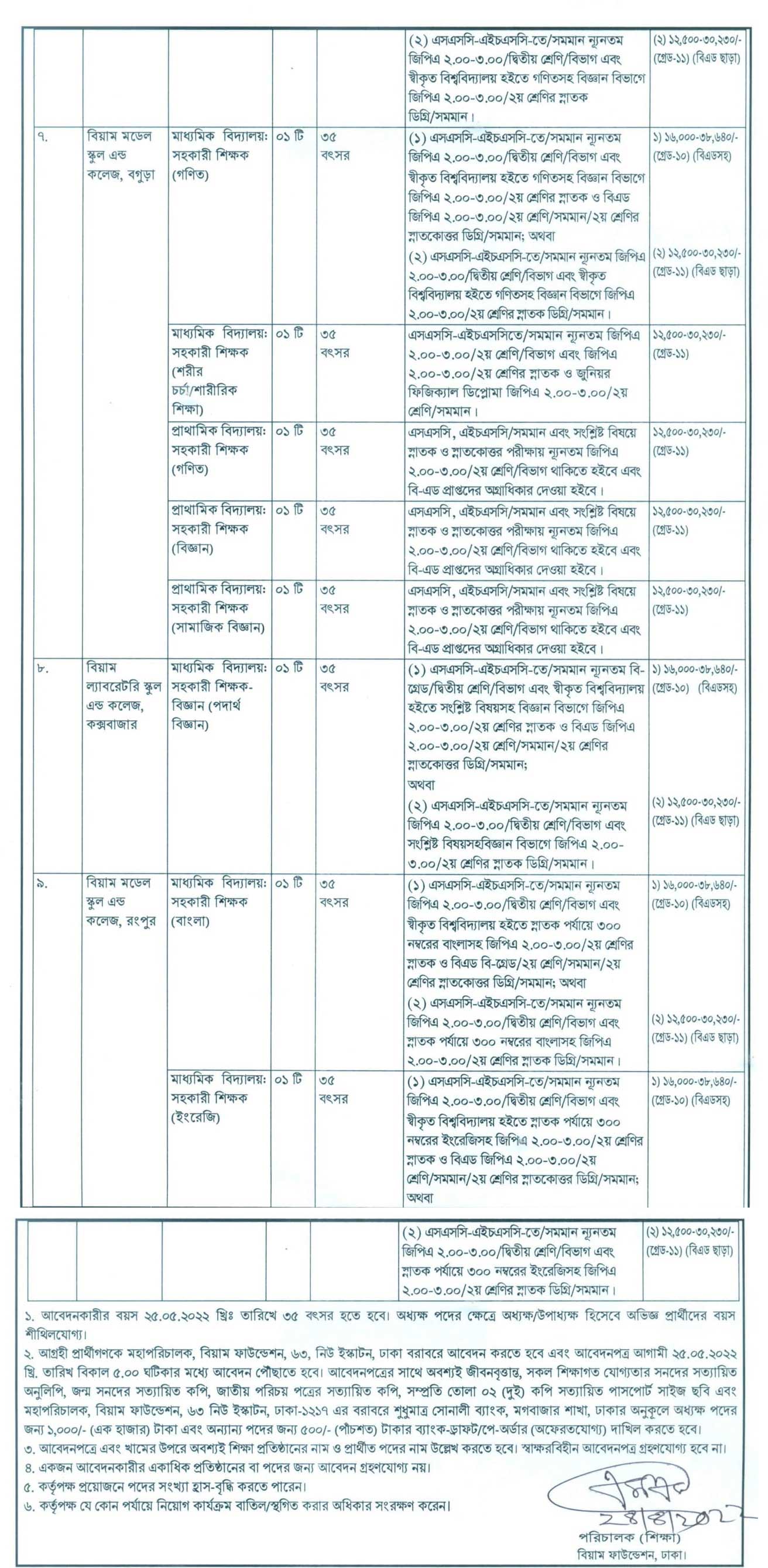 Apply now today
New job circular
Biam Foundation job Circular 2022
Sheikh Mujibur Rahman Additional Secretary to the NDC Government. Bangladesh. As Director General, he joined the BIAM Foundation on September 18, 2017. Prior to his current position, he served as Project Director and later as the inaugural Registrar of Birth and Death Registration under the local government. Department, Ministry of Local Government. Prior to this, he was the Joint Secretary (Tourism) of the Ministry of Civil Aviation and Tourism and Deputy Secretary (Administration) of Bangladesh Bridge Authority under the Ministry of Communications, Bridges Division and Additional Director (Administration).
Mr. Rahman holds a Masters Degree in Economics from Jagannath University (formerly Jagannath University College) in 1984. He holds a second master's degree in business administration from Northern University. After successfully completing the BCS Examination-1975 (8th), he joined the Bangladesh Civil Service (Administration) cadre on 15 February 1986. He has served as Assistant Commissioner and Magistrate, Upazila Magistrate, NDC in field administration for over 20 years. , Magistrate PDB, Upazila Executive Officer, Cantonment Executive Officer, Additional Deputy Commissioner, Additional District Magistrate, Acting Deputy Commissioner etc. in different Upazilas and Districts of the country.
Bangladesh Institute of Administration and Management job Circular 2022
After joining Bangladesh Civil, he will be able to think of practically all students like BMA considerations, foundation considerations, law and policy considerations, and settlers. He has also participated in some special policies on prevention, disaster control, public procurement, computer. And English language etc. Only he has successfully implemented some advanced policies such as MATT-II, Advanced Network Administration Android Development (ACAD Platt), Stuffed GunMate (SSC), Policy, Endowment Media (PPMC) and National Defense Politics (NDC). ) In some cases he has achieved some unique position. The social research paper in National Defense has been interpreted as one of the best research papers in international journals.
An official of the Cabinet Department is not below the rank of Joint Secretary
An official of the Ministry of Public Administration is not below the rank of Joint Secretary
Ministry of Planning / Planning Commission is not below the rank of Joint Secretary
02 (two) retired and 02 (two) working officers of BCS (Administration) cadre experienced in training and research
Secretary General of the Association – ex-officio member
Rector (Director General), BCS (Administration) Academy – Ex officio Member
An M.D.S. Nominated by BPATC. www.jobpaperbd.com.
Deputy Commissioner, Dhaka – ex-officio member
Director General, Biam Foundation – Secretary to the Governing Body
Job related
"Biam Foundation job Circular 2022, today job news 2022, new job related, gov job circular 2022, Foundation job Circular 2022, today job news 2022, new job related, gov job circular 2022, Foundation job Circular 2022, today job news 2022, new job related, gov job circular 2022″