Biman Bahini Job Circular 2022 | বিমান বাহিনী নিয়োগ বিজ্ঞপ্তি
Biman Bahini Job Circular 2022 published today. It is a Govt. job circular in our country. Besides, It is a sky force department of bangladesh. Bangladesh air force works as sky defence. All information of this circular given in our site. Now we published every type of job in our site regularly. Besides  we post all details of job gradually. Many type of job are already in our site that are Govt job, company job, bank job, NGO job etc. These type job work posted by categories. So to get all information of these type jobs in our site, visit in this site everyday. See more job info in www.chakrirkbr.com.
বিমান বাহিনী জব সার্কুলার ২০২২ আজ প্রকাশিত। এটি সরকারী আমাদের দেশে কাজ সার্কুলার। এছাড়াও এটি বাংলাদেশের আকাশ বাহিনী বিভাগ। বাংলাদেশ বিমান বাহিনী আকাশ প্রতিরক্ষা হিসাবে কাজ করে। এই বিজ্ঞপ্তি সমস্ত তথ্য আমাদের সাইটে দেওয়া। এখন আমরা আমাদের সাইটে প্রতিটি ধরণের কাজ নিয়মিত প্রকাশ করি। পাশাপাশি আমরা কাজের সমস্ত বিবরণ ধীরে ধীরে পোস্ট করি। অনেক ধরণের কাজ ইতিমধ্যে আমাদের সাইটে রয়েছে যে সরকারী চাকরী, সংস্থার চাকরী, ব্যাংক চাকরী, এনজিও জব ইত্যাদি. এই ধরণের কাজের কাজ বিভাগ দ্বারা পোস্ট করা। সুতরাং আমাদের সাইটে এই ধরণের কাজের সমস্ত তথ্য পেতে প্রতিদিন এই সাইটে ভিজিট করুন।
Bangladesh Air Force Job Circular 2022
Eligibility: See notification
Number of terms: see the circular
Job Location: See picture below
Last date of application: 23 April 2023
Apply online from below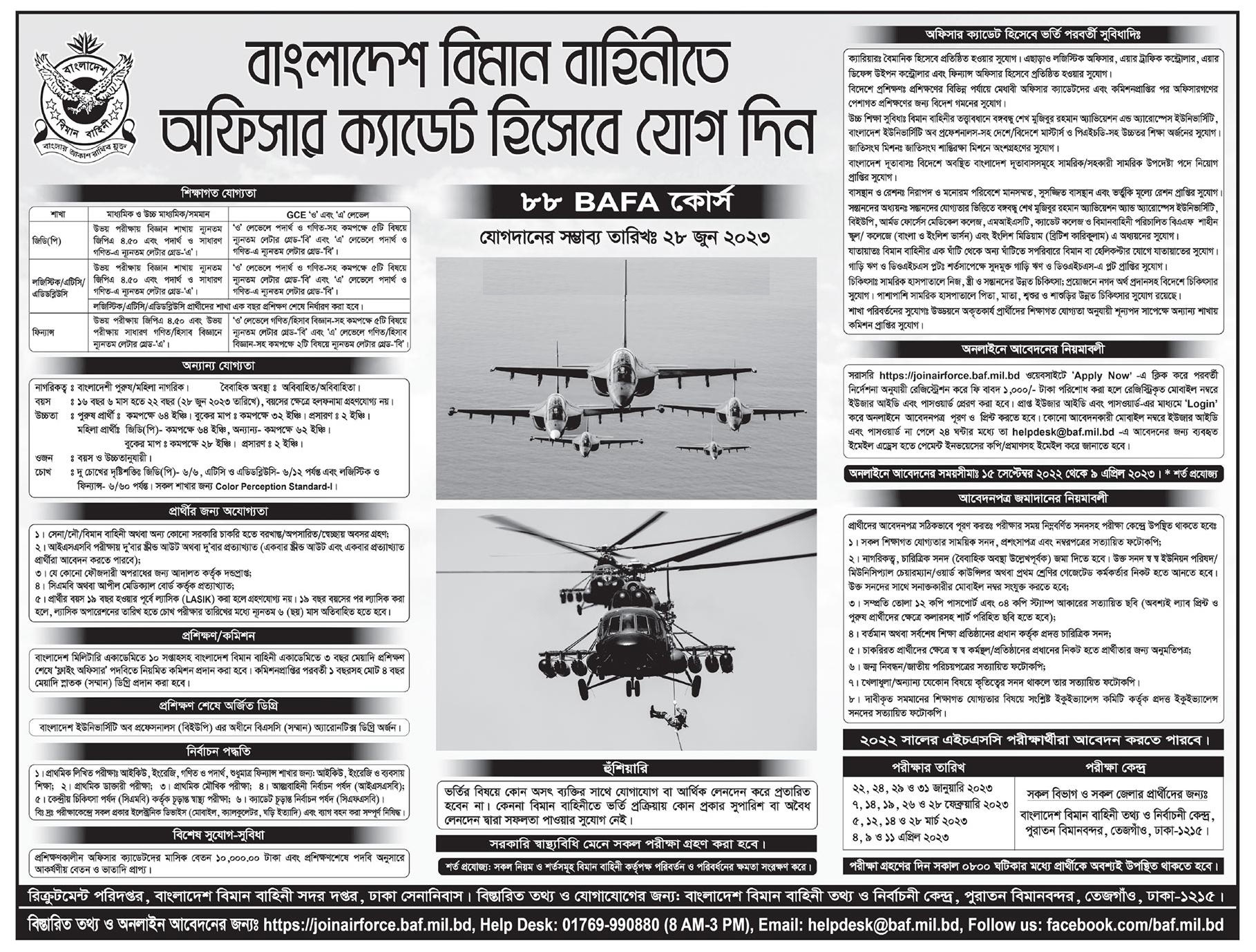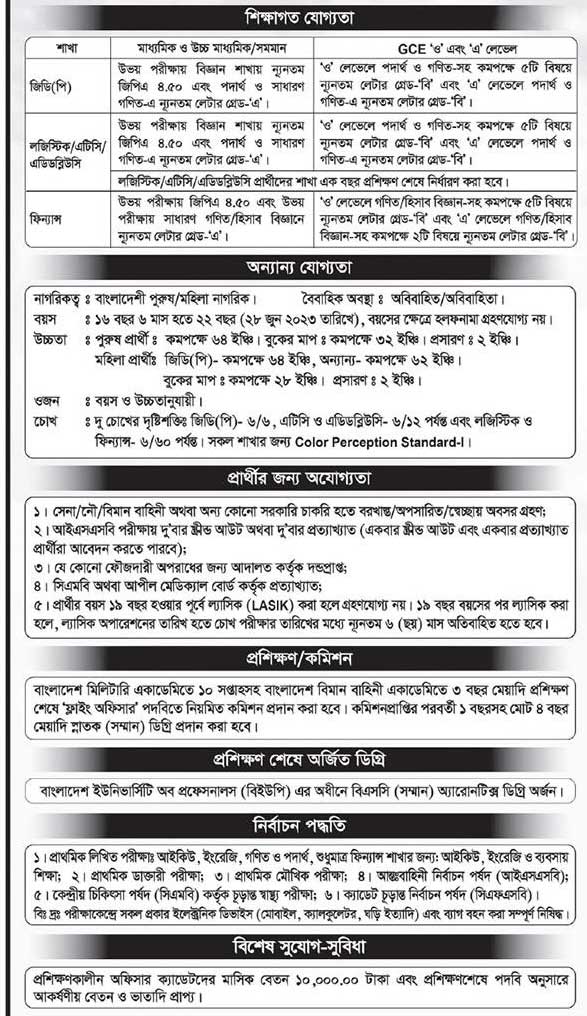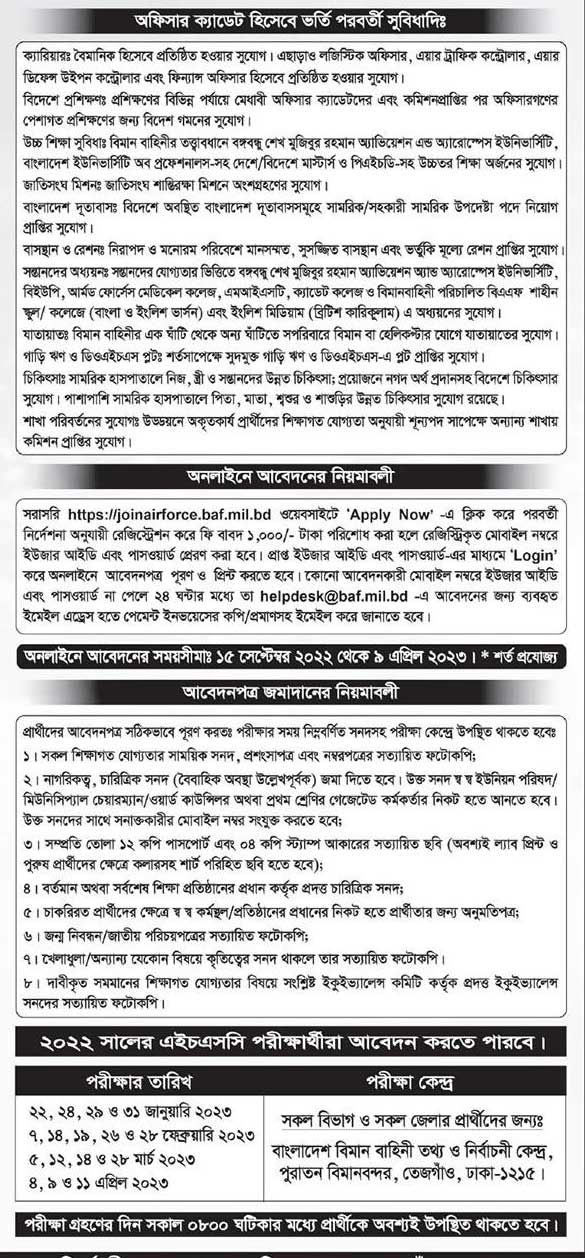 নতুন নিয়োগ বিজ্ঞপ্তি
বিমান বাহীনি চাকরি নিয়োগ ২০২২
Bangladesh Air Force is an aerial combat branch of the Bangladesh Armed Forces. The primary responsibility of the Air Force is to protect the sovereignty of Bangladesh's airspace. Besides, providing air support to the Bangladesh Army and Bangladesh Navy is also one of the responsibilities of the Air Force. The Air Force also provides humanitarian assistance in various disasters at home and abroad and is involved in global peacekeeping operations. For more job job paper bd in it.
The Air Force was heavily involved in the 1971 Great War of Independence and was directly involved in the preparation and conduct of the ground war. No decision was taken on the composition of the Air Force during the Sector Commanders' Conference in July 1971. Because at that time it was not possible and logical. As a result, the expatriate government has not reached any official decision. But from the beginning of the war, a number of Air Force personnel and members were actively involved. Among them Wing Commander Khademul Bashar and Squadron Leader M Hamidullah Khan were the captains of Sectors 8 and 11 respectively. In the Z Force, Ashraf, Rauf, Liaquat and others were also in charge of various important positions on the battlefield.
Job related
"বিমান বাহিনী নিয়োগ বিজ্ঞপ্তি ২০২২, নতুন বিমান বাহিনী চাকরি বিজ্ঞপ্তি ২০২২, সর্বশেষ বিমান বাহিনী চাকরী বিজ্ঞপ্তি ২০২২, বিমান বাহিনী চাকরি বিজ্ঞপ্তি ২০২২ আপডেট, সমস্ত বিমান বাহিনী চাকরী বিজ্ঞপ্তি ২০২২, সরকারী চাকরী বিজ্ঞপ্তি ২০২২, আজ বিমান বাহিনী চাকরী বিজ্ঞপ্তি ২০২২, ২০২২ বিমান বাহিনী বিজ্ঞপ্তি, আপডেট চাকরী বিজ্ঞপ্তি বিমান বাহিনী। "
"Biman bahini job circular 2022, Department of Women Affairs Job Circular, New air force job circular 2022, Latest air force job circular 2022, East West University Job Circular, biman bahini job circular 2022 update, All biman bahini job circular 2022, Govt job circular 2022, University of Asia Pacific Job Circular 2022, Today biman bahini job circular 2022, 2022 biman bahini circular, update job circular biman bahini."