Custom House ICD Job Circular 2022 | কাস্টম হাইজ জব
Custom House ICD Job Circular 2022, The activities of Custom House ICD, Kamalapur, Dhaka are conducted under the Customs Division of the National Board of Revenue. Direct and indirect tax collection agencies belong to the National Board of Revenue, Department of Internal Resources, Ministry of Finance. Custom House ICD, Kamalapur, Dhaka is primarily responsible for the collection of customs duties and other taxes at the import and export stage. In addition to collecting valuable state revenue, Custom House ICD is responsible for facilitating trade, conducting implementation activities to ensure proper compliance with government regulations, preserving social, environmental and national heritage, and preparing and maintaining foreign trade statistics.
কাস্টম হাউজ আইসিডি নিয়োগ বিজ্ঞপ্তি ২০২২, www.chakrirkbr.com। কাস্টম হাউস আইসিডি, কমলাপুর, ঢাকা-এর কার্যক্রম জাতীয় রাজস্ব বোর্ডের কাস্টমস বিভাগের অধীনে পরিচালিত হয়। প্রত্যক্ষ এবং পরোক্ষ কর সংগ্রহ সংস্থাগুলি জাতীয় রাজস্ব বোর্ড, অভ্যন্তরীণ সম্পদ বিভাগ, অর্থ মন্ত্রণালয়ের অন্তর্গত। কাস্টম হাউস আইসিডি, কমলাপুর, ঢাকা প্রাথমিকভাবে আমদানি ও রপ্তানি পর্যায়ে শুল্ক ও অন্যান্য কর আদায়ের জন্য দায়ী। মূল্যবান রাষ্ট্রীয় রাজস্ব সংগ্রহের পাশাপাশি, কাস্টম হাউস আইসিডি বাণিজ্য সহজতর করার জন্য, সরকারি বিধিগুলির যথাযথ সম্মতি নিশ্চিত করার জন্য বাস্তবায়ন কার্যক্রম পরিচালনা, সামাজিক, পরিবেশগত এবং জাতীয় ঐতিহ্য সংরক্ষণ এবং বৈদেশিক বাণিজ্য পরিসংখ্যান প্রস্তুত ও বজায় রাখার জন্য দায়ী। মাঠ প্রশাসনে থাকাকালীন তিনি টেকসই উন্নয়ন লক্ষ্যমাত্রা (এসডিজি), সামাজিক নিরাপত্তা নেটওয়ার্ক, আইসিটি সম্প্রসারণের মাধ্যমে ডিজিটাল বাংলাদেশ, বিভিন্ন দফতরের মধ্যে সমন্বয়, স্থানীয় সরকারের কার্যক্রম মনিটরিং এবং দুর্যোগ ব্যবস্থাপনায় অগ্রণী ভূমিকা পালন করেন।
Custom House ICD Job Circular 2022
During his tenure in the field administration, he played a leading role in Sustainable Development Goals (SDGs), Social Security Network, Digital Bangladesh through ICT expansion, coordination among different departments, monitoring of local government activities, and disaster management.
Qualification: See the circular
Experience: See the circular
Salary: See the circular
Vacancy: 8
Apply deadline: 31 may 2022
Apply from below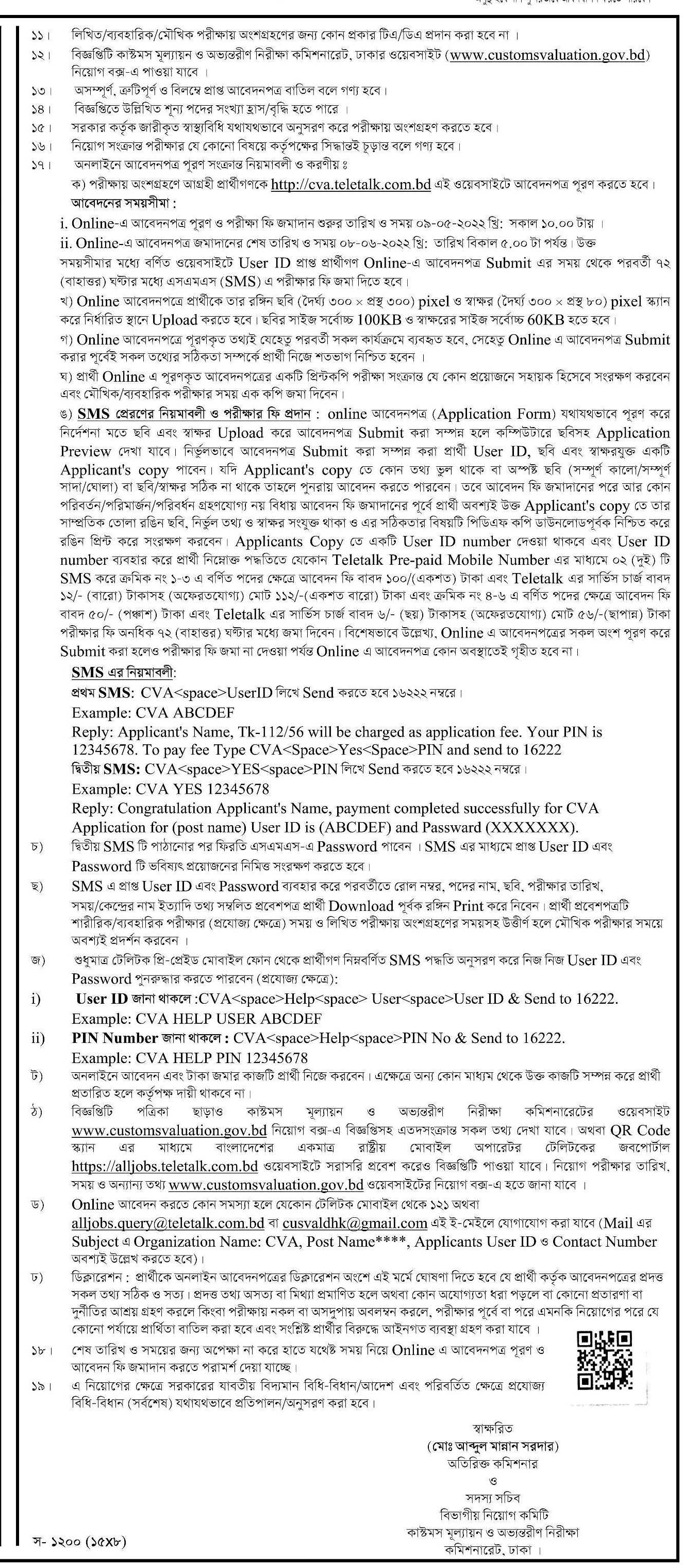 New job circular
কাস্টম হাউজ আইসিডি চাকরির খবর ২০২২
Hon'ble PM's Management, Fast Track and Priority Project. He has also held various positions in the Ministries of Power, Energy and Mineral Resources, Ministry of Public Administration, Ministry of Home Affairs, Ministry of Civil Aviation and Tourism and others. After joining the Civil Service, Mr. Munim participated in Foundation Training Courses, Special Courses in Law and Administration, Advanced Courses on Administration and Management (ACAD), Managing at Top-2 (MAT-2), various training programs. Energy Management Training Course and. As part of his official duties, he participated in various discussion meetings, workshops, summits and seminars. Mr. Munim was born in an aristocratic Muslim family in Sirajganj, Sirajganj Sadar. In private life he is married and has one son and one daughter. See more job in job paper bd.
Due to his extensive administrative knowledge and experience, he joined the Bangladesh Civil Service (Administration) on 21 January 1986. Prior to taking over the post on January 4, 2020, he was the Senior Secretary, Department of Energy and Mineral Resources, Bangladesh. In his academic pursuits, he obtained bachelor's and master's degrees in geology from Dhaka University. He later earned a Diploma in Development Planning degree from the Academy for Planning and Development and an MBA (Finance) from Northern University Bangladesh. Professionally, he has worked in the field administration as Upazila Nirbahi Officer (UNO), Additional District Magistrate, Charge Officer (Zonal Settlement Office) and Divisional Commissioner.
Job related
"কাস্টম হাউস আইসিডি নিয়োগ বিজ্ঞপ্তি ২০২২, নতুন কাস্টম হাউস আইসিডি চাকরির বিজ্ঞপ্তি ২০২২, সর্বশেষ কাস্টম হাউস আইসিডি চাকরির বিজ্ঞপ্তি ২০২২, সাম্প্রতিক কাস্টম হাউস আইসিডি চাকরির বিজ্ঞপ্তি ২০২২, নতুন সিএইচআইসিডি চাকরির বিজ্ঞপ্তি ২০২২, সিএইচআইসিডি চাকরির বিজ্ঞপ্তি ২০২২, চাকরির সংবাদপত্র ২০২২, চাকরির বিজ্ঞপ্তি ২০২২, চাকরির ক্যারিয়ার ২০২২, নতুন সরকারি চাকরির বিজ্ঞপ্তি ২০২২।"
"Custom House ICD Job Circular 2022, Dhaka University Job Circular 2022, new Custom House ICD Job Circular 2022, latest Custom House ICD Job Circular 2022, ACI Group Job Circular 2022, Recent Custom House ICD Job Circular 2022, new CHICD job circular 2022, chicd job circular 2022, Palli Karma Sahayak Foundation Job Circular 2022, chakrir khobor 2022, job newspaper 2022, job career 2022, new govt job circular 2022."