Daffodil International University Job Circular 2022
Daffodil International University Job Circular 2022 has been published. Established in 2002, Daffodil International University has become a leading private university in Bangladesh. more job is here www.chakrirkbr.com. Our 150-acre campus is full of life and positive energy for more than 20,000 students, improving education and innovation. Here, students are asked and encouraged to ask questions, think and debate, and collaborate with professors to take ownership of their learning. Apply by viewing Daffodil International University Job Circular 2022 recruitment notice.
ড্যাফোডিল ইন্টারন্যাশনাল ইউনিভার্সিটির জব সার্কুলার ২০২২ এখানে ড্যাফোডিল ইন্টারন্যাশনাল ইউনিভার্সিটি বাংলাদেশের একটি বেসরকারী উচ্চ শিক্ষা প্রতিষ্ঠান। ২০০২ সালের ২৪ জানুয়ারি বেসরকারী বিশ্ববিদ্যালয় আইন, ১৯৯২ অনুসারে বাংলাদেশের রাজধানী ঢাকার ধানমন্ডি এলাকায় বিশ্ববিদ্যালয়টি প্রতিষ্ঠিত হয়েছিল। ড্যাফোডিল আন্তর্জাতিক বিশ্ববিদ্যালয় উচ্চশিক্ষা প্রতিষ্ঠার জন্য জাতিসংঘের সাথে একটি চুক্তি স্বাক্ষর করেছে। বিশ্ববিদ্যালয়টি বাংলাদেশের অন্যান্য চারটি বিশ্ববিদ্যালয়ের পাশাপাশি আন্তর্জাতিক বিশ্ববিদ্যালয়সমূহের ইউনিভার্সিটির সদস্য। ড্যাফোডিল ইন্টারন্যাশনাল ইউনিভার্সিটির নিয়োগ বিজ্ঞপ্তি ২০২২ দেখুন এবং আবেদন করুন।
Daffodil International University Job 2022
Vacancy: See the circular
Working hours: Full time
Salary: See the circular
Deadline: 30 October 2022

See application process below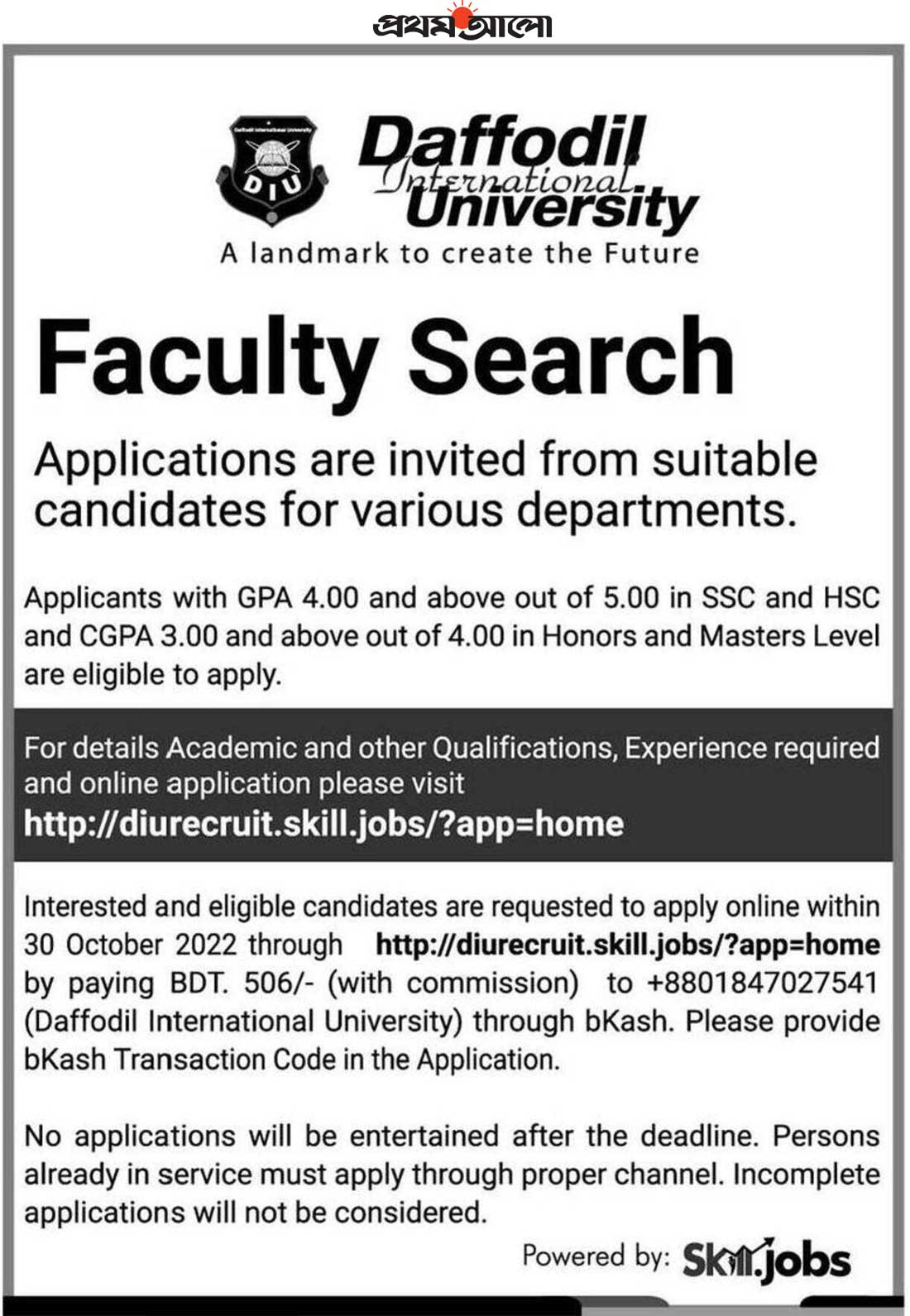 New job circular
ড্যাফোডিল ইন্টারন্যাশনাল ইউনিভার্সিটির নিয়োগ
We have students from different backgrounds, cultures and nationalities as well. More than five hundred international students enrolled in various programs. We offer 37 undergraduate and graduate programs under 25 departments. Our curriculum is designed to help students develop the skills needed for 21st century employment. For the convenience of the students we offer affordable tuition fees for the students with the option of paying them in multiple installments. We make sure that all of our students receive the support they need to complete their degree. Vocational is available for students who achieve great academic results as well as for students who struggle financially.
Faculty and Department
Faculty of Science and Information Technology

Computer Science and Engineering

Environmental Science and Disaster Management

Software Engineering

Multimedia and Creative Technology

Natural Sciences

Faculty of Business and Economics

Business Administration

Department of Commerce

Real Estate

Tourism and Hospitality Management

Entrepreneurship Development Division (first in Bangladesh)

Faculty of Engineering

Electronics and Communication

Textile Engineering

Electrical and Electronic Engineering

Architecture

Civil Engineering

Faculty of Allied Health Sciences

Department of Pharmacy

Nutrition and Food Engineering

Department of Public Health

Life Sciences

Department of Genetics and Biotechnology

Faculty of Humanities and Social Sciences

English section

Department of Law

Journalism and Mass Communication
job related
"ড্যাফোডিল ইন্টারন্যাশনাল ইউনিভার্সিটির নিয়োগ বিজ্ঞপ্তি ২০২২, আজকের জব নিউজ, নতুন নিয়োগ বিজ্ঞপ্তি ২০২২, আজকের জব ম্যাগাজিন, ড্যাফোডিল ইন্টারন্যাশনাল ইউনিভার্সিটি সার্কুলার ২০২২, সকল বিশ্ববিদ্যালয় নিয়োগ বিজ্ঞপ্তি, ড্যাফোডিল আন্তর্জাতিক বিশ্ববিদ্যালয় নিয়োগ বিজ্ঞপ্তি ২০২২"
"Daffodil International University Recruitment Circular 2022, Bangladesh University of Professionals Recruitment Notification, Chittagong University Job Circular 2022, Daffodil International University Recruitment Circular 2022, Shahjalal University of Science and Technology Recruitment Circular 2022, Shahjalal University of Science and Technology Job Circular 2022, Today's Job News, New Recruitment Circular 2022, Today's Job Magazine, Daffodil International University Recruitment Circular 2022″