DBL Group of Bangladesh Limited Job Circular 2022 | ডিবিএল গ্রুপ
DBL group of bangladesh limited job circular 2022 publish successful to you. Now visit our site for more info in www.chakrirkbr.com. DBL Group is a family owned business that started in 1991. The first company was called Dulal Brothers Limited. Over the years, the organization has become a diverse organization in Bangladesh. Businesses include garments, textiles, textile printing, washing, garment accessories, packaging, ceramic tiles, pharmaceuticals, dredging, semiconductor design (VLSI), ICT and telecommunications. With a dedicated workshop of 1,000,000 employees, the annual turnover for the year 2018-19 was US 600 60,000 million. The company has financial investments from the World Bank's IFC, DEG-KFW (Germany), and the Swedish Fund (Sweden). DBL is engaged in the first offshore business for apparels and textiles in Ethiopia, which has created employment opportunities for 500 people.
ডিবিএল গ্রুপ একটি পারিবারিক মালিকানাধীন ব্যবসা যা ১৯৯১ সালে শুরু হয়। প্রথম কোম্পানির নাম ছিল দুলাল ব্রাদার্স লিমিটেড। বছরের পর বছর ধরে সংগঠনটি বাংলাদেশে একটি বৈচিত্র্যময় প্রতিষ্ঠানে পরিণত হয়েছে। ব্যবসার মধ্যে রয়েছে গার্মেন্টস, টেক্সটাইল, টেক্সটাইল প্রিন্টিং, ওয়াশিং, গার্মেন্টস আনুষাঙ্গিক, প্যাকেজিং, সিরামিক টাইলস, ফার্মাসিউটিক্যালস, ড্রেজিং, সেমিকন্ডাক্টর ডিজাইন (ভিএলএসআই), আইসিটি এবং টেলিযোগাযোগ। ১০০০০০ কর্মীদের একটি নিবেদিত কর্মশালার সাথে, ২০১৮-১৯ বছরের বার্ষিক টার্নওভার ছিল ৬০০০০ মিলিয়ন মার্কিন ডলার। বিশ্বব্যাংকের (জার্মানি) এবং সুইডিশ ফান্ড (সুইডেন) থেকে কোম্পানির আর্থিক বিনিয়োগ রয়েছে। ইথিওপিয়ায় পোশাক এবং বস্ত্রের জন্য প্রথম অফশোর ব্যবসায় নিযুক্ত, যা ৫০০ জন লোকের কর্মসংস্থানের সুযোগ সৃষ্টি করেছে।
DBL Group of Bangladesh Limited Job Circular 2022
Qualification: See the circular
Experience: See the image
Salary: See the image
Deadline: 13 April 2022
Apply process see the below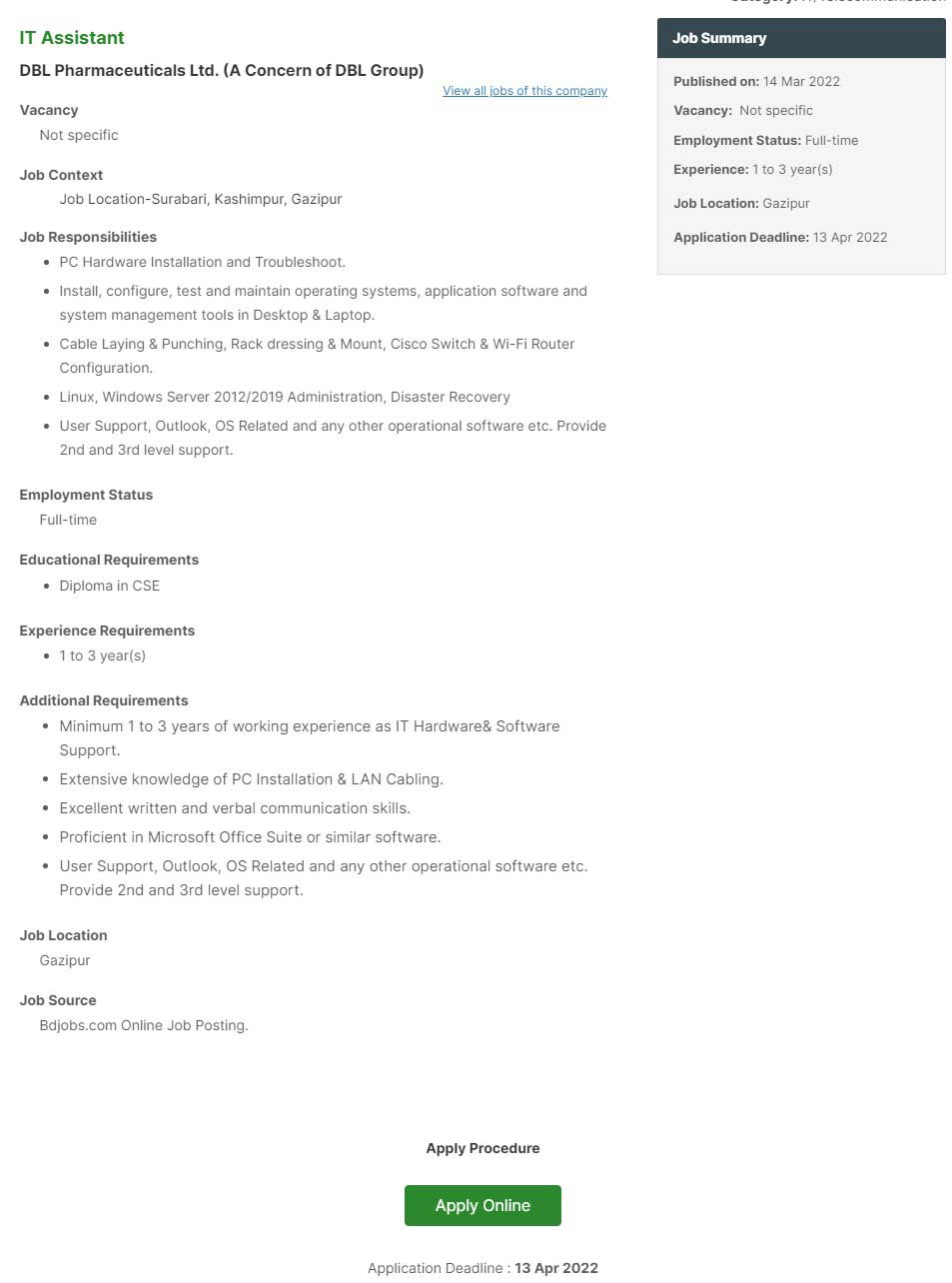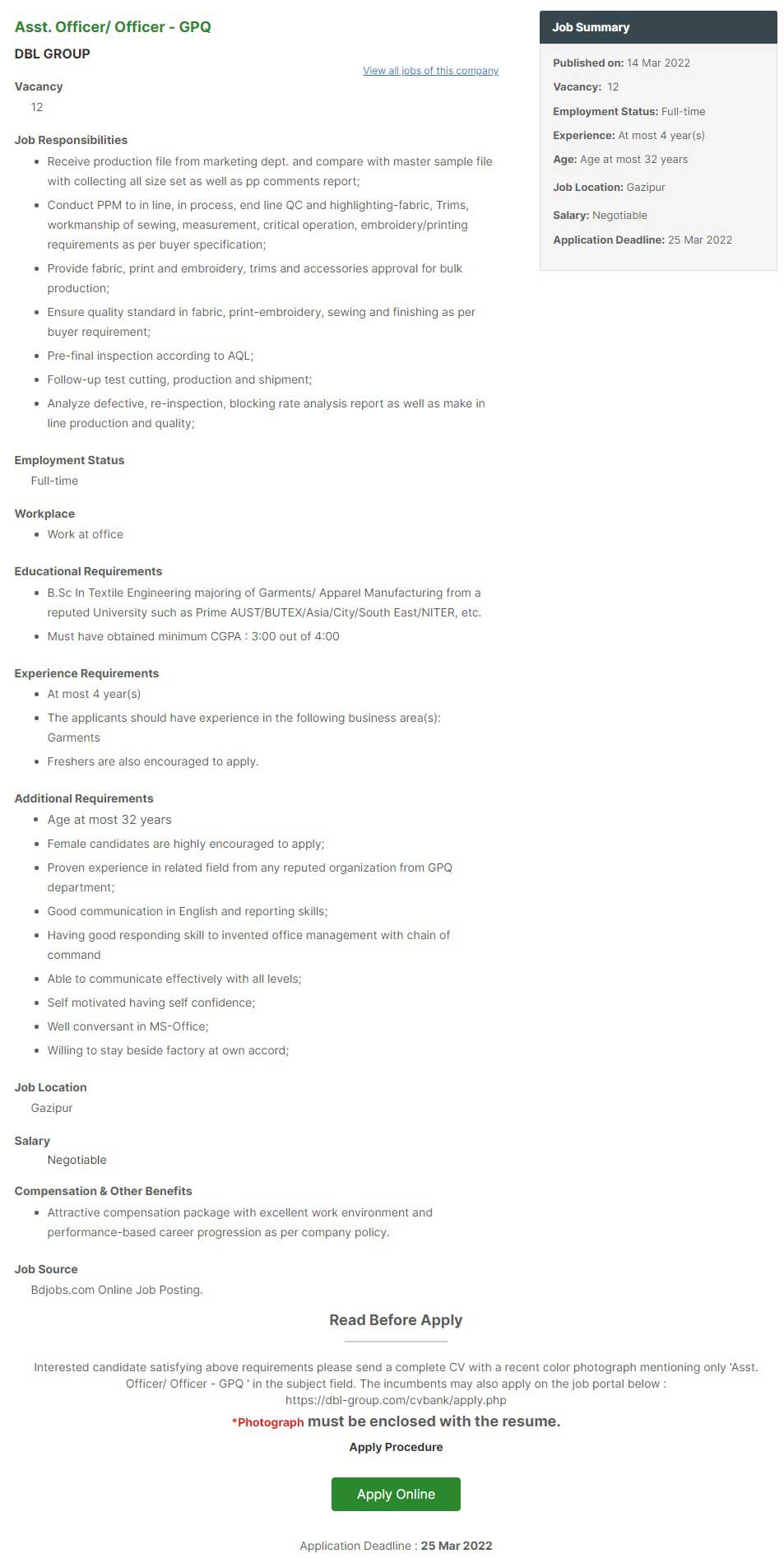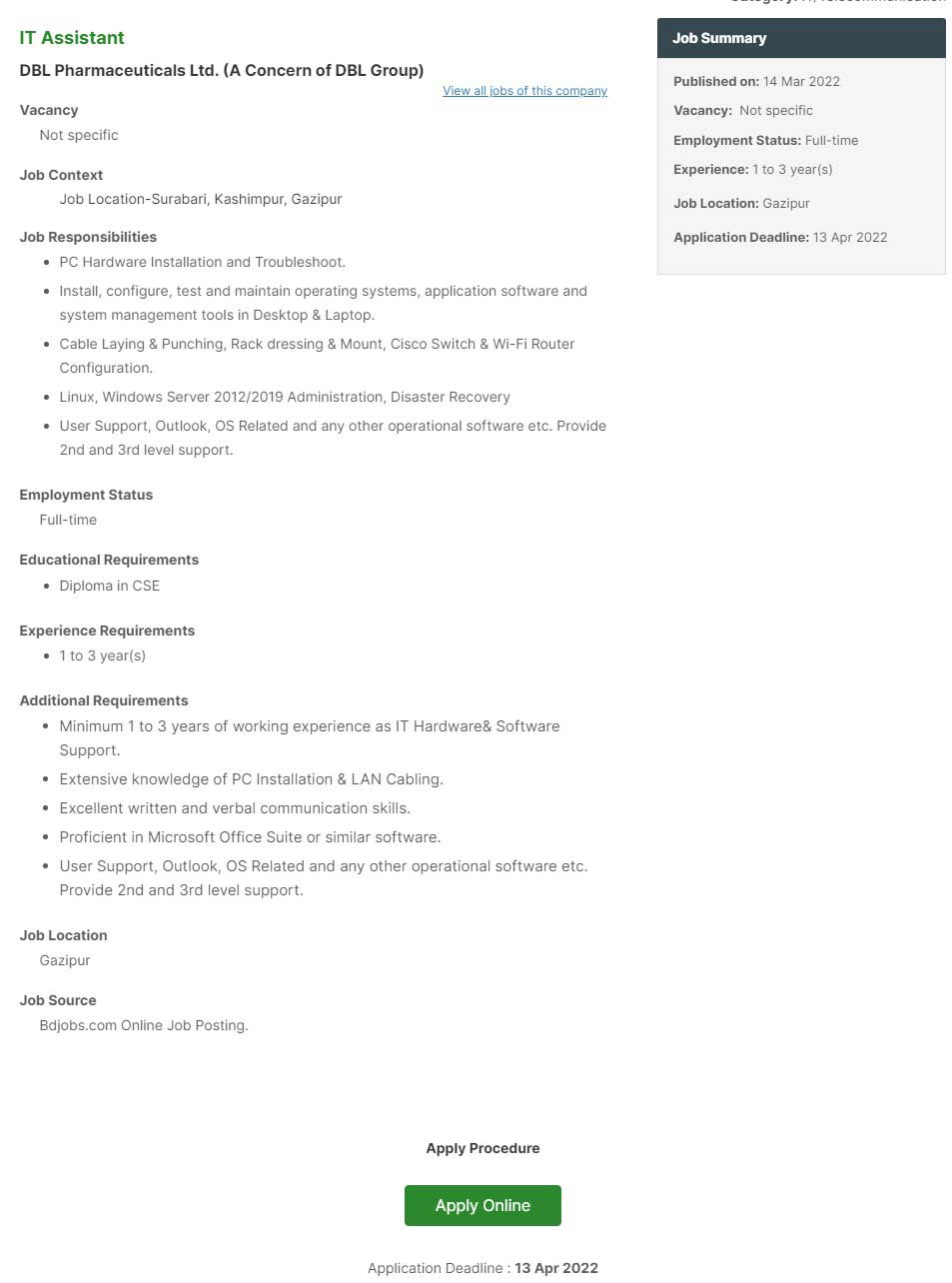 ডিবিএল গ্রুপ অব বাংলাদেশ লিমিটেড নিয়োগ বিজ্ঞপ্তি ২০২২
Vacancy: See the circular
Last date: 02 April 2022
New Jobs Circular
DBL Group of Bangladesh Limited Job Circular 2022
Working with international development agencies such as KB, DEG, IFC, GIZ, ILO and UNICEF, DBL is well known locally and globally for its various sustainability activities. DBL's activities are in line with the United Nations Sustainable Development Goals (SDGs) and are internationally recognized by the United Nations Development Program (UNDP), UN Global Compact and Business Call to Action (BCtA). DBL is the signatory of Global Compact and has been publishing its sustainability report since 2014 following the GRI guidelines. Member of the Board of Trustees of DBL CSR Center, Founding Member of Global Compact Network Bangladesh, International Chamber of Commerce (ICC) – Bangladesh, Premier Corporate Member of Textile Institute, Manchester and Member of World Economic Forum. Follow us on www.jobpaperbd.com.
Job related
"ডিবিএল গ্রুপ অব বাংলাদেশ লিমিটেড নিয়োগ বিজ্ঞপ্তি ২০২২, নতুন কোম্পানি নিয়োগ বিজ্ঞপ্তি ২০২২, রিসেন্ট জব সার্কুলার ২০২২, ফার্মাসিউটিক্যাল নিয়োগ বিজ্ঞপ্তি ২০২২, ওষুধ কোম্পানি নিয়োগ বিজ্ঞপ্তি ২০২২, গ্রুপ কোম্পানি নিয়োগ বিজ্ঞপ্তি ২০২২, জব নিউজ পেপার, চাকরির খবর ২০২২, সকল কোম্পানি নিয়োগ বিজ্ঞপ্তি ২০২২, আজকের নতুন চাকরি বিজ্ঞপ্তি ২০২২"
"DBL group of bangladesh limited job circular 2022, Iport Logistics Limited of Impress Group Job Circular 2022, new DBL group of bangladesh limited job circular 2022, Dhaka Polli Bidyut Somity Job Circular 2022,  latest group of company job circular 2022, Cantonment Public School and College Job, all new job circular 2022, job newspaper 2022, chakrir khobor 2022, recent private job circular 2022, today new job circular 2022, all job news 2022″