Land Reform Board job Circular 2022 Vacancy 22
Land Reform Board job Circular 2022 has been publish. The Land Reform Board is a government board responsible for overseeing the implementation of land reform and government policy on land. Land Reform Board traces its origins to the Board of Revenue, constitute by Warren Hastings on 13 August 1772, which continue until 1971 when it was abolish after the independence of Bangladesh. the Ministry of Land Administration and Land Reforms was reorganize and renamed as Ministry of Land. chakrirkbr.com Land Reform Board was constitute in 1989 through the passage of Act No. 23 of 1989 in the Parliament of Bangladesh and on the recommendation of the National Land Reform Council. See more information of Land Reform Board job Circular 2022.
Bhumi sanskar board Job circular 2022. The Land Reform Board is an important collaborating body under the Ministry of Land. Bringing transparency and dynamism in land management through intensive supervision and inspection of land administration and land management activities at the field level in the context of the Board of Revenue created during the British period, ensuring speedy delivery of best services to landowners The Land Reform Board was formed in 1979 for the purpose of overall management of smooth execution and it is still functioning. One of the aims and objectives of this institute is to modernize the conventional land management activities, formulate land use policies and overall plans, amend existing laws and regulations, additions, modernization, introduce new laws and regulations if necessary and above all conduct research activities on land reform. Land Reform Board job Circular 2022 is here.
Land Reform Board job Circular 2022
Job Organization: Land Reforms Board
Educational Qualification: JSC, SSC, HSC.
Job Type: Government jobs
Experience: See the Circular
Age for Jobs: most 30 years
Total Job Vacancies: 22
Salary: 9,300- 26,590 Taka
Application Fee: 56/112 Taka
Application deadline: 15 October , 2022
Apply from below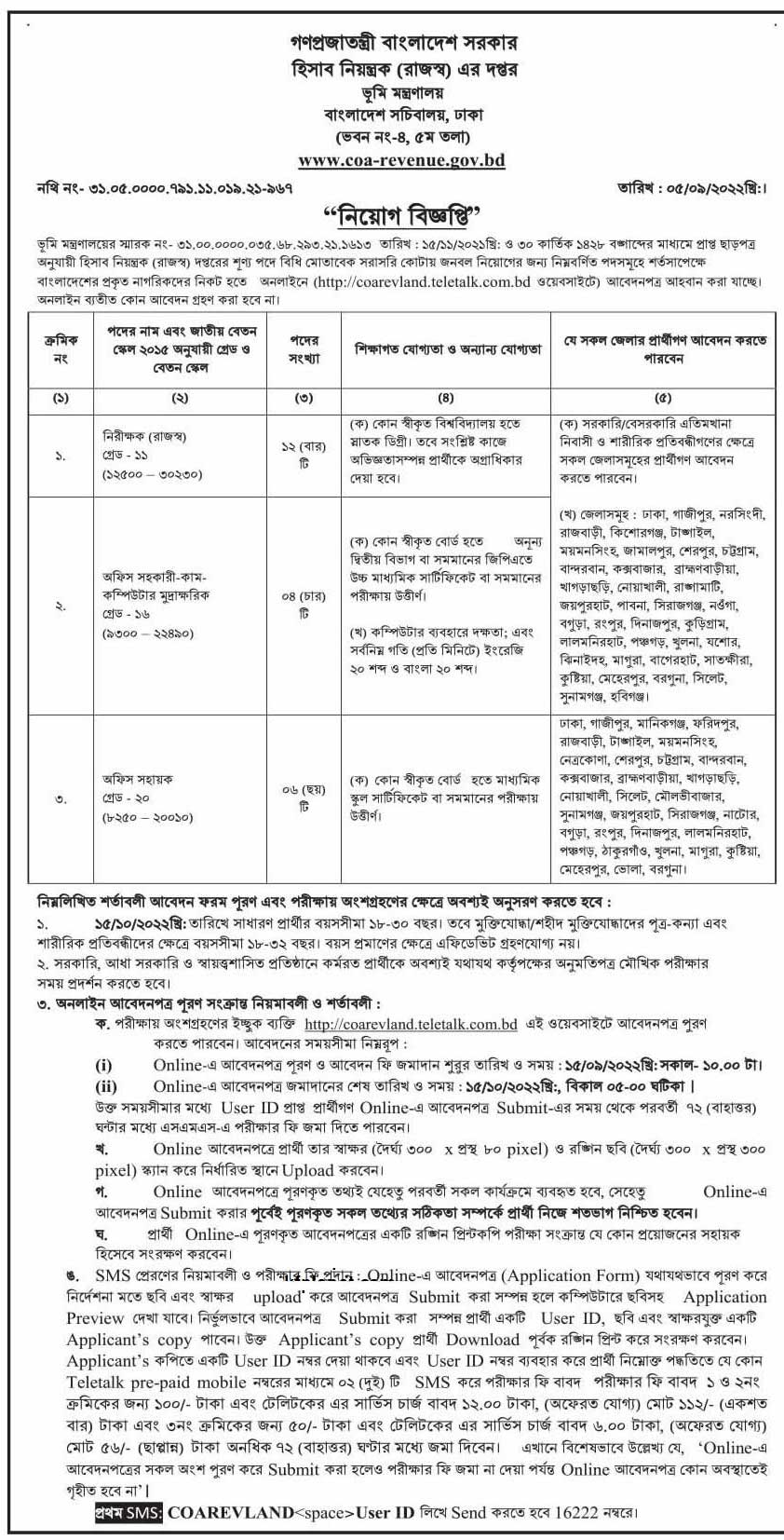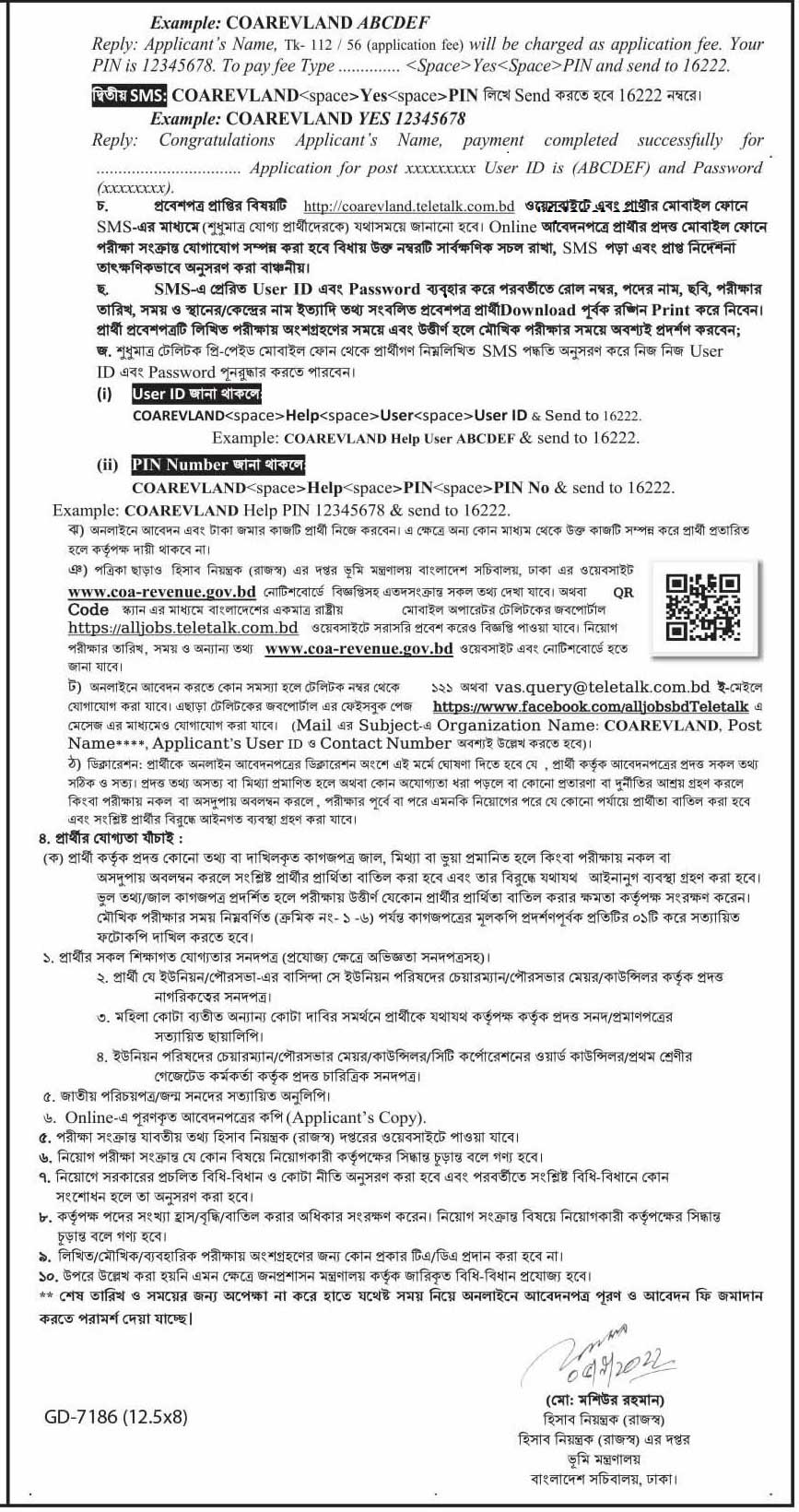 New job circular
Land Reform Board job Circular 2022
management has play a historic role in running the state for a long time. revenue management is deeply involve in the construction and development of socio-economic infrastructure of the country. In the past, land administration meant land revenue based administration system. Modern land administration refers to an efficient administrative management aimed at ensuring optimal use of land with the determination and collection of land development tax. In 182, the Board of Revenue was established as the central body for the administration of revenue.
After that, steps were taken to strengthen the administrative structure of land management by creating posts of Collector Commissioner and Revenue Board at different times. jobpaperbd.com. After the dissolution of the Board of Revenue in 1973, all the responsibilities of the Board were vest in the then Ministry of Land Administration and Land Reforms. Four Deputy Land Reforms Commissioners (with the rank of Deputy Secretary) are assigne to the department.
Job Related
"Today job circular 2022, new govt job news 2022, Bhumi sanskar board Job circular 2022, job circular 2022, new govt job news 2022, Bhumi sanskar board Job circular 2022, govt job news 2022, Bhumi sanskar board Job circular 2022, job circular 2022, new govt job news 2022, Bhumi sanskar board Job. Land Reform Board job Circular 2022"