Proyas Manobik Unnayan Society Job Circular 2022 Posts 350 Plus
Proyas Manobik Unnayan Society Job Circular 2022. Prayas is working tirelessly for the disadvantaged poor people in the north-west of the country and its scope of work is gradually expanding. Although it started in Chapai Nawabganj district, its scope of work is gradually expanding to other districts. It aims to work together for the welfare and development of the poor, the deprived and the neglected, and for their betterment and change. As a local non-governmental organization, Prayas has been providing ongoing services in collaboration with various government and non-government organizations for the socio-economic development, awareness and self-reliance of the people. The 1998 floods caused extensive loss of life and property in Chapai Nawabganj district. A group of young students have come forward to serve the families.
Helpless people affected by the disaster. They collect food, clothes, medicines from various organizations and rich people and distribute them among the affected people in a systematic manner. Although there was no organizational structure, the young dedicated skilled team was able to gain a reputation for contributing like a trained soldier. Implementing need-based events inspires those young students to work for the welfare and development of poor, deprived, neglected people and feels the need to establish an organizational foundation. In that continuity, Prayas was formed as an organization on 19 December 1993. There is a general committee and an executive committee to manage the organization effectively. At present the general committee is formed after three years by the vote of 08 (seven) members of the executive committee. See chakrirkbr.com.
Proyas Manobik Unnayan Society Job Circular 2022
Qualification: See circular
Salary: See circular
Vacancy: lots of
Deadline 25th September 2022
Online apply see below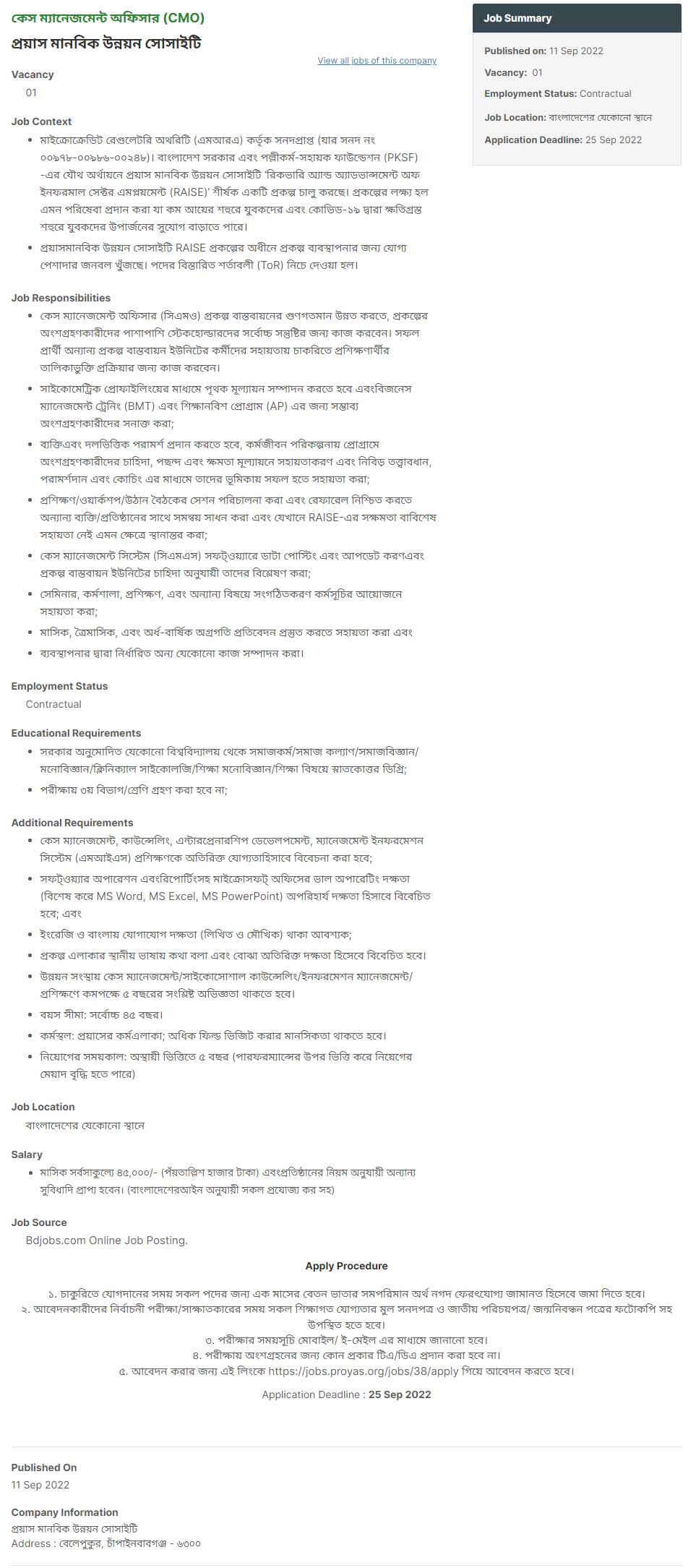 New PMUS Job Circular 2022
Latest jobs circular
According to this rule, the executive committee formed in May 2015 by direct vote of the general committee. All responsibilities for the implementation and management of the organization's programs vested in the Executive Director or the Member Secretary of the Executive Committee. The executive director elected by the general committee and the overall activities of the organization are conducted in consultation with the general committee and the executive committee of the organization. More jobs see here in job paper bd.
Prayas has been working for the development and welfare of the oppressed, downtrodden and poor people since its inception. It has always responded to the call of time and circumstances. He has sincerely taken and implemented various programs in time of need. This report is a reflection of that continuity. The experience has been strengthened through long journeys. The effort has developed a strategic plan considering the time and acted accordingly. As a result, Prayas has become a more realistic and dynamic organization.
Job related
"Proyas Manobik Unnayan Society Job Circular 2022. Running All Company Job Circular. New Proyas Manobik Unnayan Society Job Circular 2022. The Ministry of Social Welfare job Circular. Latest Proyas Manobik Unnayan Society Job Circular 2022. Marketing and Sales Job Circular. recent Proyas Manobik Unnayan Job Circular 2022. All company job circular 2022. All ngo job circular 2022. job career 2022. job newspaper 2022."