Setu NGO Job Circular 2022 Vacancy 487
Setu ngo job circular 2022, Setu is a national NGO formed in 1973 with the aim of empowering the underprivileged for sustainable development. SETU's development efforts focus on organizing and consolidating realistic groups, enhancing their analytical capacity, so that they can work and speak in local, national and even global competitions. Properly equipped with a way to take and / or take on challenging initiatives. His special skills advanced in terms of globalization, rights & government, climate justice, advocacy, CSO accountability etc. His micro-macro impacts which he has gained from his past work experience. First of all you will get all kinds of NGO and job news here. Stay with us to get regular and daily job news. Apply today by looking at Setu NGO & Recruitment Notification 2022 without delay to get the job.
সেতু এনজিও নিয়োগ বিজ্ঞপ্তি ২০২২, chakrirkbr.com। সেতু একটি জাতীয় এনজিও যা ১৯৮৩ সালে টেকসই উন্নয়নের জন্য সুবিধাবঞ্চিতদের ক্ষমতায়নের জন্য গঠিত হয়েছিল। সেতুর উন্নয়ন প্রচেষ্টা বাস্তবসম্মত গোষ্ঠীগুলিকে সংগঠিত ও সংহত করার দিকে মনোনিবেশ করে, তাদের বিশ্লেষণ ক্ষমতা বৃদ্ধি করে যাতে তারা কাজ করতে পারে এবং স্থানীয়, জাতীয় এমনকি বৈশ্বিক প্রতিযোগিতায় কথা বলতে পারে। সঠিকভাবে সজ্জিত এবং / অথবা উদ্যোগ নেওয়ার চ্যালেঞ্জিং উপায়। তার বিশেষ দক্ষতা বিশ্বায়ন, অধিকার এবং সরকার, জলবায়ু ন্যায়বিচার, ওকালতি, জবাবদিহিতা ইত্যাদি ক্ষেত্রে উন্নত। প্রথমে আপনি এখানে সব ধরনের এনজিও এবং চাকরির খবর পাবেন। নিয়মিত এবং প্রতিদিনের চাকরির খবর পেতে আমাদের সাথেই থাকুন। চাকরি পেতে দেরি না করে এনজিও এবং নিয়োগ বিজ্ঞপ্তি ২০২২ দেখে আজই আবেদন করুন।
Setu NGO Job Circular 2022
Qualification: See the circular
Vacancy: 223
Salary: 20,000-1,10,000 TK
Application deadline: 16 October 2022
Qualification: See the circular
Vacancy: 264
Salary: 21,900-53,100 TK
Application deadline: 31 October 2022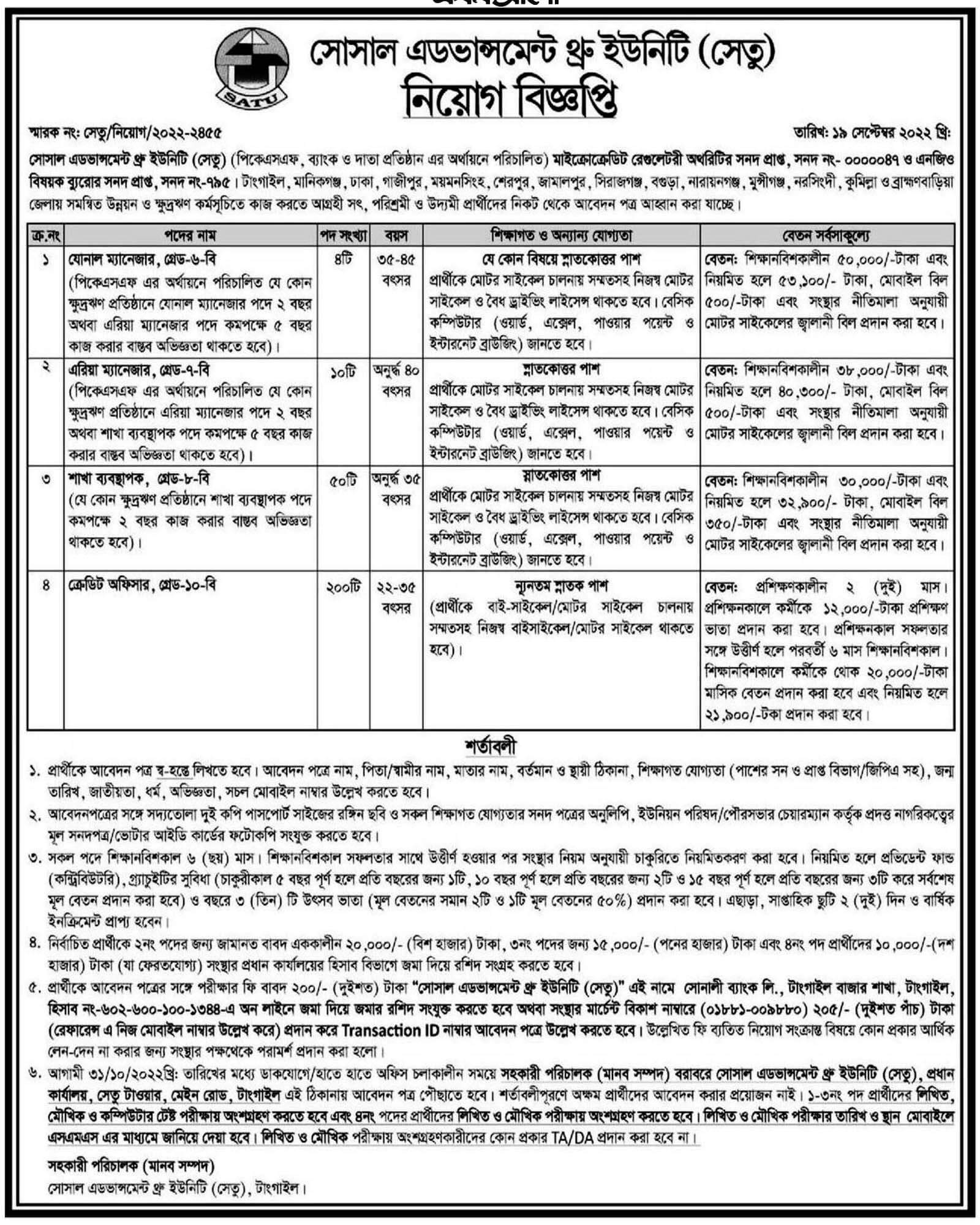 New job circular
সেতু এনজিও নিয়োগ বিজ্ঞপ্তি ২০২২
To build a just, participatory and sustainable society where the human rights and human dignity of men, women and children equally respected and people live responsibly with others and with nature. Social development, implementation of various development programs that economically compatible and environmentally sustainable in order to achieve the SDGs in improving the living standards and living standards of the underprivileged population. Providing benefits to marginalized and socially isolated people of the society for better life and livelihood.
The bridge named after Abdus Salam Khan, a resident of Radhanagar village under Khoksa upazila of Kushtia district. He one of the founders of the organization. SETU literally means 'bridge to rights and abilities'. Since its inception, Abdus Salam Khan contributed as a member of the General Committee and Executive Committee, participating in the policy formulation and documentation process of the organization. Initially the SETU office started in a small tin shed with some tables and chairs that could seat very few 08 people. However, the incumbents started working as volunteers with extra enthusiasm and enthusiasm job paper bd.
Job related
"সেতু এনজিও নিয়োগ বিজ্ঞপ্তি ২০২২, নতুন সেতু এনজিও চাকরি বিজ্ঞপ্তি ২০২২, সর্বশেষ সেতু এনজিও চাকরি বিজ্ঞপ্তি ২০২২, সেতু এনজিও চাকরি বিজ্ঞপ্তি ২০২২ আপডেট, ব্রিজ চাকরি বিজ্ঞপ্তি ২০২২, নতুন এনজিও চাকরি বিজ্ঞপ্তি ২০২২, চাকরির খবর ২০২২, চাকরি ক্যারিয়ার ২০২২, লেখা, চাকরি নিউজলেটার, বেসরকারি চাকরির বিজ্ঞপ্তি ২০২২"
"Setu ngo job circular 2022, Bureau of Manpower Employment and Training Job Circular 2022, new Setu ngo job circular 2022, Eskayef Pharmaceuticals Job Circular 2022 (SK+F), latest Setu ngo job circular 2022, Setu ngo job circular 2022 update, Setu job circular 2022, NGO Job Circular 2022, new ngo job circular 2022, chakrir khobor 2022, job career 2022, lekhapora bd 2022, job newspaper, private job circular 2022″