Uddipan Society Job Circular 2022 | উদ্দীপন সোসাইটি নিয়োগ বিজ্ঞপ্তি
Uddipan society job circular 2022, Udipan's vision is to build an environmentally friendly society free from poverty, exploitation, oppression, injustice and inequality where children, women and men live with dignity and are able to exercise and enjoy their rights and have access to mainstream socio-political And participation in cultural processes. Every time we bring you the news of such an interesting NGO job. You will find all kinds of job news here. Apply today by looking at Society Circular 2022 to get the job visit our popular site www.chakrirkbr.com.
উদ্দীপন সোসাইটি নিয়োগ বিজ্ঞপ্তি ২০২২, উদীপনের দৃষ্টিভঙ্গি হল দারিদ্র্য, শোষণ, নিপীড়ন, অবিচার এবং অসমতা মুক্ত একটি পরিবেশবান্ধব সমাজ গড়ে তোলা যেখানে শিশু, নারী এবং পুরুষরা মর্যাদার সাথে বসবাস করে এবং তাদের অধিকার প্রয়োগ করতে এবং উপভোগ করতে এবং মূলধারার সামাজিক-রাজনৈতিক এবং সাংস্কৃতিক অংশগ্রহণে অ্যাক্সেস পায় প্রক্রিয়া প্রতিবারই আমরা আপনাদের জন্য এমন একটি আকর্ষণীয় এনজিও কাজের খবর নিয়ে আসি। সব ধরনের চাকরির খবর পাবেন এখানে। চাকরি পেতে আমাদের জনপ্রিয় সাইট ভিজিট করার জন্য সোসাইটি সার্কুলার ২০২২ দেখে আজই আবেদন করুন।
Uddipan Society Job Circular 2022
Qualification: See the circular
Experience: in the circular
Vacancy: 3
Deadline: 20 September 2022

Apply from below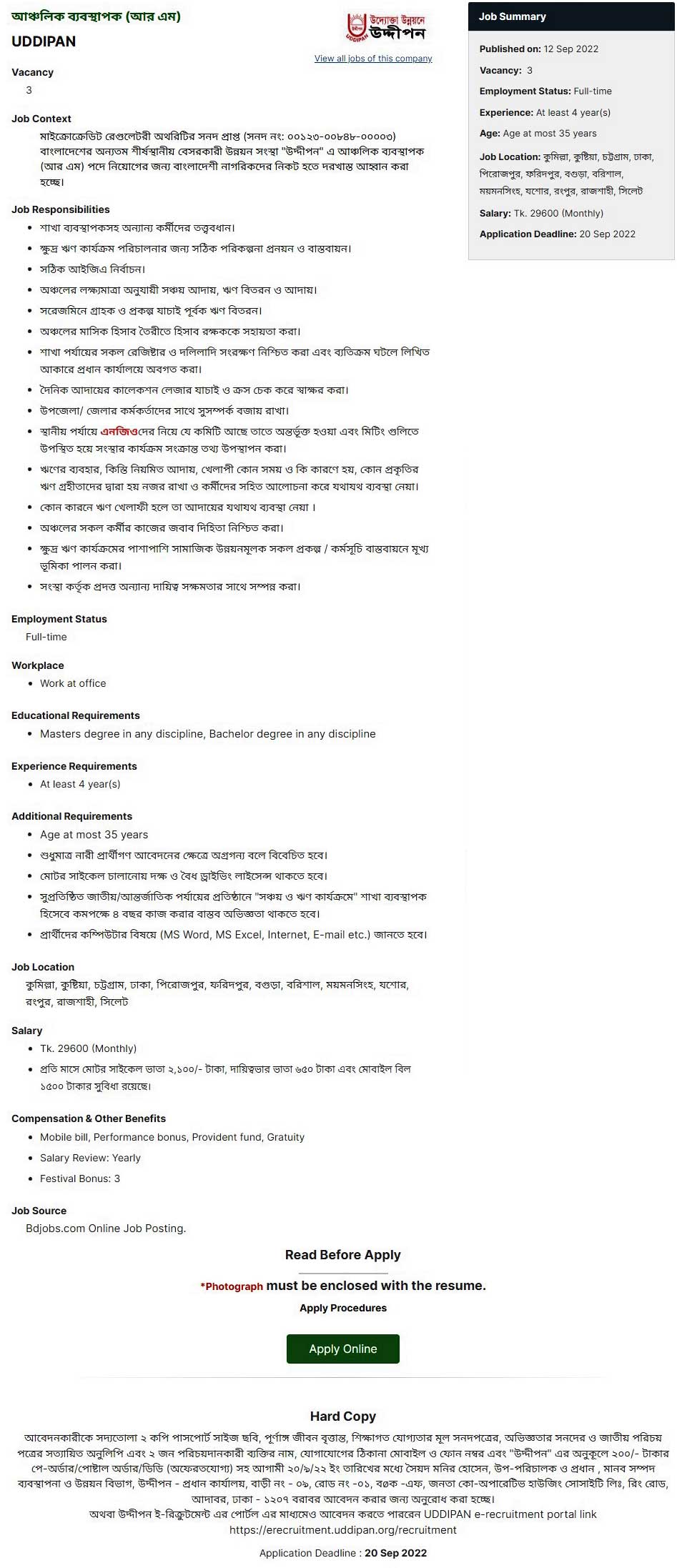 Apply online
Uddipan Society Job Circular 2022
Qualification: See the circular
Experience: the circular
Vacancy: See the job news
Deadline: 9 September 2022
New job circular
উদ্দীপন সোসাইটি নিয়োগ বিজ্ঞপ্তি ২০২২
Udipan aims to alleviate poverty and improve the living standards of the disadvantaged poor by providing employment and income generating activities (IGA); Facilitating the development of their potential and skills through capacity building; Empower them through awareness raising, motivation, institutional development, advocacy, lobbying and collective social action. Stimulus programmatic interventions are largely focused on meeting the economic and social needs of individuals and their empowerment to claim rights and entitlements.
Stimulus provides financial support to engage them in income-generating activities and creates opportunities for recreation and inter-generational exchanges that provide peace of mind and social status. In short, stimulation empowers the economically and socially poor to break out of the trap of poverty, unleash their latent potential and unleash their creative social energy through an integrated economic and social development program in our site job paper bd.
Job related
"উদ্দীপন সোসাইটি নিয়োগ বিজ্ঞপ্তি ২০২২, নতুন উদ্দীপন সোসাইটি নিয়োগ বিজ্ঞপ্তি ২০২২, সর্বশেষ উদ্দীপন সোসাইটি চাকরির বিজ্ঞপ্তি ২০২২, উদ্দীপন চাকরির বিজ্ঞপ্তি ২০২২, উদ্দীপনা এনজিও চাকরির বিজ্ঞপ্তি ২০২২, সমস্ত এনজিও চাকরির বিজ্ঞপ্তি ২০২২, নতুন এনজিও চাকরির বিজ্ঞপ্তি ২০২২, চাকরি খোবর ২০২২, লেখাপোড়া বিডি , চাকরির ক্যারিয়ার ২০২২,"
"Uddipan society job circular 2022, Bangladesh Palli Bidyut Samity Job Circular 2022, new Uddipan society job circular 2022, Community Bank Bangladesh Job Circular 2022, latest Uddipan society job circular 2022, Uddipan job circular 2022, Uddipan ngo job circular 2022, Water Development Board job Circular 2022, all ngo job circular 2022, new ngo job circular 2022, chakrir khobor 2022, lekhapora bd, job career 2022,"