Bangladesh Navy Job Circular 2023 | বাংলাদেশ নৌবাহিনী
Bangladesh Navy Job Circular 2023 has been publish. it is most powerful and valuable institute in our country. Job related all information given bellow you can see this image file. Bangladesh Navy The Naval War Branch of the Bangladesh Navy which is in charge of 1,17,613 sq km of sea area and all the ports and military security in the area. The primary responsibility of the Navy is to protect Bangladesh's military and economic interests at home and abroad. Follow us on www.chakrirkbr.com.
They were train at Chittagong Naval Base. In 1982, two vessels of the Establishment Department were convert into river patrol vessels and add to the Navy. In 1982, the Indian Navy gift a coastal ship which was attach to the Bangladesh Navy as Banauja Padma. This is the first time that the Bangladesh Navy has enter the sea by ship.
বাংলাদেশ নৌবাহিনী নিয়োগ বিজ্ঞপ্তি ২০২৩। বাংলাদেশ নৌবাহিনী বাংলাদেশে দুর্যোগ ব্যবস্থাপনাসহ বিদেশে মানবিক সহায়তা মিশনে একটি নেতৃত্বস্থানীয় বাহিনী হিসেবে কাজ করে। নৌবাহিনী আঞ্চলিক সন্ত্রাস বিরোধী কার্যক্রমে একটি প্রধান অংশগ্রহণকারী শক্তি ও জাতিসংঘ মিশন মাধ্যমে আন্তর্জাতিক শান্তিরক্ষা কার্যক্রমে যুক্ত রয়েছে। বাংলাদেশ নৌবাহিনী নিয়োগ সহ এখানে সরকারি ও বেসরকারি নিয়োগ বিজ্ঞপ্তি পাবেন সবার আগে। আরো তথ্য দেখুন বাংলাদেশ নৌবাহিনী নিয়োগ বিজ্ঞপ্তি থেকে।
Bangladesh Navy Job Circular 2023
Experience: See notification
Salary: See notification
Number of terms: see the job circular
Application deadline: 25 April 2023
Apply from below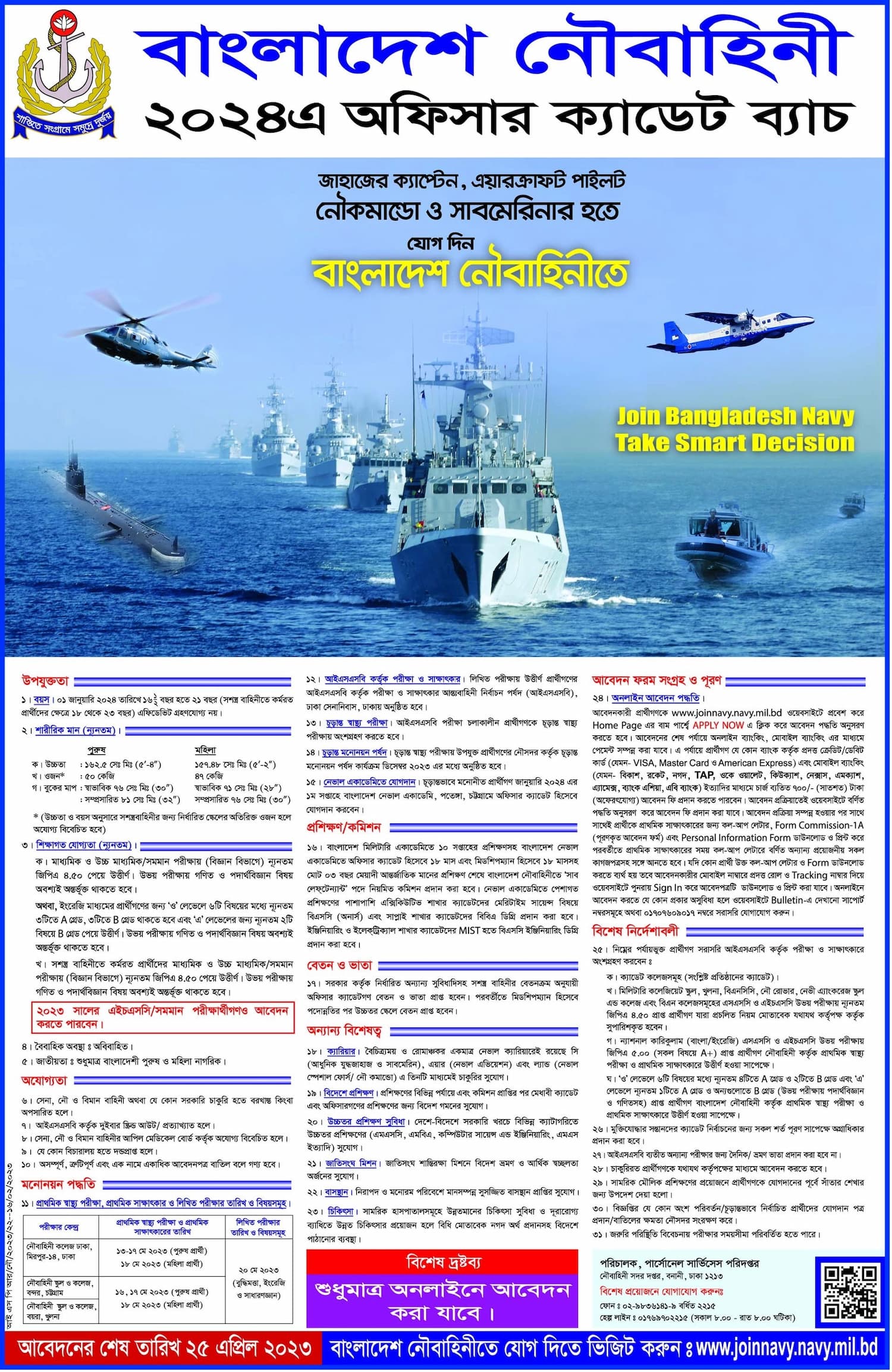 New job circular
বাংলাদেশ নৌবাহিনী নিয়োগ বিজ্ঞপ্তি ২০২৩
After independence, the assets of the navy were former PNS Bakhtiyar's abandoned base in Chittagong, former PNS Titumir in Khulna and a transport camp in Dhaka. At that time the navy had no ships, bases, permanent accommodation, weapons, training system, organizational structure. After independence, Lieutenant Commander Nurul Haque, who had fled Pakistan, was brought to Dhaka and promoted to the post of Commodore. They started their journey with 160 members of Bangladesh Navy. The first headquarters of the navy was in one wing of the army headquarters. Nausadar was established in place of the present Banauja Haji Mohsin. In 1972, for the first time, 100 personnel were recruited in the navy, most of whom were freedom fighters.
Naval base
Nausadar, Dhaka
Haji Mohsin, Dhaka
Sheikh Mujib, Dhaka
Shahid Moazzem, Kaptai, Rangamati
Meteor, Chittagong
Isa Khan, Chittagong
Bhatiari, Chittagong
Patenga, Chittagong
Nirvik, Chittagong
Titumir, Khulna
Upasham, Khulna
Mongla, Mongla
Sher-e-Bangla, Patuakhali
Sheikh Hasina, Cox's Bazar
BN Dockyard, Patenga, Chittagong
Training Center
Bangladesh Naval Academy, Patenga, Chittagong
Gunari School, Banauja Isa Khan, Chittagong
Navigation and Direction (ND) School, Banauja Isa Khan, Chittagong
Torpedo Anti Submarine (TAS) School, Banauja Isa Khan, Chittagong
Hydrography School, Banauja Isa Khan, Chittagong
Signal School, Banauja Isa Khan, Chittagong
Fast Attack Craft (FAC) School, Banauja Isa Khan, Chittagong
SWMT, Banauja Isa Khan, Chittagong
Swades School and Center, Banauja Nirvik, Chittagong
Engineering School, Banauja Shahid Moazzem, Rangamati
Electrical School, Banauja Shahid Moazzem, Rangamati
School of Logistics and Management, Khulna
Bangladesh Navy information
In 1984, a Canadian cargo ship was renovated and added to the name of Banasura Shaheed Rahul Amin and the ship was made the flagship of the Navy. It was the first naval ship capable of navigating the deep sea. Isa Khan, Haji Mohsin and Titumir established naval bases in 1984. Stay with us in www.jobpaperbd.com.
In 1987, a naval training center was temporarily set up at the Bangladesh Naval Academy on the campus of the Bangladesh Marine Academy at Julia in Chittagong. Narayanganj Dockyard is a milestone for the Navy by building five river-based patrol vessels. With the addition of the former British navy frigate Bonanza Omar Farooq in 1966, the capacity of the navy was greatly enhance. In 1982 and 1982, two frigates of the British Royal Navy joined the Bangladesh Navy as Banja Ali Haider and Banauja Abu Bakar respectively. The Bangladesh Navy acquired missile capabilities in 1970 with the purchase of some missile boats. In 1972 it was transferred to Bangladesh Naval Academy. Bonanza Osman, a missile frigate, joined the Navy in 1989.
Future modernization plans
A long-term modernization plan called Forces Goal 2030 is underway to develop the Bangladesh Armed Forces. The plan includes development and expansion of all types of equipment and infrastructure and provision of advanced training. The Bangladesh Navy is setting up a base call Banja Sher-e-Bangla at Rabnabad in Patuakhali district which will be the largest naval base in the country. The base will have aviation and submarine loading facilities. Construction work of Fleet Headquarters with ship loading facility is underway at Sandip Channel, Chittagong. The Bangladesh Navy sign a purchase agreement with China in 2015 for two Type 057 Corvettes which are currently floating and will be add to the Navy by the end of 2018.
Khulna Shipyard is building two survey and research ships for the Navy. Tenders for the purchase of two coastal survey ships were publish in January 2016. These two ships will built at any Bangladeshi shipyard. On March 26, 2016, the agreement to purchase two Dornier DO-228NG maritime patrol aircraft was complete. In April 2017, tenders for the purchase of two more submarine-destroying helicopters were publish. In April 2016, Minister Anisul Haque assured Parliament about the frigate construction project. He said two naval patrol aircraft and two helicopters have been procur for the navy. He added that the purchase of two frigates, more patrol ships, submarine rescue ships, cargo ships, tugboats, and floating docks for the Navy is underway.
job related
বিডি জবস টুডে, চাকরি বাকরী, ডিপ্লোমা ইঞ্জিনিয়ার জবস, এপ্পার জবস, বিএ পাস জবস, বিডি জবস, সরকারী চাকরী, স্নাতক চাকরী, এইচএসসি পাস জবস, জনকণ্ঠ পত্রিকা, চাকরির বিজ্ঞপ্তি, প্রথম আলো জবস, এসএসসি পাসে চাকরি, আজ চাকরি, সংবাদপত্রের চাকরি সার্কুলার, এমবিএ জবস, নিউজ পেপার জবস, বাংলাদেশ নেভ জব, বাংলাদেশ নেভ জব ২০২৩, নতুন বাংলাদেশ নৌ চাকরি, সরকারী চাকরী, এখন চাকরি, আজকের চাকরি ২০২৩, নৌবাহিনী চাকরির খবর, বাংলাদেশ নৌবাহিনী নিয়োগ বিজ্ঞপ্তি, আমাদের আরো চাকরির খবর দেখুন।
BD Jobs Today, Chakri Bakri, Bangladesh Navy Job Circular, Dhaka Jobs, Bangladesh Navy Job Circular 2023, Diploma Engineer Jobs, Ministry Of Road Transport And Bridges Job Circular 2023, BA Pass Jobs, BD Jobs, Government Jobs, Graduate Jobs, HSC Pass Jobs, Janakantha Newspaper, Jobs Notice, Prothom Alo Jobs, Rajshahi, Rangpur, Bangladesh Navy Job Circular, Uddipan Society Job Circular 2023, Bangladesh Navy Job Circular 2023, Today Job, Bangladesh Navy Job Circular 2023, Newspaper Jobs Circular, Bangladesh Palli Bidyut Samity Job Circular 2023, Newspaper Jobs, Bangladesh Navy Job,  Bangladesh Navy Job 2023, new Bangladesh Navy Job, Bangladesh Navy Job Circular 2023, govt job, Bangladesh Navy Job Circular, nowbahene job, today job, job 2023.